21st February 2020
Pet insurance policies are a minefield in the calmest of times but can seem even more complicated in the event of an emergency involving a loved pet. Some of the terms are more common than others, but they're all as equally important to understand.
Pre-existing conditions is one of these pet insurance terms that a policyholder might discover in the event of a claim, or a word a customer comes across while setting up a policy. But what is a pre-existing condition and how does it work?
We look at deciphering some of the industry's confusing terminology as part of our Pet Insurance 101 campaign, to help our customers and other pet-people to truly understand their policies.
What is a pre-existing condition?
We consider a condition to be pre-existing if your pet showed any signs or symptoms of it before your cover start date, whether they needed treatment previously or not.
Do you cover pre-existing conditions?
Unfortunately, we do not cover pre-existing conditions, but we can start covering some conditions again if they've not needed – or recommended to have – treatment from you or the vet in the last 24 months.
Just to let you know, if a vet says a condition does need treatment during this time, and you delay getting it, we won't cover that condition. We don't cover any pre-existing chronic conditions, like diabetes, arthritis and epilepsy.
If you noticed something was wrong with your pet before you took out the policy, it could be a sign of a pre-existing condition even if you decided not to take them to the vet. For example, if your dog was shedding fur before the policy started, and was later diagnosed with a thyroid condition, we'd consider this to be a pre-existing condition.
Any injuries caused by accidents your pet had before you took out this policy will also be considered pre-existing conditions. This includes any complications, illnesses or conditions that might not be noticeable straight away but later appear as a result of the earlier accident.
Remember: the 14-day waiting period at the start of this policy means we'll consider any signs and symptoms that started in this period as pre-existing as well.
How do pre-existing conditions work?
When you get a quote from Animal Friends, we ask if your pet has been to the vets in the past or has suffered from any pre-existing conditions, this is so we can let you know if there would be any exclusions placed on your policy.
If you forget to tell us and make a claim, we receive your pet's medical history from your vets. From this information, we can see if your pet has anything that would be classed as a pre-existing condition or if you are claiming for a condition that has the same diagnosis as a condition your pet had before you took out the cover.
If you found this article useful, why not visit our dog blog for more news, insight and opinion pieces?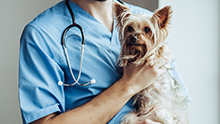 Dog insurance can help cover the cost of veterinary treatment if your dog gets injured or falls ill.