1st March 2019
As an avid lover of books and an all-round crazy cat lady in the making, I was ecstatic to learn that AFI had been given the go ahead to support this exhibition all about our feline friends, in what is one of the most impressive libraries in the country.
Literature's favourite cats are on show until March 17th in this interactive, informative and accessible exhibition, located in the entrance hall of the British Library. You won't want to miss this slice of cats, history and literature weaved into one charming, cosy and free exhibition – yes, you read right, it's totally free.
Fun for ages 8mo – 80yrs
With rare and original manuscripts on display from the likes of Lewis Carroll, T.S. Eliot and Edward Lear, you are transported through history to a time of fantastical tales and comical cat stories from as far back the 19th Century. Cats and comedy have been a perfect match for so long, it's no wonder that they were memeified practically as soon as the Internet was invented.
Even at 7pm on a Thursday evening, I witnessed a lovely moment in which two strangers started a conversation with each other about their love of cats and books. And there's not just books on display; there's a reading corner, a family trail and gamified sound recordings – truly fun for all ages.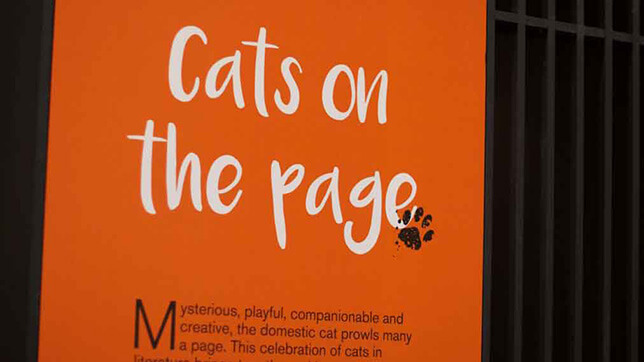 Talks and clubs
Throughout the exhibition there's also been various talks and book clubs all about cats by prolific authors, editors and journalists. I attended the "Cats in graphic novels" book club, hosted by Paul Gravett, which explored our feline friends in graphic novels and manga over the last few decades. Myself and a room of moggy-mad individuals from all around the world (even attendees all the way from America, Indonesia and the Netherlands) got together to share stories with Paul who was funny, knowledgeable and wonderfully captivating.
Overall, this visually striking exhibition has proved to be a hit, reaching coverage in the #1 cat blog in the UK – Katzenworld – plus TimeOut, The Guardian and The Evening Standard. We at Animal Friends have been incredibly proud to support this, and a huge thank you to Alison Bailey for its beautiful curation.
Our friends over at Katzenworld also visited and attended the talk "Cats vs Dogs: A Literary Showdown". Read here, watch the video and see their fantastic professional photography.
If you found this article useful, why not visit our cat blog for more news, insight and opinion pieces?