Over 67% of pet care issues can be successfully resolved from your home thanks to Joii Pet Care's video consultations
Cat and dog customers can save time and money with Joii. Get free expert, RCVS-registered vet support, no matter your worry, no matter the time. Available any time, any day, at the tap of a button.
Available from the comfort of your own home for all dogs and cats insured with Animal Friends.
Hair loss, lumps, bumps, itching and upset tummies. Use Joii's free symptom checker to help identify over 160 common conditions quickly and get immediate, qualified advice on what to do next.
Online nurse clinics can help prevent future health issues for your pet.
Get free online health advice with qualified vet nurses who can help you with a range of topics from puppy and kittens through to weight management and dental checks.
Our puppy and kitten health clinics give you access to vet nurses who can help with any questions or concerns you may have, enabling you to feel more confident about caring for your pet and avoiding unnecessary vet bills in the future.
Joii was created and is delivered by a network of fully RCVS qualified veterinary care professionals, from all around the world.
Why we have partnered with Joii
We are passionate about the welfare of animals and want to make sure that our customers have access to expert advice whenever and wherever they need it. That's why Animal Friends' dogs and cats have unlimited* vet video calls with Joii for free.
Face-to-face calls with a qualified Joii vet will allow you to ask questions, share concerns and show them your dog or cat without even leaving the house, providing you with either a diagnosis or guidance on what to do next.
Protect your dog or cat with Animal Friends and get access to free unlimited video calls with Joii.
*Subject to fair usage policy. Please see Joii terms and conditions.
Already an Animal Friends customer? Download Joii free here.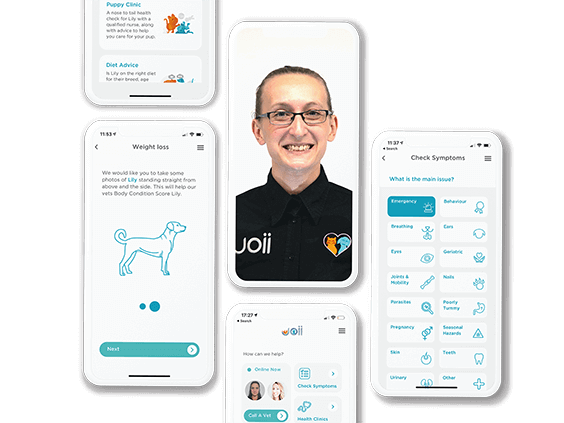 Video consults from the comfort of your own home.
Visits to the vets can be stressful for you and your pet. Joii's one-to-one video consultations mean that you can get the vet support you need, any time of the day or night, without needing to leave your house (or, more importantly, wrestle to get the cat in that travel basket, or the dog through vet practice door!).
You can also buy products through the app to treat your pet at home. Please note, you will need to cover the cost of treatment. Not all treatments are covered by your insurance so please check your policy documents.
Access to this service is available 24/7/365 and is completely free for Animal Friends' dogs and cats. Vet consultations for non-Animal Friends customers are usually £28.
Learn more about Joii at joiipetcare.com
For more questions check out our FAQs.
Preventative pet care
Prevention is better than the cure, and it's usually cheaper too! These online nurse clinics can help you recognise the signs or symptoms of an illness, understand how to prevent certain diseases during your pet's lifetime, and save you money in the long run while keeping your pet happy and healthy.
Joii can also provide weight and dietary advice clinics, advice for pets travelling abroad, dental clinics, older pet checks and advice for puppies and kittens throughout their first year of life.
FREE nurse health clinics
You can speak to one of the Joii veterinary nurses for advice on:
Weight and diet
Dental checks
Flea, worms and ticks
Puppy and kitten advice
Grooming
Older pet care.
Before you start...
The Joii app is compatible with Apple iPhone and iPod Touch iOS 14.0 or later and Android 6.0 or later. Please connect to Wifi to avoid any additional mobile provider charges and to ensure a better user experience.
The Joii app is not to be used in life-threatening situations, please contact your vet in the event of an emergency. Joii vet and vet nurses are not able to discuss policy details, for further information about your policy please login or register to view your policy details online. Alternatively, contact us at info@animalfriends.co.uk or call 0344 557 0300.
Download the Joii app on your phone and sign up as an Animal Friends customer to start using the app today.
FAQs and T&Cs
Animal Friends Pet Insurance customers can use the Joii Pet Care service, including vet video consultations, for free. This offer is open to all customers who have an active cat or dog policy with Animal Friends Pet Insurance.
There is no limit on the amount of free vet consultations an eligible customer can request.
This service can only be used for pets insured on the Animal Friends policy.
You must provide a valid email address to receive your Joii Pet Care sign up link.
Animal Friends customers can sign up to Joii by following the link in your email or by downloading the Joii Pet Care app and registering using the 'I'm an Animal Friends customer' button.
The Joii Pet Care app is only compatible with Apple iOs 14.0 or later, iPhone and iPod Touch and Android 6.0 or later.
Joii Pet Care is only accessible through the Joii app.
It can take up to 4 hours from the time you buy a policy before Joii has all the required information to allow you to sign up. You will be able to use the app and your account from day one.
Animal Friends Pet Insurance accept no responsibility for customers status signing up to Joii as a non-Animal Friends' customer and having to pay for consultations.
The Joii app is not to be used in life-threatening situations. Please contact your vet in the event of an emergency involving your pet.
Joii Pet Care will store information to create your pets profile, this will include:-
The species, age, breed, gender and neuter for all pets.
Clinical history for any pets entering consultations.
E-mail address for all owners.
If the owner has purchased a product Joii for delivery, the app will need to store name and address of who and where items are to be delivered by courier/post.
The information added to Joii will be shared with Animal Friends including vet notes if there is a subsequent claim.
During the COVID-19 pandemic Joii vets are currently able to prescribe medication in some areas of the country, they will be able to confirm whether this service is available in your area during your consultation with them. Any changes to the service will be communicated.
Animal Friends reserve the right to change the terms and conditions of this offer or remove it at any time.
Joii vets and vet nurses are not able to discuss Animal Friends policy details. For further information about your Animal Friends policy please contact info@animalfriends.co.uk or call 0344 557 0300.
If you are unhappy with the service/advice/recommended treatment from Joii, please email hello@joiipetcare.com who will respond within 48 hours.
If Joii has recommended you use an out of hours vet, then we will review this charge once we receive confirmation, such as clinical notes, from Joii.
Consultations with our vets and nurses will be shared with Animal Friends and will be referred to in the event of a claim.
The Joii app is available on smartphones and tablets. Your device will need to have a webcam and a mic. You'll also need to ensure that you have a good internet connection. The Joii app may not work on older devices. Minimum requirements are: For iOS: compatible with Apple iOS 14.0 or later. Compatible with iPhone and iPod Touch. For Android: compatible with Android 6.0 or later.
You can ask any questions through an online consultation with a nurse. They may already have access to your notes and will be able to help you.
If you have used any medication as directed and not seen any improvement you can discuss this during any follow up appointments scheduled through Joii.
Alternatively, you can email Joii at hello@joiipetcare.com.
Yes. The veterinary team will be able to recommend hundreds of products to help treat your pet for non-emergency situations. You will be able to order these through the Joii app and they will be delivered to your home.
Current guidelines now prevent prescription only medicines being recommended unless a vet has seen a patient face to face. If the treatment you require is prescription only medication, the Joii Pet Care team will be able to inform you how you can access these through a local veterinary practice.
Joii is an online service only. If one of Joii's vets recommends you visit a practice, they can help you find your nearest practice, if you do not have one already.
If you are trying to sign up for the first time on the Joii app and your details are not matching Animal Friends records, please contact Animal Friends at info@animalfriends.co.uk or call 0344 557 0300.
If you are having any other problems accessing or using the Joii app, please email contact@joiipetcare.com.
A lot of examinations are carried out effectively online! Sometimes it's better to see a pet in their relaxed home environment. However, should they feel it be more suitable for your pet to be examined face to face, the vet or nurse will let you know and will help you find a vet near you or inform you to go to your usual vets.
No. Joii is designed to give you access to an online consultation when you may not be able to get to your usual veterinary practice. Whilst the Joii vets and veterinary nurses won't be from your usual practice, they will be fully registered with the Royal College of Veterinary Surgeons (RCVS) and, with your permission, can request access to your pets' medical records should they need them.
The Joii app consultations or symptom checker should not be used in urgent, life threatening situations. Joii does have a vet finder that can help you locate your nearest veterinary practice.
When you download the app, you are able to select the option 'Login with Animal Friends'. The app will check that the details you enter on the app match our records. If they don't, please call us on 0344 557 0300. When you have successfully signed up, you should find your Animal Friends pets have been added into the app for you. If a pet is not showing, please contact us on 0344 557 0300.
To start using Joii, search for Joii Pet Care on the App Store or in Google Play and download the app to your phone or tablet. Select the option 'Login with Animal Friends' and follow the instructions. When you register, the details that you enter on the app must match the details we have on our records. If they don't, please call us on 0344 557 0300 to check our records are up to date.
You need to be 18 or older, live in the UK and have a valid email address to use Joii. Free vet consultations are available for dog and cat policyholders.