Statistics from Pet Theft Reform suggest that dog theft rose following UK lockdowns, with over 1,504 dogs reported stolen in 2020, increasing to 1,882 recorded dog theft offences in 2021.
And it's not only dogs that have been targets of this heartbreaking crime, cats have also been reported stolen, taken from their owner's home. Our pets play such a huge part in our lives and having them taken from you is an unbearable thought.
Luckily, there are steps we can take to beat the thieves.
Here at Animal Friends, as pet owners ourselves we want to help you keep your dog and cat safe by providing preventative advice through articles and blogs to ensure no one has to experience the heartbreak of having their pet stolen.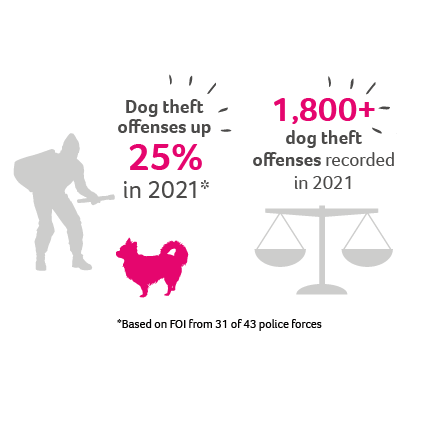 How do I prevent my dog or cat being stolen?
Read our advice on all things pet theft, from tips around home security, dog walk safety and social media precautions.
A guide to helping keep your dog safe whilst out on a walk and different smartphone apps that could help in case of emergency.
Dog thieves can be deterred by good security systems. Find out what security systems are available to help keep your cat or dog safe.
A guide to the collars, ID tags and leads that will help keep your dog safe while out and about on their daily walk.
If you are a victim to pet theft we have put together a guide of do's and don'ts to help you advertise your missing pet.
Top tips on improving your dog's recall with advice and step-by-step guides from Police Dog Trainer, Dave Wardell.
Here at Animal Friends, we care deeply about animals and as pet owners ourselves, we understand how important they are and how devastating it can be to