Good home security deters dog thieves
Over lockdown, many people realised that they were missing a canine companion in their lives which means that the cost of most dogs was pushed up by hundreds, and in some cases thousands, of pounds. Criminals have been able to cash in on the boom in prices as dog theft rose by an estimated 250%. An estimated 2,438 dogs were reported stolen to police across the UK last year. This is the equivalent of seven dog owners losing their best friend everyday.
Many of us might believe dogs are taken from outside shops or whilst on walks in the park and other public places, however data shockingly reveals over 70% of dogs were stolen from where they live, almost half from within the home itself.
So, what can we do to keep our dogs safe from thieves at home?
Video doorbells

In the last couple of years, video doorbells have become increasingly popular – and for good reason. Doorbells like the Ring video doorbell ensure 'there is always someone at home' keeping an eye out for intruders. Most dog thieves will ring a doorbell before attempting to break-in to a house to steal a dog. The Ring doorbell, and others like it, works with a mobile phone and alerts you when someone is at your front door.
It doesn't matter where you are, as long as your phone has an internet connection. Using the associated app, you can speak through the doorbell giving the impression that you are at home. Not many thieves will risk breaking in once they have confirmed the homeowner is aware of their presence. Some video doorbells also provide you with video footage of the potential thief because the doorbell records all interactions.
With some doorbells, thieves don't even have to ring the bell to set off the alert on your phone as they allow the user to customise the motion detection alerts so you can be notified as soon as someone sets foot on your property. Many video doorbells are also equipped with night vision, so that dog thieves and burglars can't use the cover of darkness to their advantage.
Popular brands of video doorbells include:
Indoor security cameras or nanny cams
Indoor security cameras, or nanny cams, are a great way to see what's going on in your home by using an app on your phone or computer. When you're out and about, or maybe at work, you can tap on the app to watch live video of wherever you have placed the cameras around your house. The cameras are freestanding and are usually mains powered.
Many cameras have built-in motion detection, so if the worst happens and a dog thief breaks into your home you will immediately be sent an alert. Two-way audio is a great feature on some cameras that can make dog thieves or burglars very nervous – if you're telling the intruder you have them on camera and the police are on the way, they're unlikely to spend long trying to steal your dog and would hopefully be more likely to leave empty-handed. Many cameras also have the ability to record video clips when they are triggered by the motion sensors.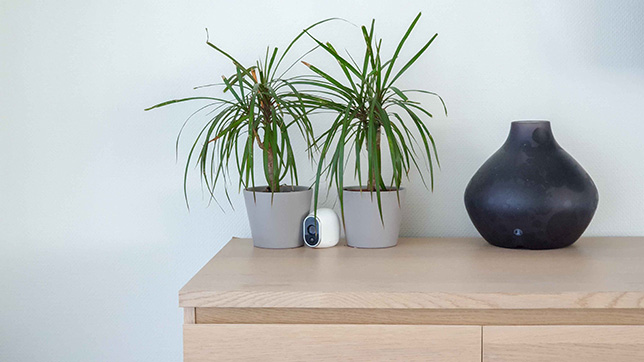 Popular brands of indoor security cameras include:
Outdoor or garden cameras
Many dog thieves steal dogs from gardens or will break into homes via the rear garden – outdoor cameras are one of the best ways to prevent this from happening. Some outdoor cameras are really tough and are designed to withstand all weather conditions such as gale-force winds, driving rain and heavy snow. Like the video doorbells and indoor security cameras, you're sometimes able to link them to a phone app that will provide you with live video, motion detection options, two-way audio, night-vision capability, recording options and much more. Some cameras even enable you to sound a siren from your phone even if you're on the other side of the world – or if you prefer, some cameras enable you to talk into your phone to warn the dog thief that the police have been called. Outdoor security cameras usually need to be installed on a wall and are either mains or battery powered.
Popular brands of outdoor security cameras include:
Currently, dog theft is a low-risk, high-reward crime and due to the recent rise in prices our dogs have never been at more risk. Video doorbells, indoor security cameras or outdoor security won't prevent all dog thieves from breaking into homes, but they may make many of them think twice.
Please remember…
If the worst happens, and you and your dog are a direct target of pet theft, ring 999.
At all other times, any attempted incidents or any suspicious behaviour should be reported by calling 101.
Find the information you need as we support you through every step of your journey with your canine companion.
Dog insurance can help cover the cost of veterinary treatment if your dog gets injured or falls ill.
We know pets
Animal Friends Insurance is a multi-award winning FCA-regulated pet insurer, founded in 1998 to provide industry-leading pet insurance and first-class animal care to create a better life for every animal.
As one of the UK's largest pet insurance providers, Animal Friends works with vets, veterinary professionals, and partners pioneering the latest veterinary technology & healthcare advancements to achieve our vision.
Our policyholders have helped donate over £7.8 million to more than 700 animal charities worldwide and by educating and inspiring others to act on current events and responsible pet ownership, Animal Friends is driving positive change for animal welfare and conservation.