Obesity can be defined as excess body fat which can put our cats and dogs at risk of serious health problems and impact their quality of life.
Making sure your pet remains a healthy weight can help them live the life they deserve.
Overweight pets may be predisposed to life-limiting conditions including:
Osteoarthritis
Diabetes
Heart disease
Many forms of cancer
Here are some small steps to help keep your pet healthy
98% of vets believe that feeding too many treats contributes most to the issue of overweight and obese pets.* Try to give affection or healthy pet treats in moderation as a reward. *https://www.pfma.org.uk
According to PDSA's PAW report, one of the most common factors preventing pets from losing weight is that 29% of owners give in when their cat or dog begs for food. Ignore the puppy dog (or cat) eyes, no matter how cute they might be!
As we become less active, so do our pets and this can have a bad effect on their health and wellbeing as well as our own.
It's important to exercise your pet. Taking them out on a walk or having playtime around the house can help make sure their exercise needs are met and it strengthens the bond between you.
Your pet's food will provide feeding guidelines, providing you with the information you'll need to ensure they're fed the right amount of food. Not too much, and not too little. Depending on their diet, pet food is usually complete and if properly measured, it's all they'll need.
If you're ever confused about your cat or dog's diet, always speak to your vet who will be able to make a professional recommendation based on your pet's age, breed and general health.
We recommend you visit your vet and follow their advice before implementing changes to your pet's diet and exercise.
Free guides to preventing and recognising pet obesity
Just as it is with us humans, animal obesity is a serious health issue and can lead to all sorts of health complications for our pets. Here at Animal Friends we aim to help people understand the dangers of obesity and learn how to prevent it in their pets.
We recommend you consult with your vet before embarking on a weight-loss programme for your pet.
Meet vet Vaughn
Vaughn Stoman runs the Springbok Veterinary Group based in Hampshire. His surgery opened in 2008 and developed its own rehabilitation centre including hydrotherapy, physiotherapy and agility. He believes that pets have a therapeutic part to play in our lives – adding quality and a sense of meaning to us as humans.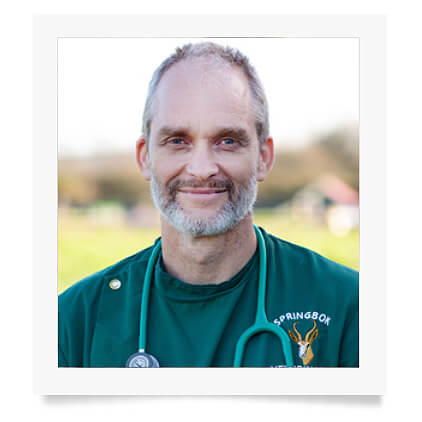 Meet Jo an animal behaviourist
Jo is a member of the COAPE Association of Pet Behaviourists and Trainers (CAPBT). Jo graduated with her COAPE Diploma in Companion Animal Behaviour Therapy and Training in 1999 and has worked extensively as a head nurse and a professional referral pet behaviour therapist and dog trainer.