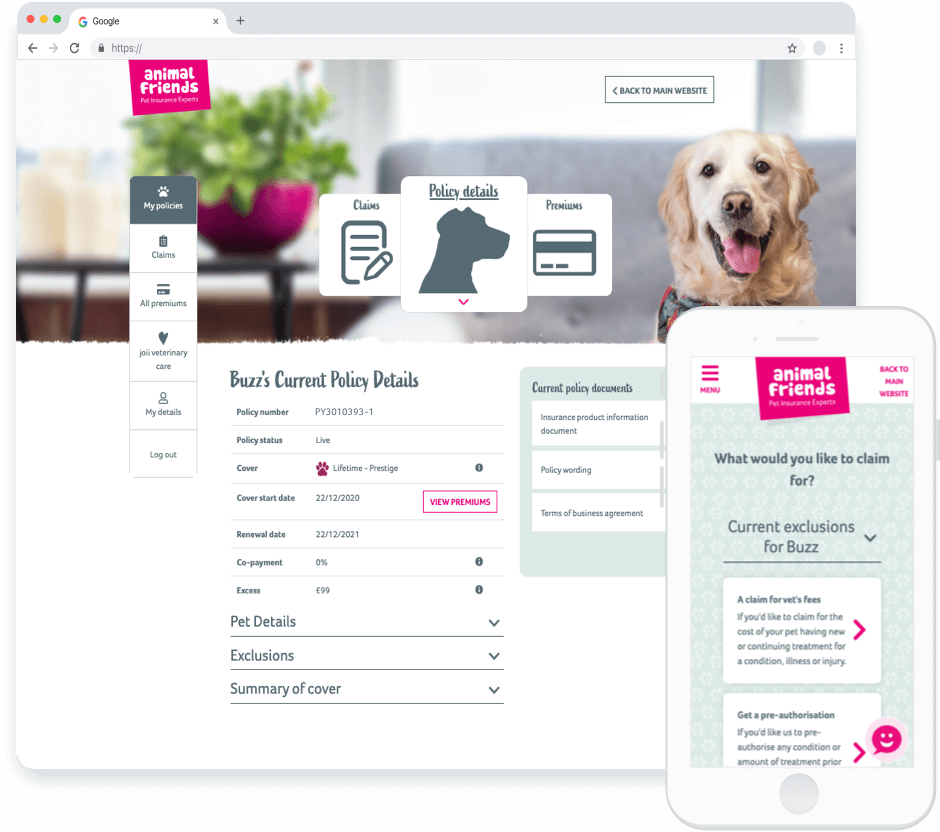 View your policy details and claims status online
Access your policy details with our quick registration process. We'll need some personal details and your email address to be able to identify you and make sure your account is secure.
Register today to:
View all your policies and pet details online
View exclusions on your policies
View your premium summary
Update your telephone numbers
View your claims status online
Submit claims for repeat medication
Upload any documents we have asked you to send to us.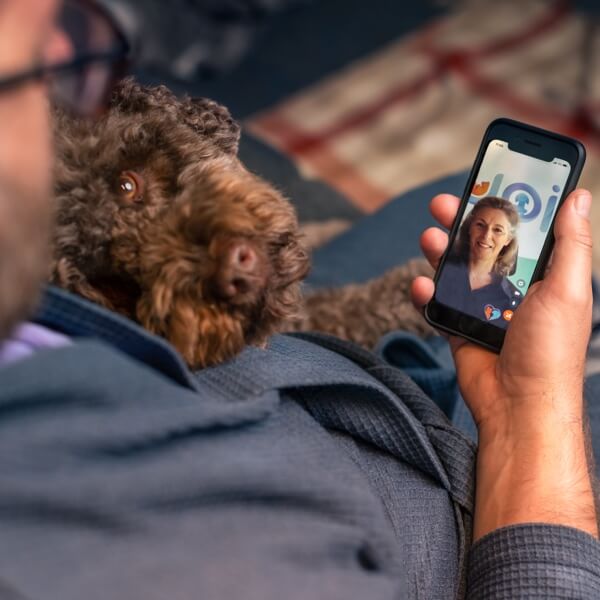 Free vet video calls for your dog or cat 24/7/365 through the Joii app
As an Animal Friends customer, you have access to:
Free video consults with a vet or nurse on your phone or tablet
A tailored symptom checker to find out what the problem is and what to do next
Get treatment plans and products delivered to your door.
To make a claim visit our Claims page. Your vet can claim for vet fees on your behalf through Pawtal, our online claims system for vets.
Repeat medication claims can be submitted online by logging into My account.
For claims queries, call 0344 557 0300 Monday – Friday: 09:00 – 17:00
You can access your Policy Booklet and the Insurance Product Information Document for your policy, by logging into your online account.
If you have not logged into your account before, you will need to register first.
Renew my policy
If you pay by direct debit your policy will renew automatically.
If you pay annually and agreed to have payments automatically taken at renewal, then no further action is needed.
For other payment methods, please call us.
0344 557 0300 Monday – Friday: 09:00 – 17:00
Change my address
If you would like to change your address, please email us or call us on 0344 557 0300 Monday – Friday: 09:00 – 17:00
Find out more about your transfer to Animal Friends and your new policy.
Cancel my policy
If you would like to cancel your policy, please email us or call us on 0344 557 0300 Monday – Friday: 09:00 – 17:00