Our Privacy Commitment
If you are a current or former Animal Friends Insurance (AFI) customer or you have asked us for a quote or are just visiting our website, this commitment on how we manage your personal data applies to you.
If you are a current or former AFI customer, enquiring about a policy or visiting any of our websites, then AFI is a 'data controller' of your personal data. As a data controller, we are responsible for determining what data we collect from you, why we need it and how we will process it. We are registered as a data controller with the UK Information Commissioner's Office (ICO) under number Z6313845.
We will keep your personal information private and safe.
We will only use your personal information in ways you would expect, as outlined in this Privacy Commitment.
We will only give our staff access to your data where they need it to be able to carry out their duties.
We will only share your personal information with other organisations for specific purposes and where your data is kept in accordance with this Commitment.
We will only keep your personal information for as long as we need it to provide you a service.
We will consider your privacy before we make any changes to our processes or systems where the processing of your data is involved.
We will keep you informed of any changes we make to the way we manage your data by updating this Privacy Commitment or emailing you if there is a significant change.
Read this Privacy Commitment and revisit it when you have a query about our use of your personal information or if you haven't read it in a while. Our processes will change as our business evolves and we will update this policy in line with those changes.
Read your policy documents carefully as this contains important information about your contract with us. Most of the personal data we hold about you and process is done for the purpose of administering your insurance contract.
If you provide us with personal information about other people, or if others give us your information, we will only use that information for the specific reason for which it was provided to us, which is explained in the section 'How and why we use your data' below.
You are responsible for your username and password: keep them secret and safe!
If you believe your privacy has been breached, please contact us immediately on data.protection@animalfriends.co.uk.
You provide personal data at your own risk: unfortunately, no data transmission is guaranteed to be 100% secure.
From the first moment you interact with Animal Friends, either directly on our website or by visiting a price comparison website, we are collecting data.
In some instances, this data is anonymised, and we are unable to identify you (for example, when you visit our website, we will use cookies to track how you interact with our site and navigate the pages so we can look at how to improve our website and make your experience better, but we won't link this activity to the record that we hold for you).
You will need to allow cookies to operate for us to undertake this type of tracking and you can block these cookies from operating entirely by using the cookie controls on our websites. For more information on the cookies that we employ, please read our Cookie Policy.
Website tracking information is the start of data that we might collect. Here are examples of data we may collect as we continue our relationship with you: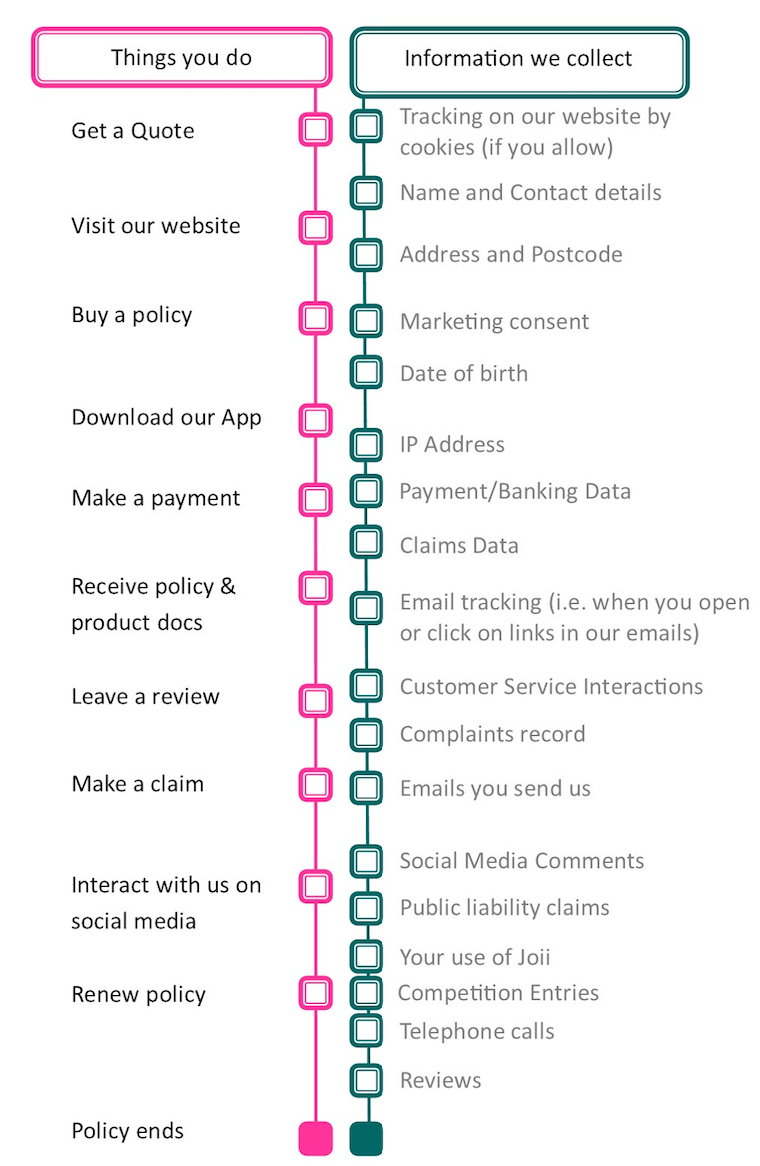 Types of data we collect:
Contact details – your address, telephone number, email address
Contact Details of other persons who will act on your behalf and are named on your policy – please ensure you have their permission to do this.
Identity details – your name, your postcode, date of birth
Financial information – your bank account number, sort code, payment card details
Data that identifies you – your IP address, login information, browser type and version, time zone setting, browser plug-in types, geolocation information about where you might be, operating system and version.
Call recordings (please note recordings are kept for a maximum of two years).
Live Chat and Chatbot transcriptions (Chatbot transcriptions are only kept where you request an agent call back).
Data on how you use our Websites/Mobile Apps – your activities and clicks as you travel through our websites or mobile applications, which captures the pages viewed, page response times, download errors, how long you stay on our websites and what you do on those pages.
Data on how you interact with our direct marketing emails – when you open and click-through any of our email content.
Special Category Personal Data
We collect minimal "sensitive data", known as Special Category Personal Data*, about you such as your health information if you take out a horse-riding policy (with personal accident cover) with us or submit a public liability claim that involves detriment to your health.
*Special Category Personal Data is data revealing your racial or ethnic origin, political opinions, religious/philosophical beliefs, trade union membership, genetic data, biometric data, health data, data about your sexual life or orientation, and offences or alleged offences.
What about children's data?
Animal Friends Insurance products can only be bought by policyholders over the age of 18 and for most of our products we do not knowingly collect any personal data from any person under this age. Exceptions to this are: for the provision of a 'Young Rider' horse riding policy; or in relation to a public liability claim. Data of children aged under 16 will only be collected with the consent of their parent or guardian.
Data protection law means that we can only use your data for certain reasons and where we have a legal basis to do so. Here are the legal bases for our processing of your data and what each of them mean:
Legal basis: Contract
Processing your data is necessary for a contract you have with us, or because we have asked you to take specific steps before entering that contract.
Providing you with an insurance quote
Where you request an insurance quote from us, either via a price comparison website, a distribution partner or directly via our websites or through our Customer Service centre.
Providing you with an insurance policy
When you have received a quote and decide to buy an insurance policy with us.
Administering your insurance policy
Administrative tasks will include, but are not limited to, providing customer service, processing payments, calculating premiums, managing claims, paying claims.
Providing you with support services
Providing you with services to support your policy, as described in your policy documents such as our online veterinary service, Joii.
Legal basis: Legitimate interests
Processing your data is necessary for our legitimate interests or the legitimate interests of a third party, provided those interests are not outweighed by your individual rights and interests. These legitimate interests are:
gaining insights from your behaviour on our websites or in our apps.
delivering, developing, and improving our products and services.
determining whether our marketing activities are effective.
targeting our products to people who would be interested in them.
Using CCTV recording equipment in and around our premises for monitoring and security purposes.
Recording and monitoring calls for training purposes to improve the quality of our services and to prevent and detect fraud.
In each case, these legitimate interests are only valid if they are not outweighed by your individual rights and interests. In these instances, we will complete an assessment, known as a 'balancing test', to determine whether your interests override the legitimate interests gained by AFI processing your data.
Customer services and managing complaints
Notifying you of any changes to our service; solving issues via live chat support, phone, or email; providing you with a quote retrieval message by email; asking you for a review of our products or services.
Management information and business process improvement
We will use your data to improve the insurance products we offer, and to streamline and evolve the way that we manage our relationship with you.
Direct marketing and Profiling purposes
We engage direct marketing specialists to inform prospective customer of our products and services through postal campaigns.
We will use your data to find other customers who are similar to you, for online advertising. We will also use your data with advertisers to either stop serving our advertising to you online (e.g., advertising on your Facebook newsfeed) or to highlight offers or services included in the provision of your contract that you are not already using such as our online Veterinary service 'Joii'. You can object to this processing and stop it at any time by emailing: data.protection@animalfriends.co.uk
Prevention and detection of fraud
We will use your data to verify your identity and monitor activities to prevent fraud using specialist fraud detection services. Fraud prevention benefits all policyholders in enabling the reduction of insurance premiums.
Legal basis: Consent
You have given clear consent for AFI to process your personal data for a specific purpose. You can withdraw your consent at any time.
Direct marketing purposes (with your consent)
Sending you emails and text messages about new features, products and services, and content. You can withdraw your consent for this at any time by clicking on the 'Unsubscribe' link in our emails or calling Customer Services on 0344 557 0300.
Legal basis: Legal obligation
Processing your data is necessary to fulfil a legal obligation such as defending your, or our, legal rights, adhering to regulatory requirements, responding to a request from the English courts or the police.
Our Legal basis for processing special category data
Where we collect and store your health data for the provision of insurance, we process this either with your explicit consent or on the basis of a substantial public interest for the provision of insurance. We may also process your special category data for the establishment, exercise or defence of legal claims when we are faced with any legal claims or where we pursue legal claims ourselves.
The personal data we collect is processed and stored in the UK or Europe. In some instances, we will employ other companies who will process your data, and, in every case, we will ensure that any other company that we transfer your data to is subject to the same level of data protection as we are.
This means that where we may transfer or store your information outside the UK or EEA (European Economic Area), we will take steps to ensure that your privacy rights continue to be protected as outlined in this Privacy Commitment.
We will process your data for as long as is required to provide and administer your insurance quote, policy and any related claims or complaints, as well as complying with legal financial reporting requirements. This will typically mean that data is retained for a minimum of six years.
We hold anonymised data, where we have removed any of your identifying details, for a longer period so that we can look at trends across pet insurance, veterinary claims and the services and products we have provided over an extensive time period. As this data is anonymised, it is no longer 'personal' data and subject to this Commitment.
Our insurer
We share your data with our Insurer, Red Sands Insurance Company (Europe) Limited, who is also a Data Controller of your data.
Veterinary practices
When you make a claim on your insurance policy, we will liaise directly with the veterinary practice to settle your claim as quickly as possible. We will often obtain pet medical history from your veterinary practices to confirm that there are no exclusions.
Price comparison websites and partners
If you are directed to AFI from a price comparison or partner website and you buy a policy from us, we must inform that price comparison or partner website that you have bought a policy to pay them a commission fee. We will therefore share identifying details and premium information back to the price comparison website or partner for the administration of their fees.
Our offshore claims processing team
We use an offshore claim processing team that enables us to ensure we can process claims in a more expedient and cost-efficient way which has a direct benefit to you as a customer in speeding up the claims process. Whilst your data is stored in the UK, it is being accessed by our claims processing team in India.
Review platforms
Customer feedback is very important to us so we will invite you to leave a review either on our Rant and Rave platform or via Trustpilot. It is entirely optional for you to leave a review. Any feedback you give us is used to review our services and products to try and improve them or to recognise our staff for a job well done.
Marketing services providers
We undertake marketing and advertising to let relevant people know about our insurance products and our charitable giving.
We will share your information with social media platforms, specialist marketing agencies and internet service providers who you already have a relationship with for two main purposes: firstly, to stop advertising for our insurance products featuring on your social media feeds if you already have an insurance policy with us, and secondly, to understand more about our customers so that we can extend our offers to other people who would be interested in our products and services. You can request that your personal data is not shared for this purpose by emailing, data.protection@animalfriends.co.uk.
Fraud prevention specialists and agencies
Your personal information may be checked with and recorded by a fraud prevention specialists and agencies. If false or inaccurate information is provided and fraud is identified, details may be passed to the fraud prevention specialist or agency.
This information will be accessed and used by AFI, law enforcement agencies and other organisations to prevent fraud and money laundering. We use insurance industry databases such as the Claims and Underwriting Exchange where you make a claim so that we can check your claims history.
Other specialist third parties
We use third parties to host our data and our websites and applications. We also use third parties to undertake specialist tasks for us such as processing payments, undertaking direct marketing campaigns, maintaining data accuracy, managing public liability claims and keeping our IT systems secure.
When we do this, sometimes it is necessary for us to share your data for these specialist services to operate. Your data is shared only when strictly necessary and according to UK privacy regulation and the safeguards and good practices detailed in this Privacy Commitment.
Your choices
You can choose not to provide us with personal data – but we will not be able to provide you with a quote or insurance policy without processing your personal data.
You can turn off cookies by blocking cookies by using the cookie controls available on our website or via your browser.
You can ask us not to use your data for direct marketing – We will inform you (before collecting your data) if we intend to use your data for direct marketing.
Your rights
You can exercise your rights by sending us an email at data.protection@animalfriends.co.uk.
You have the right to be informed about the collection and use of your personal data. This Privacy Commitment provides you with the information required under this right.
You have the right to access information we hold about you.
You have the right to make us correct any inaccurate personal data about you.
You can object to us using your data for profiling you or making automated decisions about you. We may use your data to determine whether we should let you know information that might be relevant to you (for example, tailoring emails to you based on your behaviour).
You have the right to have a copy of your data in a portable format. We will give you a copy of your data in CSV so that you can provide it to another insurer. If you ask us and it is technically possible, we will directly transfer the data to the other insurer for you.
You have the right to restrict the processing of your personal data. Under this right, we would only be able to store your personal data until the restriction is lifted.
You have the right to be 'forgotten' by us. You can do this by asking us to erase any personal data we hold about you. There may be instances where we are unable to comply fully with this right. In those cases, we will provide you with the data that we have had to retain, the legal reason(s) for retaining this data and the final destruction date for that data.
You have the right to lodge a complaint regarding our use of your data. Please tell us first, so we have a chance to address your concerns. If we fail in this, you can address any complaint to the UK Information Commissioner's Office, either by calling their helpline on 0303 123 1113 or as directed on their website at ico.org.uk .
Well done for reading our Privacy Commitment. Please do come back and reread this Commitment from time to time as we will update this notice as any processing practices change.
This Privacy Commitment was last updated on 20th July 2021.