Preventing dog theft security collars, ID tags and long leads
Over the recent months, pet theft has become an increased topic of discussion in the UK with reports in the media and across social platforms from people that have been targets or victims of this devastating crime.
At Animal Friends, we understand how incredibly important our cats and dogs are to us which is why we want to ensure pet owners across the UK have the tools and information they need to keep their beloved fur friends safe at home and while out and about.
ID tags
As part of the Control Order for Dogs 1992, It is a legal requirement in the UK for your dog to wear a collar when outside along with an attached ID tag. Here's what you need to know about your dog's ID tag.
What should be on the ID
Your dog's ID tag should be inscribed with your name or surname (as the owner) and your address.
Don't engrave your dog's name on it
Engraving your pet's name on their ID tag means that strangers will be able to use it to their advantage, making it easier for your dog to be called over. Instead, include your own name, address and contact number on the tag.
Write 'I'm neutered/spayed' on it
By adding this information onto their ID tag, it may deter strangers from wanting to steal your pet for breeding purposes.
Even if your dog is stolen in the first instance, they could later be "dumped" as the thieves realise that they're no use for their intended purpose.
Include your phone number
If your dog was found by a stranger or rescue centre, engraving your phone number on your dog's tag means you have a stronger chance of being reunited with your pet.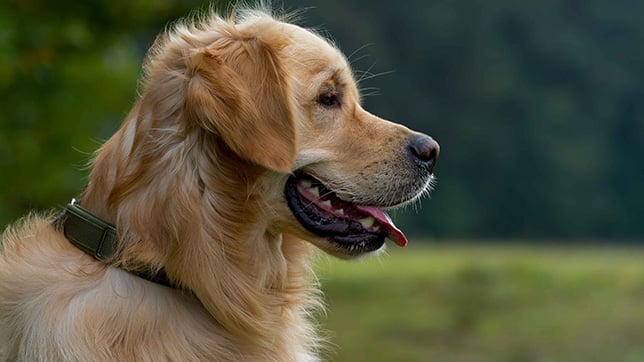 Dog collars
There are many different types of collar on the market for pet owners to choose from but with so much choice it's not always easy to know which one is right for you and your dog.
It's important that you always choose a suitable collar that meets with your dog's needs and breed but if you are looking for an additional level of security, why not explore one that includes padlock protection, such as PetLoc.
These types of collar are extremely heavy duty and you should always seek veterinary advice before trying them out on your dog to make sure they suit their body type and temperament.
Long leads
To help reduce the potential risk of being stolen, you may feel that investing in a longer lead is the best way forward. Having a longer lead means your dog still has the chance to roam free and investigate their surroundings whilst keeping them safe and secure. These types of leads are typically used for recall training but can also be helpful when looking for an additional level of protection when out walking.
It is important to be aware that while long leads offer security at distance, due to the fabric material they are typically made from it is possible that the lead could easily be cut by a determined thief. If you are considering purchasing a long line or extendable lead, please be aware it's important to think about whether this is right for your breed of dog. Long line and extendable leads could be dangerous to some breeds, such as greyhounds or lurchers, as they can achieve a high speed before reaching the full extension of the lead. This could result in your dog hurting themselves, accidentally injuring you as you hold on or the lead ripping out of your hand. Be sure to purchase a robust and secure lead from a reputable company, and check the advice on their websites to see if it's the right choice for your pup.
There are a range of anti-dog theft leads available to buy which are built to deter criminals and prevent theft. Check out Meg Heath Dog Leads to see a few examples of these types of anti-theft lead.
For more information on how to keep your cat or dog safe from theft, check out our information on household security cameras.
Find the information you need as we support you through every step of your journey with your canine companion.
Dog insurance can help cover the cost of veterinary treatment if your dog gets injured or falls ill.
We know pets
Animal Friends Insurance is a multi-award winning FCA-regulated pet insurer, founded in 1998 to provide industry-leading pet insurance and first-class animal care to create a better life for every animal.
As one of the UK's largest pet insurance providers, Animal Friends works with vets, veterinary professionals, and partners pioneering the latest veterinary technology & healthcare advancements to achieve our vision.
Our policyholders have helped donate over £7.8 million to more than 700 animal charities worldwide and by educating and inspiring others to act on current events and responsible pet ownership, Animal Friends is driving positive change for animal welfare and conservation.