Dog collars and harnesses
Just as it's a legal requirement to have your dog microchipped, all dogs must wear a collar when out and about in a public place.
In this article, we're going to discover how to correctly fit collars and harnesses, as well as helping you find the right collar and harness for your dog…
Why are collars important?
According to The Control of Dogs Order 1992, every dog should wear a collar when out in public, and that collar should contain their owner's name and address. It's acceptable to display an owner's name and address directly on the collar itself, or through an ID tag attached to it.
As well as being a legal requirement, a collar can help to keep your canine companion safe, e.g. by preventing them from running into traffic or getting lost.
So, making sure your dog has a comfortable collar is essential!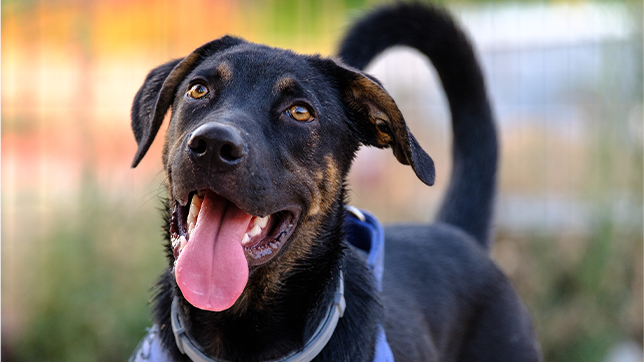 How to correctly fit a dog collar
It's vital your dog feels comfortable in their collar, and that their collar fits correctly.
Here's a basic step-by-step guide to fitting a collar to your dog:
Step 1, Measure around their neck – Using a soft, flexible, sewing tape, gently measure the circumference of your dog's neck in inches; then, add two inches to allow for collar adjustments. (If your dog is a toy breed, you usually add just one inch, and if your dog is a giant breed, you may need to add three inches!)
Top tip: For dogs with a neck size that sits between two collar options, always choose the larger option because that'll allow plenty of room for adjustment. An example: the choice is between collars of 7-11 inches and 10-15 inches in length, so you would select the 10-15 inch collar for a dog with a 10-inch neck.
If you don't have a soft sewing tape, use a piece of string and cut it to size of your dog's neck. Then, simply measure this with measuring tape or a ruler.
Step 2, Check the collar is comfortable – Your dog's collar should never be too tight or too loose. Once the collar is secured, you should be able to fit two fingers between the collar and your dog's neck. (For giant dog breeds, you should be able to fit three fingers between your dog's neck and the collar!)
Step 3, Adjust their collar when needed – As your dog's size and weight fluctuates throughout their life, their collar will need to be double-checked to make sure it's still comfortable for them. For example, puppies need the size of their collars checked weekly, while adult dogs require their collar's condition and fit to be checked at least every couple of weeks.
Always replace a collar if you notice signs of damage or wear!
Remember: Every dog and each collar will be different – if you need help fitting your dog's collar, please speak to your vet for advice.
Tips on choosing the best collar for your dog
Consider the following questions when choosing a collar for your canine companion:
What's their face shape?
Flat-faced (brachycephalic) dogs will need smaller, lightweight collars. Whereas lurchers can easily escape standard collars, so it's often suggested they wear a specially designed collar, like the fishtail collar.
Please note: It's generally recommended that flat-faced dogs should have a harness connected to their lead during walks, while still wearing a collar for ID, to support healthy breathing.
How big are they?
Small dogs tend to prefer little lightweight collars. However, larger dogs can be quite strong, so are usually most comfortable in wider, more durable collars.
Do they have long hair or short fur?
Dogs with long hair, that's easily tangled, might like rolled collars. Although, keeping your dog properly groomed can help to prevent uncomfortable matts and irritation developing under their collar, no-matter their hair (or fur) type.
What sort of activities do they enjoy?
If your dog loves splashing around in water, for example, they'll probably need a waterproof collar. But, if you exercise your dog during early mornings and late evenings, or frequently walk near a road, a reflective collar may be the best option for your dog.
For advice on training your dog to wear a collar, you can visit this helpful guide by Battersea Dogs & Cats Home.
Types of dog collars
There are far too many types of dog collars to list in one article! So, here are just a few of the most popular dog collars you're likely to see:
Everyday collar
Everyday collars can be found in many different materials, including nylon, neoprene, paracord, vegan leather, or real leather.
Standard buckle collar
This type of collar has holes that loop through a buckle fastening.
Flat collar
Although they're not suitable for every dog, flat collars are available in a wide choice of materials, colours, and designs.
Quick-release collar
As its name suggests, the quick-release collar is designed using a clip that can be released quickly in an emergency, to prevent injuries.
Rolled collar
Rolled collars made from smooth leather are said to be suitable for dogs who get matted fur around their necks.
However, due to being narrower than other collars, rolled collars are not recommended for dogs who pull or those with eye problems.
Smart collar
Smart collars contain tracking software, to help locate your dog if they get lost.
Fishtail collar
Shaped like a fish's tail, the fishtail collar is designed specifically for dogs like greyhounds, whippets, salukis, wolfhounds, lurchers, etc.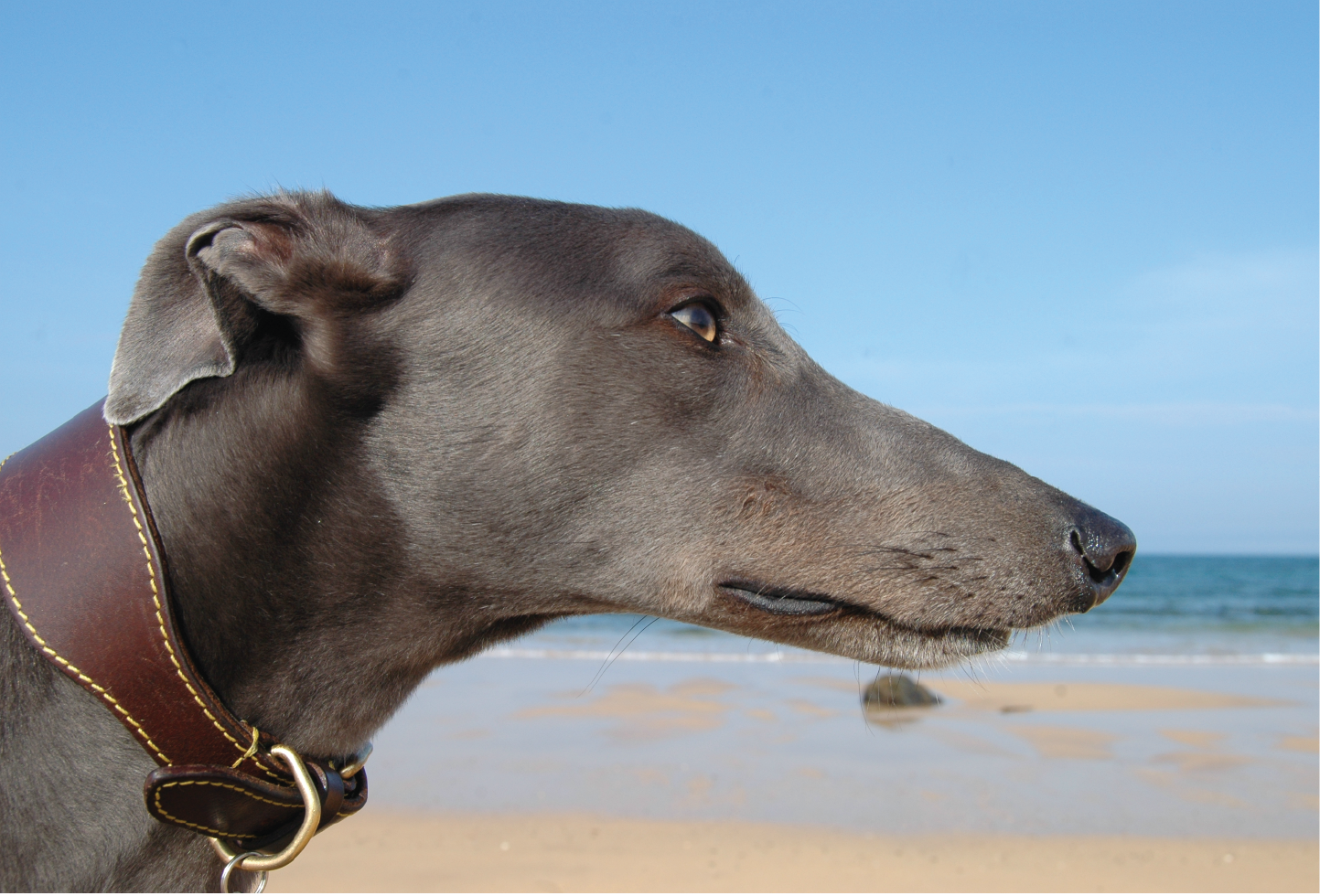 Slim necks make it easier for lurchers to slip out of normal collars; so, the wider section at the front of a fishtail collar can prevent them from escaping.
Martingale collar
This type of collar usually slides over your dog's head, although some martingale collars do have buckles or clip fastenings. All martingale collars should have a safety feature to prevent them from being pulled too tightly around your dog's neck.
Designed to reduce the risk of your dog slipping out of their collar, a martingale collar has a slight tightening action if pressure is applied.
It's worth speaking to your vet before using a martingale collar, because not all dogs react well to the tightening sensation of this type of collar.
Show collar
Also known as a 'slip collar', a show collar is designed to be used in the show ring. It's recommended you choose a show collar with a stopper, which can be adjusted to suit your dog and prevent their throat from being injured.
Traditional thin show collars are unsuitable for excitable dogs, those who pull, and puppies. Luckily, there are comfort show collars available that offer support without hurting your dog's neck.
Please note: Show collars should only be used in the show ring and are unsafe to use while exercising your dog.
Inhumane dog collars
The Animal Welfare Act 2006 protects the welfare of your dog. Owners have a duty of care meaning they must properly provide for their pets and must not cause any pain or suffering.
Sadly, there are still options on the market for dog collars that are dangerous and have no place in responsible pet ownership.
Please do not use the following types of collars:
Choke collar or choke chain
With or without prongs, these collars tighten around a dog's neck, causing them pain or restricting their breathing, to prevent them from pulling.
Shock collar
Whether through an electric or scent shock, these collars supposedly stop dogs from performing unwanted behaviour by associating what they've done with pain or unpleasant smells. It is expected that electric training collars will be banned in England from early 2024.
These collars are inhumane and should never be used on any dog.
At the time of publication, the RSPCA is educating dog owners about unethical training practices, and working towards ending the use of harmful dog collars.
If you're having trouble training your dog, please speak to a vet. Should your vet be unable to help with your dog's behaviour, they'll likely recommend a local, qualified canine behaviourist.
Dog collar accessories
Deciding on a dog collar should be enjoyable, as well as practical – so, choosing suitable accessories for your dog's collar can be good fun!
ID tag
Traditional ID tags are available in lots of different designs.
If you often walk your dog in the rain, or they like to go swimming, a waterproof ID tube could be a great alternative to a standard ID tag.
Top tip: Add a reminder to your calendar to update your dog's ID tag, and microchip details, the day after you move into a new house!
GPS tag
Thanks to new technology, you can now buy GPS tags to attach to your dog's collar!
The idea of a GPS tag is to monitor your dog's location if they go missing, to make it easier for you to be reunited with them.
LED neckband
An LED neckband helps to improve your dog's visibility in low light.
Dog harnesses
Some dogs struggle to enjoy exercising when their collar is attached directly to a lead. Not only does securing a lead straight to your dog's collar put more pressure on their neck, but it can also be easier to escape out of a collar.
Harnesses for dogs may offer other benefits too, including:
An even pressure over a larger area, to lower the risk of injuries.
A gentler way to redirect your dog and discourage pulling.
Extra support for senior dogs who might need help getting into cars, thanks to the handle added to the top of most harnesses.
Important: Even if you attach your dog's lead to their harness, by law, your dog must still wear a collar containing your name and address!
How to correctly fit a dog harness
Fitting your dog's harness correctly is important because it'll ensure they're safe and comfortable.
Here's a quick guide to making sure your dog's harness is fitted properly:
Step 1, Measure your dog's chest – The girth measurement is often referred to as the 'chest measurement', which can be confusing!
Use a soft, flexible sewing tape to measure the size of your dog's girth area just behind their front legs (around their tummy and back). Make sure the tape isn't too tight or too loose, and that you can place two fingers between the measuring tape and your dog.
Then, you'll need to measure the lower section of your dog's neck, at the point you think their harness will sit. Measure the widest part of your dog's neck – again, ensuring you can fit two fingers between the tape and your dog.
Step 2, Find the right sized harness – Select the ideal harness style to suit your dog (you can see our guide below for inspiration!).
Step 3, Try the harness on – Your dog needs to try their brand-new harness on, so you can adjust it to fit them comfortably. The harness should be secure enough not to slip around. Also, the harness shouldn't be too tight; you'll need to be able to slide two fingers between the harness and your dog, at all points.
If your dog is nervous about wearing a harness, let them get used to in the safety of your home before adjusting any straps or walking them in it.
For advice on introducing your dog to a harness, you can visit this handy harness guide by Dogs Trust.
Please note: Every dog is an individual and each harness will fit differently, so it's worth contacting your vet if you need further advice about correctly fitting a harness.
Tips on choosing the best harness for your dog
Ask yourself the following questions, to help you decide which harness would be best for your canine companion:
How old are they?
Puppies will probably need a starter harness, which will have to be replaced as they grow up.
How big are they?
Some harnesses suit larger dogs better, while other harnesses are designed for smaller dogs. For example, owners of larger, excitable dogs may prefer a harness their dog can step into because it'll be quicker to get ready for walks.
What sort of activities do they enjoy?
If you walk your dog in the dark, a reflective harness would be fantastic for improved visibility. For dogs who are extremely active, a lightweight yet hardwearing harness (with plenty of padding!) is likely to last longer than a standard harness.
Do they mind having something placed over their head?
A dog who's sensitive about anything near their head might benefit from a harness they can step into, instead of a harness that needs to go over their head.
Types of dog harnesses
Luckily for dog owners, there's a huge selection of harnesses for us to choose from!
Here are just five types of harnesses out of the many we could've chosen:
Webbed harness
Although they're available in lots of lovely colours, webbing harnesses are not always suitable for dogs with sensitive skin.
Vest harness
While a vest harness doesn't tend to rub behind a dog's front legs, it may not be the best choice for a dog who pulls on the lead.
Front clip harness
Front clip harnesses have anti-pull features that can help to slow down over-eager dogs.
Back clip harness
Perhaps one of the most frequently seen harness styles, the back clip harness is great for preventing your dog from getting tangled in their lead.
A back clip harness may not be a good option if your dog pulls, though – since back clip harnesses tend to encourage 'sled dog' type pulling behaviour!
Dual clip harness
Harnesses with both front and back clips can be helpful while training your dog. A dual clip harness allows you to use a double-ended lead for extra security.
Important: Your vet should be able to give advice about the right type of harness for your dog.
Find the information you need as we support you through every step of your journey with your canine companion.
Dog insurance can help cover the cost of veterinary treatment if your dog gets injured or falls ill.
We know pets
Animal Friends Insurance is a multi-award winning FCA-regulated pet insurer, founded in 1998 to provide industry-leading pet insurance and first-class animal care to create a better life for every animal.
As one of the UK's largest pet insurance providers, Animal Friends works with vets, veterinary professionals, and partners pioneering the latest veterinary technology & healthcare advancements to achieve our vision.
Our policyholders have helped donate over £7.8 million to more than 700 animal charities worldwide and by educating and inspiring others to act on current events and responsible pet ownership, Animal Friends is driving positive change for animal welfare and conservation.