Microchipping
Far from simply being a clever way to identify a lost pet, microchips have been a legal requirement for dogs since 2016.
It is an owner's responsibility to ensure that their pet's chip is functional and that the information logged with the registry is up to date.
Microchips are virtually painless to our pets, and can help reunite owners with their beloved pets should they ever wander or get lost. You may think that you can only get this procedure for your dogs and cats, but it would seem that there's barely an animal out there that can't benefit from this technology! So, whether you've got a kitten, a puppy or even a tortoise, you should speak to your vet about microchipping.
Microchips are a great way to identify your pets. Typically implanted between the shoulder blades, the chip itself is around the same size as a grain of rice and the procedure is virtually painless and quickly forgotten about.
In order to crack down on irresponsible pet ownership and to help lost pets return home, the UK government made it a legal requirement for all dogs over the age of eight weeks to be microchipped after the 6th April 2016. While it's not required for cats, it's recommended as the fast and simple procedure can help reunite you with your four-legged friend if they ever got lost, strayed or were stolen.
What is a microchip?
A microchip is a tiny device with a unique number that is placed into a cat or dog's skin to help make them easier to identify. Having a pet microchipped isn't as uncomfortable for a pet as it may seem, it is a similar kind of feeling as having a vaccination jab.
How do I know if my pet is microchipped?
If you rescued or bought your pet from a breeder, you might have been given some documents to confirm your pet's microchip number. If not, your vet will be able to scan your pet to see if they are microchipped or not.
How do I know if my details are still up to date?
A microchip scanner is used to read the number specific to that pet's chip, you can then find out who your pet is registered to and log in online or contact the company over the phone to check or update your details.
How long do microchips last and do I need to get them replaced?
Microchips are designed to last for your pet's lifetime so there is no need to remove or replace the device.
How much do microchips cost?
The cost of getting a pet microchipped can vary but is usually around £10 to £15 and is a service offered by veterinary practices as well as some groomers, walkers and pet sitters. Some vet practices offer health plans which usually include a pet's vaccinations as well as microchipping and flea and worm treatments to help spread out the costs of a pet's routine treatments.
Don't be put off by this price, as not microchipping your pooch could lead to a whopping £500 fine.
Keep your eyes out for any events run in your area that might offer free or discounted microchipping for dogs. Some dog owners might be eligible for free microchipping through certain charities depending on their income.
Why is microchipping important?
When a pet goes missing, the feelings of fear and concern that come with the experience is something no owner should have to go through. Having a microchip can reassure you that they should be easy to identify when they are found. Another vital benefit is that should the issue of ownership surface, then you will be able to prove that the cat or dog is indeed your pet.
Unlike other means of identification such as collars or tags, which can wear down, break or need to be replaced every few years or so, a microchip should last for the lifetime of a pet once it has been placed.
Don't let the fact that there is normally a fee to pay put you off from microchipping, the money will seem like nothing at all if your pet goes missing and is reunited with you thanks to the chip.
If you haven't got your dog microchipped and they are over 8 weeks old it may be worth you speaking to your vet to ensure you meet the legal requirements.
What you need to do
As one of the leading pet insurance providers in the UK, we are committed to ensuring our
customers have the support and information they need to be responsible pet owners, and can continue to ensure their pets remain safe, healthy and protected. We will happily add your dog's microchip details onto your policy so that you will have them to hand if you ever need them.
Find the information you need as we support you through every step of your journey with your canine companion.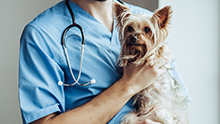 Dog insurance can help cover the cost of veterinary treatment if your dog gets injured or falls ill.