Smartphone apps and features to keep you safe on dog walks
While walking our canine companions, our own safety and well-being as owners often take second place. With so many potential dangers and reports of pet thefts on the rise, it's more important than ever to remember that if you're safe it's more likely your dog will be too.
To help keep you out of harm's way, we have put together some information all around the apps and technology available that could help you in the event of an emergency when you are walking your dog.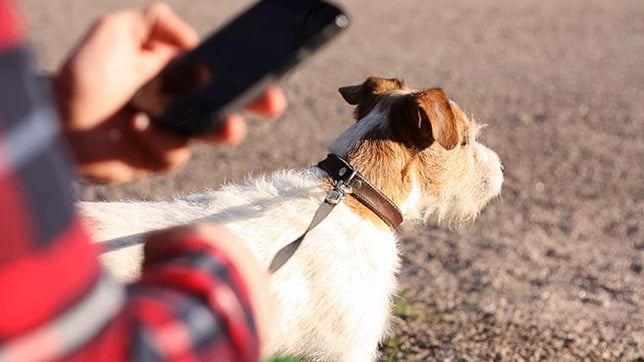 What3words
What3words is a simple location finder that's used by a variety of companies and services, included the police and the RSPCA, to find people or identify locations. The team at what3words has divided the world into three-metre squares, each given a unique three-word address that can be easily found in an emergency.
I found myself using What3words a few months ago when my family and I came across an injured seagull on the beach. I was able to confirm the bird's location by using the app but as the tide was coming in and it was quite stormy, we managed to catch the gull and take it home until an RSPCA Officer was able to pick him up.
An app like this could be used if you were to lose your dog during a walk, to report something suspicious or get separated from friends while out.
You can download the app via Google Play or the App Store.
Whatsapp live location
If you have WhatsApp on your phone, the app allows you to share your real-time location with a family member, friend or group chat for a specific amount of time. This is a great way to let a trusted individual or contact track your location while you're out walking with your dog.
You, the sharer, can decide how long to share this information for, ranging from 15 minutes to eight hours and you're able to stop sharing at any time. This can let people know that you've arrived home safely or to call you if something doesn't seem quite right on the tracking provided.
How to send your Live Location on WhatsApp
Open WhatsApp on your device
Open an individual or group chat
Tap Attach or the paperclip icon
Select Location which has a pinpoint icon
You might be prompted to decide whether you'd like WhatsApp to have access to your location
Click on live location and select the length of time you'd like to share this information for
Optionally, add a comment
Tap Send and your live location will stop being shared after the selected amount of time
Emergency call shortcuts
Your phone might include an emergency call button on your screen without having to unlock the device in a time of need and urgency. This feature differs between phones and models but usually involves pressing a couple of buttons which then brings up a shortcut onto your screen so that the call can be made.
iPhone 8 or later
To make an emergency call on an iPhone 8 or later model, press and hold the side lock button and one of the volume buttons until the Emergency SOS slider appears. You can then drag this to the right to make the call or keep holding to activate a five-second countdown before the call is made automatically to the emergency services.
During the countdown, your phone will vibrate and an alert will sound to let you know what's happening.
iPhone 7 or below
For older models, you need to rapidly press the side (or top) lock button five times for the Emergency SOS slider to appear. Then, simply drag the slider to call emergency services.
Once the call has finished, your phone will send your emergency contacts (if you have these set up) a text message with your current location unless you have previously turned this off in your settings.
Samsung
On Samsung phones, you just have to swipe up your phone's screen to be taken to the lock screen where you'll be able to tap on the Emergency Call option. A dial pad will appear where you can dial 999 or enter your desired number. Any registered emergency contacts will also appear at the top of the screen for you to easily access.
Samsung also offers an emergency mode that enables you to conserve your phone's power for as long as possible.
Huawei
On your Huawei, you'll need to access the screen used to input your password and click on Emergency. From here, enter the emergency number needed and click the green handset to call the number. You can also select Emergency Information to display your emergency contacts.
Pixel
If you own a Google Pixel phone, click on the power button on the side of the phone (or squeeze "Active Edge" sides of phone) and swipe up on your lock screen. You'll then be able to click on the "Emergency" text under the keypad and dial 999 followed by the green phone icon to connect the call.
With some models, you are able to unlock your phone using the rear-mounted fingerprint sensor to make a call which can be quicker than following the device's emergency settings.
While we hope you never have to use any of these apps or smartphone features, we hope that they can help you feel at ease while out and about with your dog. For other personal safety tips to keep you and your pooch safe, visit our dog advice section.
Please remember…
If the worst happens and you and your dog are a direct target of pet theft, ring 999.
At all other times, any attempted incidents or any suspicious behaviour should be reported by calling 101.
Find the information you need as we support you through every step of your journey with your canine companion.
Dog insurance can help cover the cost of veterinary treatment if your dog gets injured or falls ill.
We know pets
Animal Friends Insurance is a multi-award winning FCA-regulated pet insurer, founded in 1998 to provide industry-leading pet insurance and first-class animal care to create a better life for every animal.
As one of the UK's largest pet insurance providers, Animal Friends works with vets, veterinary professionals, and partners pioneering the latest veterinary technology & healthcare advancements to achieve our vision.
Our policyholders have helped donate over £7.8 million to more than 700 animal charities worldwide and by educating and inspiring others to act on current events and responsible pet ownership, Animal Friends is driving positive change for animal welfare and conservation.