4th August 2021
While we love to spoil our feline friends, we should be careful that we don't shower them with too many cat treats! If they're given too many of their favourite kitty snacks, they could start piling on the pounds which is never a good sign as this can often lead to a reduced quality of life for them as well as other health complications.
Fortunately, you don't have to look much further than your own fridge and cupboard for some healthy, cat-safe foods to feed your pet. We've put together this guide to help you decide on some human food that you can use as treats for your feline.
Human foods your cat can eat safely
Making a quick meal for your kitty can be easy, as long as you have the right ingredients. Here are some things you can feed your cat from your fridge or cupboard:
Salmon
Scrambled eggs
Melon
Blueberries
Apples
Broccoli
Cooked boneless lean meat (chicken, beef, or turkey)
Plain boiled rice
Plain, unprocessed oatmeal
Peas
Tinned tuna
Un-spiced deli cheese slices or chunks
White fish (like cod)
Foods to avoid giving your cat
Not all food is pet-friendly, there are some ingredients you need to know about to prevent accidentally poisoning your cat.
Avoid these foods when prepping a treat for your feline friend:
Avocado
Alcohol
Caffeine, coffee and tea
Cooked bones
Fat trimmings
Grapes, raisins and sultanas
Onions, garlic and chives
Salt
Sugar
Sweets or chocolate
Xylitol (an artificial sweetener)
Make your own cat treats
If you're feeling particularly creative in the kitchen, why not attempt making some treats for your cat to enjoy using some of the feline-friendly ingredients listed above. To make a batch of frozen treats, you'll need:
100g boneless tinned salmon or tuna, drained
1 small carrot
25g rolled oats
You'll want to peel and cut the carrot into small pieces and boil them in a saucepan of water or steam them until soft.
Then, place the oats in a food processor and blend them into flour. Once this is done, add your chosen fish and carrot in with the oats and mix well.
All you have to do from here is spoon the (potentially stinky!) mixture into an ice cube tray or another mould and freeze until they're set.
Once they're frozen, these fishy treats are perfect for those warmer days!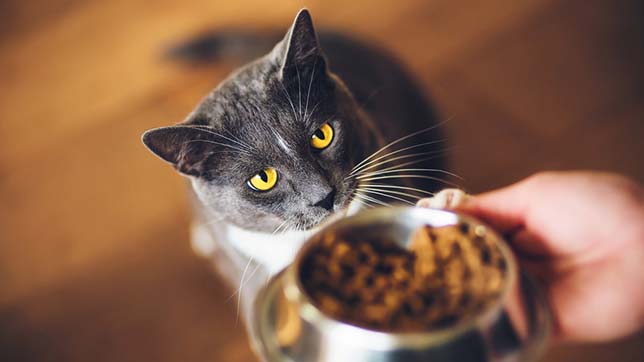 Do you have any cat treat hacks? Don't forget to share them with fellow feline lovers on our Facebook or Twitter page.
Before starting any new diet change for your cat, or if you have any concerns about what is suitable for your cat, always consult a vet.
If you found this article useful, why not visit our cat blog for more news, insight and opinion pieces?
Cat insurance can help cover the cost of veterinary treatment if your cat gets injured or falls ill.
We know pets
Animal Friends Insurance is a multi-award winning FCA-regulated pet insurer, founded in 1998 to provide industry-leading pet insurance and first-class animal care to create a better life for every animal.
As one of the UK's largest pet insurance providers, Animal Friends works with vets, veterinary professionals, and partners pioneering the latest veterinary technology & healthcare advancements to achieve our vision.
Our policyholders have helped donate over £7.8 million to more than 700 animal charities worldwide and by educating and inspiring others to act on current events and responsible pet ownership, Animal Friends is driving positive change for animal welfare and conservation.