Cavalier King Charles Spaniel breed guide
Height
12 to 13 inches (to shoulder)
Weight
Up to 18lbs
Life Span
9 to 15 years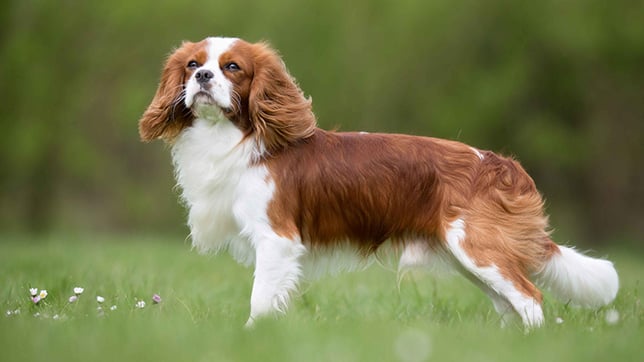 History
Whilst the name might lead us to think that the Cavalier King Charles Spaniel (Cav) has a long and established history, it's actually a little more complicated. Although the breed we know and love is named after the animals that appear in paintings of the monarchy and nobility (most famously in the cases of Kings Charles I and II), these types of Cavs fell out of favour and evolved into a different dog as they were bred with other dogs such as pugs. As a result, their head shapes and characteristics changed until the lapdogs of choice, though related to the historic toy dogs, looked very little like their predecessors. Some examples still existed, particularly at Blenheim Palace in Oxfordshire, but the flatter-faced, dome-headed spaniels were generally accepted more than the spaniels that were seen in portraits.
It wasn't until the 1920s that an American named Roswell Eldridge started a resurgence in the popularity of this almost-lost breed. He convinced Crufts to let him fund a prize to find the best possible physical replicas of the spaniels in the paintings of the historic dogs. In 1928 a dog named "Ann's Son" was chosen as an example of the breed and it wasn't until 1948 that the breed was officially recognised by the British Kennel Club.
Appearance
Cavs have silky, mid-length coats which are sometimes wavy and come in four different colour types: ruby (a reddish brown); Blenheim (chestnut and white, after the palace where the breed was preserved); tricolour (black and white with tan over the eyes, cheeks and under the tail) and black and tan (black with tan markings on the eyes, chest, cheeks, inner ear, legs and under the tail).
As Cavs get older they will develop feathering around the edges of their ears and around their feet; whilst some owners choose to leave this feature, others will trim their Cavs to keep them neat and tidy.
Temperament
Cavs are very friendly, outgoing and will happily approach strangers in an attempt to make friends. They are great companion dogs who love their owners dearly and will want to be with them for the vast majority of the time.
When they aren't glued to their owners' sides, they enjoy running around after balls or toys, or playing nicely with other dogs, and even robust cats. Their personalities do vary on an individual basis so whilst one dog will be lively and boisterous, another might be more timid.
Things to consider
Cavs really love to chase things, to the extent that they will cross a road to follow something, regardless of oncoming traffic. With this in mind, it is best to keep them on a lead if you're walking near roads.
Due to their size they are a little less tough than other breeds. Whilst they are perfectly friendly family dogs, they may find rough play a little stressful and might even get injured as a result. As with all breeds of dogs, make sure that toddlers or playful children know that the dog is not a toy and to be careful when playing.
Being a house-breed, Cavs can sometimes be difficult to house train and as such may take a little longer to toilet train compared to other breeds.
Is a Cavalier King Charles Spaniel for me?
Cavs are loyal, loving and friendly dogs that love nothing more than spending time with their owners. If you are looking for a dog that loves to be around the house and sit on your lap, then a Cav could be right for you. We would always advise that you research breeds, and breeders, with the utmost care so as to find the best friend that suits you and your lifestyle.
Did you know?
King Charles II, for whom these dogs were named, was so fond of his own dogs that he passed a law saying that all spaniels should be allowed to enter into any public building, including the Houses of Parliament. This law may still be in effect, though nobody has tried it out recently!
We will look to insure Cavalier King Charles Spaniels from four weeks of age into adulthood. Why not have a look at our "King Charles Spaniel Insurance" page to learn more about our policies?
Find the information you need as we support you through every step of your journey with your canine companion.
Dog insurance can help cover the cost of veterinary treatment if your King Charles Spaniel gets injured or falls ill.
We know pets
Animal Friends Insurance is a multi-award winning FCA-regulated pet insurer, founded in 1998 to provide industry-leading pet insurance and first-class animal care to create a better life for every animal.
As one of the UK's largest pet insurance providers, Animal Friends works with vets, veterinary professionals, and partners pioneering the latest veterinary technology & healthcare advancements to achieve our vision.
Our policyholders have helped donate over £7.8 million to more than 700 animal charities worldwide and by educating and inspiring others to act on current events and responsible pet ownership, Animal Friends is driving positive change for animal welfare and conservation.