Lurcher breed guide
Height
Up to 30 inches (to shoulder)
Weight
Males and females up to 70lbs
Lifespan
Between 12 and 15 years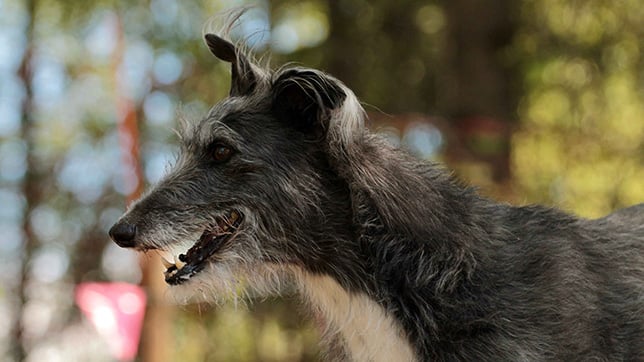 History
Lurchers, by definition, are a cross between two sighthounds but can also be crossed with terrier or herding dogs and are often part Greyhound. Lurchers are thought to have been developed by Romany Gypsies in the 1600s as they wanted a dog perfect for hunting food as quietly as possible, while remaining loyal, intelligent and gentle.
Others believe that they come from unwanted and accidental crossbreeds of noble purebred dogs like Greyhounds, Deerhounds and Wolfhounds.
Lurchers are not a recognised breed by The Kennel Club or other similar international organisations which might be down to the countless different variations of size and appearance.
Appearance
Lurchers can come in all sorts of different shapes and sizes, depending on its parents' breeds. They often resemble either a Greyhound or Saluki, with features of other breeds depending on how they're mixed.
Most Lurchers will have a lean or athletic appearance which includes a deep chest and long, powerful legs. Their faces are long and narrow with a well-chiselled muzzle.
Because of the number of crosses that result in a Lurcher, their coat type and quality can vary drastically between dogs. Their coats can be fine, coarse or smooth depending on their parents, with coat colours including:
Black
White
Fawn
Blue
Red
Brindle
Fallow
Temperament
A Lurcher's temperament does depend on its parents, just like all its other traits, but it's typically that of a sighthound - meaning they are calm, affectionate and love nothing more than a good run. They can make fantastic family pets and form strong bonds with their families.
They are known to be gentle giants that like to have regular human contact, but they can be hyper pups who require a lot of attention.
Just like with all breeds, it's important to socialise a Lurcher from a young age so to give them the best start in life and to help them grow to be confident and outgoing dogs.
Things to watch out for
Lurchers, because of their lineage, often have a very high prey drive so it's important to ensure they have a very reliable recall as they grow. Avoiding a chase is better than trying to call them back once they've locked on and launched onto their prey. When you are out on walks, always be on the lookout for wildlife so that you can spot them before your dog does, and pop them back on their lead if you do come across anything they might want to chase.
Lurchers are known to sleep with their eyes open, so make sure they are fully awake before anyone disturbs them, as this could startle them.
Is a lurcher good for me?
If you are able to provide a home with plenty of comfy furniture they can sprawl on, don't have any small furries they might take too much of a liking too, and can provide the exercise and training they demand, then these dogs could be perfect for you. However, as they don't like to be left alone, this dog would be best suited to someone who spends a lot of time at home or can take their dog to work with them.
Again, it does depend on their specific mix but they tend to prefer a calmer home with opportunities to run free where possible.
Did you know?
It is thought that their name comes from the ancient Romany words 'lur' which means thief, and 'cur' meaning a mixed breed dog.
Find the information you need as we support you through every step of your journey with your canine companion.
Dog insurance can help cover the cost of veterinary treatment if your dog gets injured or falls ill.
We know pets
Animal Friends Insurance is a multi-award winning FCA-regulated pet insurer, founded in 1998 to provide industry-leading pet insurance and first-class animal care to create a better life for every animal.
As one of the UK's largest pet insurance providers, Animal Friends works with vets, veterinary professionals, and partners pioneering the latest veterinary technology & healthcare advancements to achieve our vision.
Our policyholders have helped donate over £7.8 million to more than 700 animal charities worldwide and by educating and inspiring others to act on current events and responsible pet ownership, Animal Friends is driving positive change for animal welfare and conservation.