The dangers of blue-green algae for dogs
While the sun has gone into hiding for the time being this doesn't stop our dogs from taking a dip in the water too cool down or to keep themselves hydrated but some hidden dangers can lurk in the lakes around us.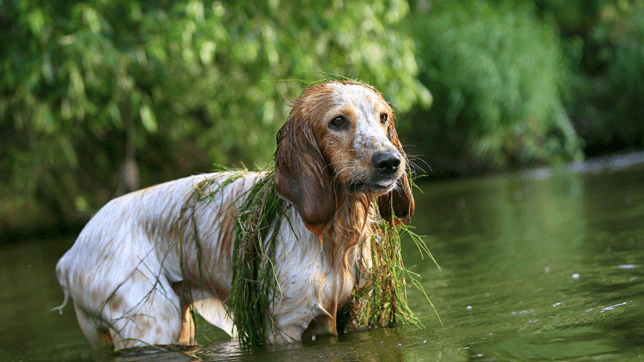 Last year, sadly at least four dogs in the UK passed away hours after being poisoned by toxic blue-green algae. There has recently been an outbreak of blue green algae in the Lake District, which is accelerated by hot weather.
What is blue-green algae?
Blue-green algae, also known as cyanobacteria, is a type of bacteria that can be harmful to people and animals and can be found in rivers, streams and lakes.
It was given the name algae because it often gives the appearance of algae in bodies of water. The bacteria forms naturally and is often found in stagnant bodies of water with hot weather and lack of rain increasing algae production, causing large blooms.
Why is blue-green algae dangerous to dogs?
While not all blue-green algae are dangerous to dogs, you can't tell if the bloom is toxic by just looking at it so it's important to avoid any body of water that you're unsure of. The toxins that are released by the algae are dangerous to dogs if ingested and will stop a dog's liver from functioning properly, but symptoms can appear quite quickly.
Dogs can swallow the harmful toxins by drinking infected water or even while licking their fur after going for a swim.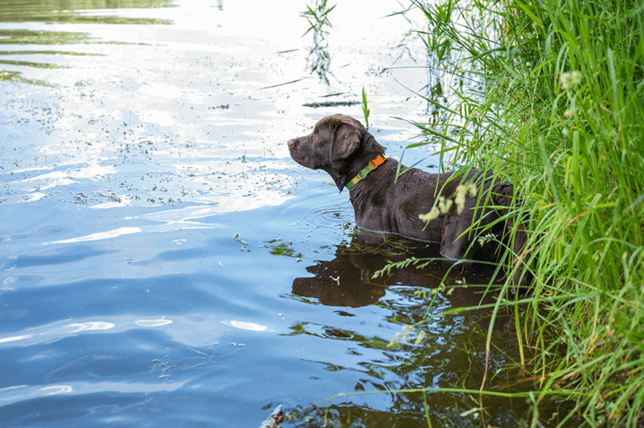 What are the symptoms of algae poisoning?
If your dog has taken a dip and you suspect they've been exposed to blue-green algae, then don't let them lick their coat and contact your vet immediately.
Symptoms include:
Vomiting
Diarrhoea
Seizures
Weakness or collapse
Muscle tremors
Disorientation
Drooling
Difficulty breathing
If left untreated the toxicity can prove fatal.
How do I keep my dog safe?
While out and about you might see algae blooms in a lake, river, stream or pond but sometimes it's not possible to tell if the water is contaminated by these harmful toxins and any body of water can be affected so be extra vigilant on your daily dog walks. Keep your dog away from water that you know, or suspect, contains blue-green algae.
Don't let your dog swim in or drink from water that may have blue-green algae in.
Keep your eyes peeled for any warning or information signs during your walk and always follow the advice or instructions given.
Keep your dog on a lead around bodies of water, especially if you suspect blue-green algae.
Most importantly, if you suspect your dog might have come into contact with the algae then contact your vet right away.
Find the information you need as we support you through every step of your journey with your canine companion.
Dog insurance can help cover the cost of veterinary treatment if your dog gets injured or falls ill.
We know pets
Animal Friends Insurance is a multi-award winning FCA-regulated pet insurer, founded in 1998 to provide industry-leading pet insurance and first-class animal care to create a better life for every animal.
As one of the UK's largest pet insurance providers, Animal Friends works with vets, veterinary professionals, and partners pioneering the latest veterinary technology & healthcare advancements to achieve our vision.
Our policyholders have helped donate over £7.8 million to more than 700 animal charities worldwide and by educating and inspiring others to act on current events and responsible pet ownership, Animal Friends is driving positive change for animal welfare and conservation.