How to Help Your Dog Lose Weight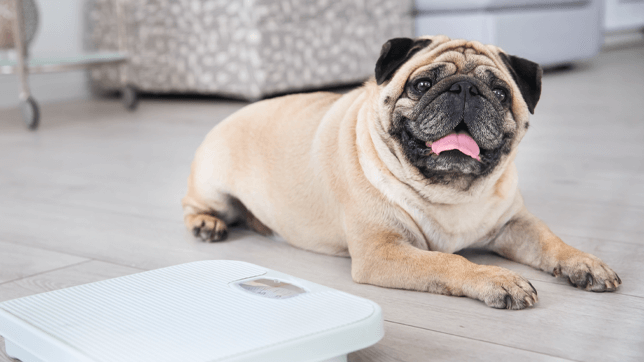 Millions of dogs' lives are cut short every year from obesity. An overweight dog is much more likely to suffer from illnesses such as diabetes, arthritis, heart disease and high blood pressure.
While it is a good idea to consult your vet for a diet plan or a weigh-in, there are some simple things you can do at home to help your dog lose weight.
Determine your dog's ideal weight
To begin the weight loss process, a visit to the vets is necessary. Your local vet can weigh your dog, determine its ideal weight, and even recommend an exercise or diet programme that will aid the weight loss.
Once you've determined your dog's ideal weight, you can set a daily calorie allowance for your pet. The golden rule of 'more calories in + less calories out = weight gain' applies to dogs too, so if you reduce the amount of calories consumed and increase the amount of exercise, you should see your pet's weight decrease.

Is there a wrong way to feed a dog?
The answer is definitely yes. Many dogs are fed continually throughout the day, as their owners tend to leave an overfilled bowl of food while they're out of the house, resulting in their pets eating constantly. This is unnatural for the dog, and means they will tend to eat when bored, rather than when they're hungry.
Feeding your dog two to four small portions of food a day can dramatically increase weight loss. Also, if you feed your pet at the same time every day, you'll start to notice a difference in your pet's health. This method of feeding not only controls when your dog eats, but also how much they consume each day, making it easy to track the calories being consumed.
Exercise is the most important part
We all know that when it's raining and blowing a gale outside, a dog walk is the last thing on our minds. However, exercise is the most important part of your pet's weight loss journey. It not only helps your dog burn off the calories it's consumed during the day, it can also lower cholesterol levels, control anxiety and depression, and keep bones healthy for longer.
Depending on your dog's size, you should provide your pet with the opportunity to get between 30 minutes and two hours of activity every day. Obviously, it your pet is an older dog, you should make sure to keep an eye on it and provide rests whenever necessary.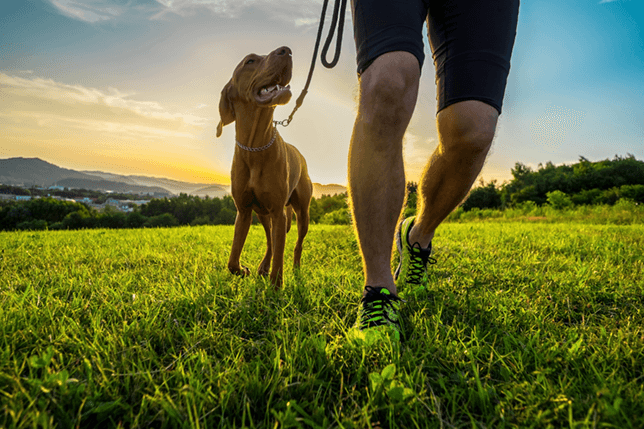 To keep exercise fresh and interesting for you and your dog, try taking different routes, attending new dog parks or introducing new toys to your daily exercise. For example, joining with a local dog group can give valuable support to your weight loss journey, it can also help both you and your dog make new friends who may be in the same position as you.
If you're worried about your dog's weight, follow these simple tips to help your pet shed some unwanted pounds. It's advisable to visit with your vet first to ensure your dog is healthy enough for the exercise needed.
Find the information you need as we support you through every step of your journey with your canine companion.
Dog insurance can help cover the cost of veterinary treatment if your dog gets injured or falls ill.
We know pets
Animal Friends Insurance is a multi-award winning FCA-regulated pet insurer, founded in 1998 to provide industry-leading pet insurance and first-class animal care to create a better life for every animal.
As one of the UK's largest pet insurance providers, Animal Friends works with vets, veterinary professionals, and partners pioneering the latest veterinary technology & healthcare advancements to achieve our vision.
Our policyholders have helped donate over £7.8 million to more than 700 animal charities worldwide and by educating and inspiring others to act on current events and responsible pet ownership, Animal Friends is driving positive change for animal welfare and conservation.