Giving up your pet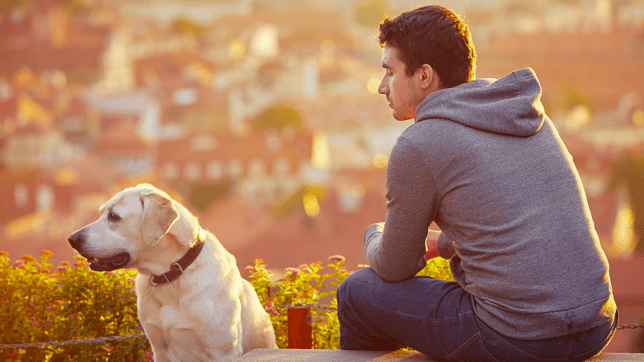 Owning a cat or dog can be incredibly rewarding but sadly, it sometimes doesn't always go to plan. With the cost of living continuing to rise, being a loving and responsible pet owner could mean making some tough decisions, with giving up a pet being one of the toughest.
While we hope that no owner ever has to face such a painful decision, we want to help any pet owner who experiences difficulties to understand what's involved in relinquishing a pet and how this can be done in the best way possible.
How animal charities can help
Before you reach out to put your pet up for adoption, you should consider some of the options available to owners in situations like yours. You could be eligible to receive free or low-cost treatment for your pet at one of the following national charities:
Making the difficult decision to give up your pet
There are many reasons why an animal might be rehomed, some of which can be helped with advice and guidance from an approved behaviourist, vet, or an adjustment to the care provided. This is a lot harder if you're simply not able to afford to have a cat or dog and while giving up a pet is the right thing to do, it can still be distressing for you and them, so it should be done properly.
You can:
Contact a charity or rescue centre that will help find a new home for your pet.

They have experience in finding suitable owners for animals.

Contact the original seller to see if they're able to take on your pet.

They might know of families waiting for a pet just like yours.
How do I start the process of giving up my pet?
You should call your local rehoming centre and speak to their team who will be able to talk you through the process. Each charity might differ, but they will commonly ask you questions about your pet which will help them give the best chance of finding them a suitable home.
Some charities offer to rehome pets directly from one family to another, giving you the opportunity to keep them until the charity is able to find a new home for them.
Never: Dump or abandon your pet, even outside a rescue centre as this can be incredibly traumatic for everyone involved. The Abandonment of Animals Act 1960 outlines abandoning animals as a criminal offense. Rest assured, there are people who will and want to help you and your pet, no matter your circumstances.
Giving up a dog you can no longer care for
Here are some national charities that may be able to help you rehome your dog:
Giving up a cat you can no longer care for
Here are some national charities that may be able to help you rehome your cat:
Is there a fee to give up a pet?
While this might vary depending on the rescue centre or shelter, you might find that there's no fee when you reach out for help in rehoming your pet. Some charities will ask for a donation, if you're able to, which will help towards caring for the animal.
The facts around rehoming your pet
Here at Animal Friends, we understand that there can be a lot of misconceptions about giving up a pet. We want to set the record straight and help owners realise that sometimes rehoming is the best option, when caring for your pet is no longer possible due to your circumstances.
Myth: By giving up my pet, I'm letting them down
Truth: Making the difficult decision to give up your pet to a rescue centre or rehoming shelter doesn't mean you've let them down. It means you care enough to ensure that they'll find a home that suits them and their needs.
Myth: My pet will be put down at the rescue centre
Truth: Many shelters and centres work hard to rehabilitate and rehome pets and will only put an animal to sleep if it means preventing any further suffering.
Myth: Animals end up in rescue centres because they're not wanted
Truth: Pets are taken to rescue centres for lots of different reasons, often through no fault of their own and from reluctant owners who have varying circumstances that lead to making the difficult decision of rehoming their pet.
It's important to remember that giving up your pet might actually be what's best for everyone involved. If you're unsure about what to do next, speak to your vet who might be able to provide you with some advice.
Find the information you need as we support you through every step of your journey with your canine companion.
Dog insurance can help cover the cost of veterinary treatment if your dog gets injured or falls ill.
We know pets
Animal Friends Insurance is a multi-award winning FCA-regulated pet insurer, founded in 1998 to provide industry-leading pet insurance and first-class animal care to create a better life for every animal.
As one of the UK's largest pet insurance providers, Animal Friends works with vets, veterinary professionals, and partners pioneering the latest veterinary technology & healthcare advancements to achieve our vision.
Our policyholders have helped donate over £7.8 million to more than 700 animal charities worldwide and by educating and inspiring others to act on current events and responsible pet ownership, Animal Friends is driving positive change for animal welfare and conservation.