13th August 2017
We have another great product review for your summer adventures! We recently received the Mud Daddy and couldn't wait to get out and get dirty. Luckily, Marvel loves running through puddles and going for a dip at the edge of a river so we had no problems in getting a muddy dog. We filled the Mud Daddy, popped it in the boot and went for an adventure in the rain. Here's how it scored.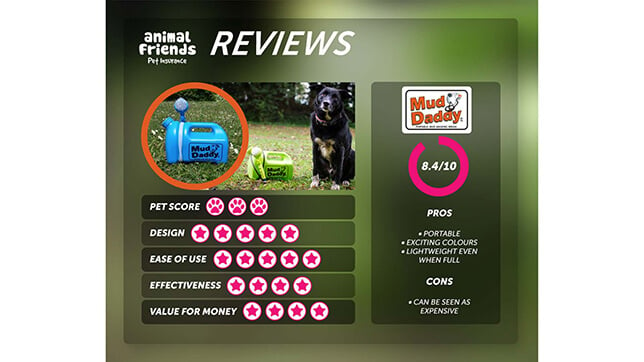 Pet Score 3/5
The Mud Daddy is an innovative idea, perfect for washing muddy things. Marvel wasn't too keen at first and it did take him some time to get used to the scrubbing. We think a few trial runs are needed so that your dog knows what to expect after their muddy adventure. Once he got used to it he was fine. A handful of treats should help keep your dog happy while being scrubbed.
Ease of Use 5/5
It's super easy to use. Just pump to build up some pressure and you're ready to go! For the perfect outdoor salon, you can mix the water with dog shampoo. That prevents any smelly dogs from jumping in your car for the journey home.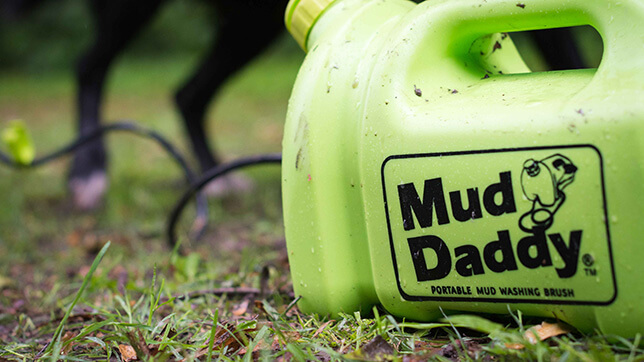 Effectiveness 4/5
The Mud Daddy is really effective. Keep it in the boot of your car in case of any muddy emergencies. The brush is perfect for scrubbing wellies, football boots, bikes, or your muddy pooch. Marvel was completely caked in mud from a rainy days walk and he was nice and clean before jumping back into the boot. So were our wellies. It holds up to 5 litres of water so it's enough to make sure there's no mud to be seen.
Value for money 4/5
They're currently available at £29.99 to pre-order. It's an original concept that runs on just water and pressure, nothing more, so that price doesn't seem too steep. It's a one off cost, the only thing you need to add is water. It might seem expensive but you are saving money on not needing to get your car cleaned after a muddy walk. And, if you pre-order now you'll receive a collapsible bowl for free.
Design 5/5
The Mud Daddy is available in 3 colours, blue, green and orange. Just missing the Animal Friends pink! It's light, empty and full, and easy to carry to and from the boot of your car, ready for those rainy adventures. It's simple but innovative, and it works!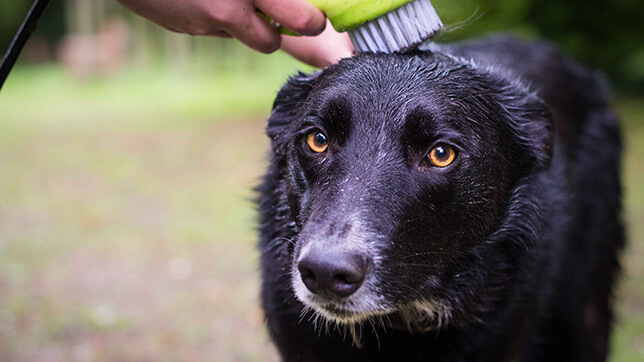 Overall, we think it's a great product. To buy a Mud Daddy visit their website here. It will truly help on those muddy days. To keep up to date with our pet product reviews, animal news, or charity visits like us on Facebook, follow us on Twitter or visit our blog.
Read more news articles, opinion pieces, reviews and personal stories behind our dogs on our blog.
Dog insurance can help cover the cost of veterinary treatment if your dog gets injured or falls ill.
We know pets
Animal Friends Insurance is a multi-award winning FCA-regulated pet insurer, founded in 1998 to provide industry-leading pet insurance and first-class animal care to create a better life for every animal.
As one of the UK's largest pet insurance providers, Animal Friends works with vets, veterinary professionals, and partners pioneering the latest veterinary technology & healthcare advancements to achieve our vision.
Our policyholders have helped donate over £7.8 million to more than 700 animal charities worldwide and by educating and inspiring others to act on current events and responsible pet ownership, Animal Friends is driving positive change for animal welfare and conservation.