21st June 2016
Summer is an ideal setting for all owners walking their dogs, however it's essential that you keep your pet's health in check, especially during the hot weather.
Our new study has revealed that grass seeds embedded in dogs' flesh is the most common seasonal illness for UK pets.
We analysed our most recent data and revealed that almost 500 cases of grass seed related illness or injury occurred in the summer of 2015, costing pet owners an average of £337 to treat.
Foxtail grass seeds are a risk to dogs as they can easily become embedded in the fur or the flesh of animals with longer coats.
We can also reveal that the most common places for grass seeds to embed was in the dogs' paws and ears.
Although it can be tough to prevent grass seeds from entering your pet's body, you can take some measures to protect your dogs.
When walking your dog, try to avoid long grass and choose a route with grass that's been cut.
Make sure to take similar precautions at your home too by cutting the grass in your garden regularly. Short grass is less of a danger when it comes to grass seeds.
It's also important to remember that trimming excessive hair around your pet's ears, paws and armpits is extremely beneficial when it comes to preventing grass seeds from taking a hold on your dog's fur. However, it's essential to not cut the end off of any grass seeds in the process, as this can make them very difficult to remove.
Grass seed claims made up 400% more than the next seasonal illness, making them one of the top reasons Brits made a claim on their pet insurance over the summer of 2015.
A further precaution you can take to benefit your dog's wellbeing this summer is to check their body thoroughly for grass seeds after every walk. If you notice a sudden change in your pet's behaviour, make sure that they are examined by a vet as soon as possible to stop any possible infection spreading further.
Our research also revealed that the most common seasonal summer conditions, alongside grass seeds, were melanoma, lungworm, heat stroke and snake bites.
Heat stroke is the most expensive seasonal claim for pet owners who can be set back as much as £895 to treat their pets.
With the UK set to witness its hottest summer in around a century, make sure that you invest in dog insurance to ensure you are protected against any expensive medical procedures this summer!
If you found this article useful, why not visit our dog blog for more news, insight and opinion pieces?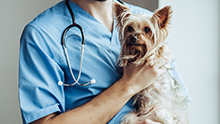 Dog insurance can help cover the cost of veterinary treatment if your dog gets injured or falls ill.