16th December 2019
Christmas is just around the corner the advent calendars are almost empty and it's almost time to unwrap the presents and enjoy some quality time with those we love. With cats and dogs being such important members of our family so it's only fair they have something to open on Christmas day, too.
We know this time of year can be expensive, but we have some last-minute gift ideas that cost next to nothing, depending on what treasure you already have at home.
Homemade pet treats
If you have a cat or dog that loves snacking on some yummy treats, then why not try and make your own to fill their stocking and enjoy on Christmas day? With loads of different Christmas recipes out there to suit all kinds of pets and diets, there is something for everyone and most are easy enough to make or bake.
Make your own toy
Why not try making your pet a toy? If your washing machine or tumble dryer seems to eat socks and you have plenty of odd ones lying around why not craft a fun plaything for your cat or dog? Who knew those mismatching socks would come in handy!
Donate to a charity
If your pet has everything they could ever need, I'm sure they'd love to be able to help animals in need. You'll have to do this for them and while donating in your pet's name is a gift they might not understand, but one that could make a big difference.
A lot of people are now making donations to charities instead of sending Christmas cards, which is a lovely and selfless tradition to start.
Take them on their favourite walk
This one's more for the pooches but heading outside with your dog for a long walk in the afternoon is one of the best ways to burn off your Christmas dinner and other indulgences. Your dog won't be complaining either, especially if you treat them to their favourite walk and it's most likely free too!
Spend some quality time together
Christmas isn't about the presents, and while there's a big hype about the big man in red coming down the chimney with everything anyone ever wanted the best thing about this time of year is the time we spend with family. Why not make the most of your time off (if you have any), and make sure that you enjoy some quality time with your pet?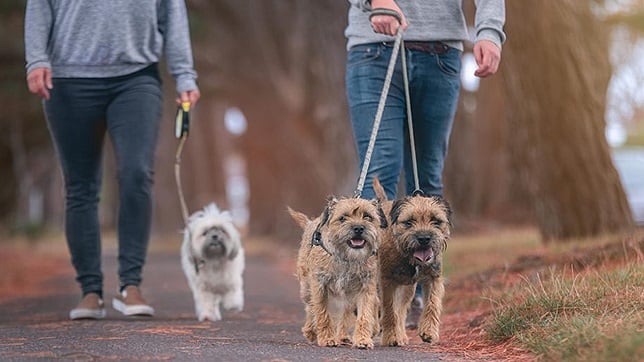 Be sure not to stress about gifts this Christmas, your pet will love you with or without a present, but we hope these ideas can help during the expensive time of year.
Read more news articles, opinion pieces, reviews and personal stories behind our dogs on our blog.
Dog insurance can help cover the cost of veterinary treatment if your dog gets injured or falls ill.
We know pets
Animal Friends Insurance is a multi-award winning FCA-regulated pet insurer, founded in 1998 to provide industry-leading pet insurance and first-class animal care to create a better life for every animal.
As one of the UK's largest pet insurance providers, Animal Friends works with vets, veterinary professionals, and partners pioneering the latest veterinary technology & healthcare advancements to achieve our vision.
Our policyholders have helped donate over £7.8 million to more than 700 animal charities worldwide and by educating and inspiring others to act on current events and responsible pet ownership, Animal Friends is driving positive change for animal welfare and conservation.