18th December 2017
Most people love to greet dogs with a friendly smile and a good pat on the head.
But how do you feel about having pets in the office?
Well, we asked 2,000 office workers that very thing and their responses were interesting.
In fact, we found that a third of UK businesses – that's 1.7 million across the nation – have a pet policy in place and welcome our four-legged friends into the office.
But more than half of those we quizzed, felt like having pets visit the office was a major distraction for staff.
Over 20% of workers said that if a dog came into the office, it would send their stress levels through the roof, with a quarter of men affected.
A further 25% of those polled admitted they would lose the will to work altogether.
But it seems a fair few like the idea of having some extra company in our offices, with some believing that pet's boost morale, encourage social interaction and increase their enthusiasm for going to work.
58% of women said they reckoned their social interaction with other staff members increased when pets were in the office and 48% reported a much more positive outlook on their work.
Those living in Oxford (47%) and York (38%) are most likely to agree that dogs should be allowed in the office, while those in Chelmsford (18%) and Cambridge (19%) are less than impressed with the idea.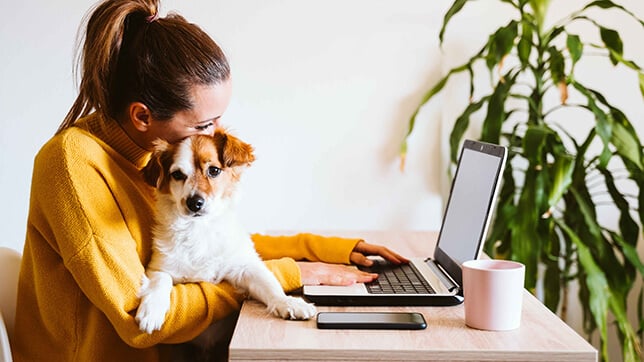 Our poll also revealed the extent to which people who aren't allowed pets in the office, go to keep tabs on them.
25% of workers said they would go home during working hours to check on their pets and 40% asked someone else to check on them. One in ten were even willing to pay a dogsitter but the more tech-savvy among us set up web cams so that can see exactly what their pal is up to.
And with the average canine left alone for four hours of the average working day, one in ten owners say they've admitted swapping jobs to better accommodate their pet.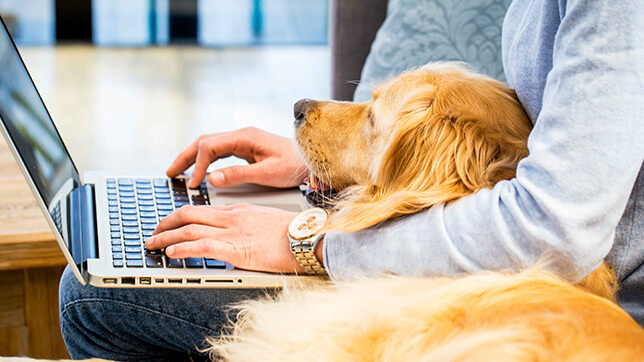 When it came to reasons why dogs weren't appearing in offices with pet policies, cleanliness was a major issue.
And 9% of offices said there was a legal issue that restricted pets coming into the workspace.
6% of people said they were aware of people with allergies in the office while 5% thought productivity would be severely impaired.
To calm some nerves about pets perusing the office, some workplaces have come up with some company rules, including that staff can't bring a dog into the office on a day when anyone with allergies is in (27%), and that 36% need to keep animals in a different part of the office.
But despite this, 16% of offices that allow dogs employ someone who is allergic to animals.
However, it seems dogs need to fit into a strict set of criteria to be allowed in offices, which include that they are "just small", toilet-trained, well behaved and able to stay in a separate part of the workplace.
But the most important criteria of all, was a limit of one dog at a time.
Of course, it's a nice idea that people want to bring in their pets to work but they do need to be aware of others' allergies or reasons why it might be uncomfortable for those who aren't as fond of dogs.
In addition, if you take your pet to work, they may think they can nuzzle up with you at any time – even when you're really busy, so you should probably be aware of that!
Some of the UK's pet-friendly offices include Amazon, Google, Ben & Jerrys and Nestle.
Read more news articles, opinion pieces, reviews and personal stories behind our dogs on our blog.
Dog insurance can help cover the cost of veterinary treatment if your dog gets injured or falls ill.
We know pets
Animal Friends Insurance is a multi-award winning FCA-regulated pet insurer, founded in 1998 to provide industry-leading pet insurance and first-class animal care to create a better life for every animal.
As one of the UK's largest pet insurance providers, Animal Friends works with vets, veterinary professionals, and partners pioneering the latest veterinary technology & healthcare advancements to achieve our vision.
Our policyholders have helped donate over £7.8 million to more than 700 animal charities worldwide and by educating and inspiring others to act on current events and responsible pet ownership, Animal Friends is driving positive change for animal welfare and conservation.