12th March 2018
We know how difficult it is to come up with new things to do with your dog or cat, we've got you covered. Here's 20 things to get up to outdoors with your pet
1. Exercise
Exercise doesn't have to mean running, it can be a steady walk, a hike, anything that gets you out and about. Dogs definitely make great workout partners.
2. Explore a new city
Be a tourist with your dog in tow. Who knows what you'll find, from a dog-friendly hangout, a new park, to a little hideaway. Make sure you take a camera to capture some snaps.
3. Spend a day at the beach
Whatever the weather, the beach is a great destination. Your dog will love the sea, sand or shingle but be sure to pack some fresh water for both you and the pooch.
4. Dinner date
Treat your pup to a pet-friendly dinner at a restaurant, pub or café. Take some treats to share with your dog while you enjoy the local cuisine.
5. Make some art
Let your dog get its paws muddy, or dip them in pet-friendly paint, and let them run havoc on pieces of card or paper in the garden. Then frame it and pop it up onto a wall in your home.
6. Bubble fun
On a day where you can't venture too far away from home, you might be waiting for a parcel or cooking a roast, a pot of bubbles can bring some much joy. They're fun for everyone but your dog will love jumping around and trying to eat them.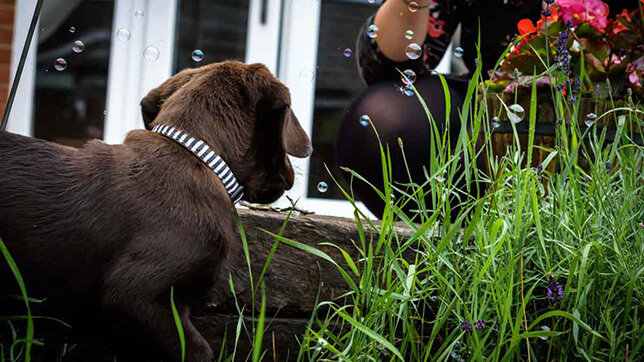 7. Grooming
Enjoy some outdoor grooming in the sun. Make sure your dog has something to keep them occupied while you brush away the dead hairs. Afterwards you can hang the hair from the washing line with a peg for the birds to steal for their nests.
8. Pupsicles
Make some pupsicles with your dog and enjoy them in the garden. Stuck for ideas? Here's some easy recipes, they're perfect for a summer's day.
9. Go shopping
Take your dog to your favourite pet shop and let them pick their own toys or treats. You could even make some new friends!
10. Muddy puddles
The rain makes for a very wet walk but once it's gone it leaves some amazing puddles. Why not go splashing with your dog? They might just look at you in shame, but they might even join you. Make sure you put the heating on before you leave the house so it's nice and warm once you return.
11. Photoshoot
Hold an outdoor photoshoot with your dog in your favourite location. Make sure your phone has enough storage space for any funny outtakes, they're usually the best shots.
12. Learn new tricks
Is there a trick you've always wanted to teach your dog? The outdoors provides you with the space you need, don't forget your best friend's favourite treats.
13. Play fetch
A classic, really. Fetch will never get old, but if it's something you rarely do with your dog then it might be a great way to bond while exploring the great out-paws!
14. Attend a festival
Find a dog-friendly festival or show to attend. With summer slowly approaching there will be plenty of planned events welcoming dogs with open arms that you could explore.
15. Camping
Are the kids off school for a few days, or have a free weekend? Whether there's a camp just 5 minutes down the road, or a good 5 hours of driving, you could look at going camping and taking your dog with you.
16. Hosing around
If your dog is struggling with the heat you could let them chase the water hose to cool down. The faces your dog pulls while trying to catch the spray are truly priceless.
17. Playdate
You might not have bumped into your dog's favourite play pal in a while, so why not set up a playdate? Your dog will have great fun and sleep for hours afterwards so you can get some of the dreaded housework done in peace.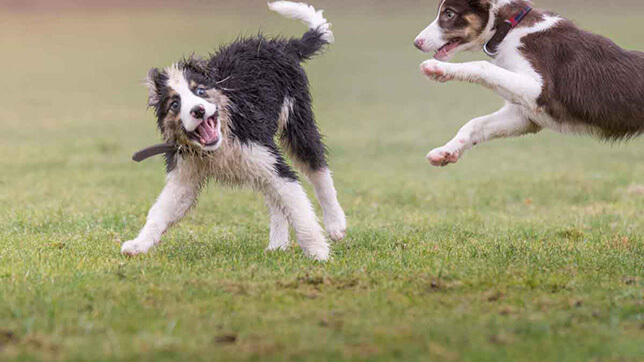 18. Ice-cream date
A lot of places are now offering doggy ice-cream so you can sit down and cool down with your best friend at your favourite café.
19. Doga
If you're conscious of making a fool of yourself at an organised class you could make a start on doga in your own back garden.
20. Make a den
Whether you're visiting the local woods or just want to chill in your garden, making a den with your pet can be fun and rewarding. A perfect spot for relaxing.
It is essential to ensure that dogs are supervised and under control whenever they are outside, to prevent the likelihood of them being involved in any adverse incidents.
Planning and preparation can help to avoid or mitigate most dangers that a dog may encounter outdoors, but should the worst happen, a dog insurance policy can help to cover the cost of veterinary treatment if your dog gets injured or falls ill.
Read more news articles, opinion pieces, reviews and personal stories behind our dogs on our blog.
Dog insurance can help cover the cost of veterinary treatment if your dog gets injured or falls ill.
We know pets
Animal Friends Insurance is a multi-award winning FCA-regulated pet insurer, founded in 1998 to provide industry-leading pet insurance and first-class animal care to create a better life for every animal.
As one of the UK's largest pet insurance providers, Animal Friends works with vets, veterinary professionals, and partners pioneering the latest veterinary technology & healthcare advancements to achieve our vision.
Our policyholders have helped donate over £7.8 million to more than 700 animal charities worldwide and by educating and inspiring others to act on current events and responsible pet ownership, Animal Friends is driving positive change for animal welfare and conservation.