23rd July 2019
Another year, another International Friendship Day and is there any better friend to have than your pet? Our loyal dogs and cats who stand by us no matter what, listen to our moans and rants without judging and provide endless cuddles whenever we want so it's only right we celebrate them this International Friendship Day, right?
Here are some ideas on ways to show your appreciation for your pooch or kitty.
Take a cat nap
If you don't spend enough time with your cat, then why not take a cat nap with them? It serves as a great refresher for you, but it can be a great bonding opportunity, especially if your cat already likes to snooze on you.
Play hide and seek
Whether your best friend is a cat or dog then you could even try having a game of hide-and-seek as a way of spending some quality time together. Whether you hide yourself or some of their favourite treats your cat or dog will love the challenge of trying to find their new prey.
Make something
If you're feeling particularly crafty then why not make something for your pet? From a cardboard house for your cat to a dog toy from an old t-shirt. With so many do it yourself pet toys tips, tricks, and tutorials out there you'll be spoilt for choice on what to make for your pet.

Plan a picnic
While this is probably more for the doggos, you could hold an indoor picnic to enjoy with your cat. Before heading out with your basket in hand make sure you've packed some dog-friendly snacks, too, so that the picnic can be enjoyed by all.
Head out to the pub
If you want to get out of the house and make the most of these warm evenings, then why not try and find a pub that welcomes pups. Loads of pubs offer a few snacks or treats for dogs that visit their local beer garden with their owners on a summer's evening but don't forget to make sure they have fresh water, too.
Just enjoy each other's company
To be honest, your cat or dog isn't going to care if you don't craft them a new toy, or plan a pet-friendly picnic, they just want to be with you. So, why not just set aside some time to be together, whether that's just watching TV, playing with their toys, or giving them some extra cuddles before you head out.
If you found this article useful, why not visit our dog blog for more news, insight and opinion pieces?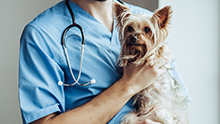 Dog insurance can help cover the cost of veterinary treatment if your dog gets injured or falls ill.