25th October 2021
In celebration of National Pet First Aid Awareness Month (April), we have brought together Dog First Aid Training and the Thin Blue Paw Foundation to provide police forces up and down the country with vital dog first aid training and tools.
These canine officers are out on the front line with their handlers every day, protecting our communities and risking their lives so that we can stay safe and we wanted to give something back to these incredible crime-fighting duos.
Why are Animal Friends supporting?
Britain's nearly 1,500 police dogs can suffer anything from a simple cut to the paw through to serious injuries, such as fractures, as they sniff out illegal material, locate cash and firearms, catch criminals and search for missing people.
We believe this incredibly important initiative will help equip Police Dog Handlers with invaluable knowledge needed in keeping their four-legged partners safe in the line of duty.
What does it mean?
We are donating £10,000 to Thin Blue Paw Foundation so they can provide all Police Dog Handlers with a bespoke dog first aid kit so that they are equipped with the tools needed to treat their partners if they were to get hurt.
Dog First Aid Training will provide for free the fundamental skills needed to care for police dogs should the worst happen while working. From teaching them how to immediately treat blunt force trauma sustained from kicks, punches and weapons to advice on burn injuries and tips on identifying the signs of shock.
We hope that the knowledge and tools provided will help give these amazing dogs the protection they rightly deserve.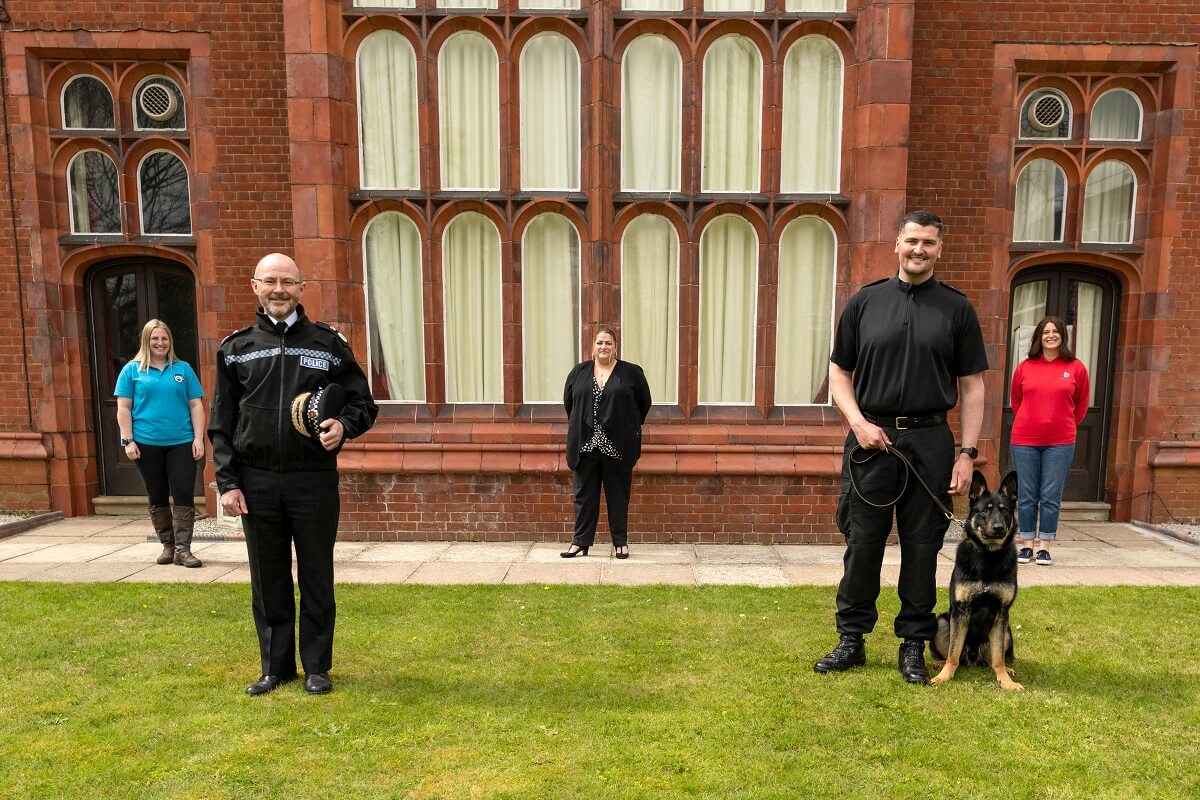 Chief Constable of Surrey Police, Gavin Stephens, said:
"These dog first aid courses, open to all 47 of our handlers, will be a valuable addition to the training programme led by Surrey Police and Sussex Police Operational Dog Unit and Dog Training School. We're incredibly proud of the work of our police dogs and their handlers, and we're grateful to Animal Friends, Dog First Aid Training and the Thin Blue Paw Foundation for giving our handlers this opportunity to continue developing their skills and be prepared if their dog needs medical help."
Rachel Swann, Chief Constable at Derbyshire Constabulary said:
"Last year we ran our own Dog First Aid Courses for our handlers as we understand the benefit this can bring, not just to our own dogs as they serve on the frontline but to other dogs our handlers deal with in the course of their duty. Our police dogs are an important part of our workforce, and this helps us to look after them, should they get injured whilst undertaking their duty. I'd encourage all police dog handlers everywhere to sign up to this free course."
Are you a serving Police Dog Handler?
If you are currently a serving police dog handler, please register for your free dog first aid training and kit.
Want to know more about dog first aid?
With the support of our expert training partners, Dog First Aid, we have a raft of information and tips on how to ensure your dog can receive immediate support should they get injured.
Who is the Thin Blue Paw Foundation?
The Thin Blue Paw Foundation is a charity that was set up to provide support for serving and retired police dogs. Every day dogs across the UK serve their country with courage, bravery and selflessness but once they retire, the main costs of their care fall to the handler or their new owner which can be expensive.
We previously donated £100,000 to the Foundation to help create a dignified, healthy and carefree future for retired service dogs.
Who is Dog First Aid Training?
Dog First Aid Training provide award-winning dog first aid courses for pet owners and professionals. We teamed up with Dog First Aid Training as we feel it's important to provide our customers and dog owners everywhere with the right knowledge and skills to enable them to take initial action in a canine emergency, potentially saving a dog's life.
Keep your eyes peeled on our Facebook, Twitter and Instagram pages for more exclusive partnerships, our charitable giving and all things pets.
Read more news articles, opinion pieces, reviews and personal stories behind our dogs on our blog.
Dog insurance can help cover the cost of veterinary treatment if your dog gets injured or falls ill.
We know pets
Animal Friends Insurance is a multi-award winning FCA-regulated pet insurer, founded in 1998 to provide industry-leading pet insurance and first-class animal care to create a better life for every animal.
As one of the UK's largest pet insurance providers, Animal Friends works with vets, veterinary professionals, and partners pioneering the latest veterinary technology & healthcare advancements to achieve our vision.
Our policyholders have helped donate over £7.8 million to more than 700 animal charities worldwide and by educating and inspiring others to act on current events and responsible pet ownership, Animal Friends is driving positive change for animal welfare and conservation.