22nd April 2020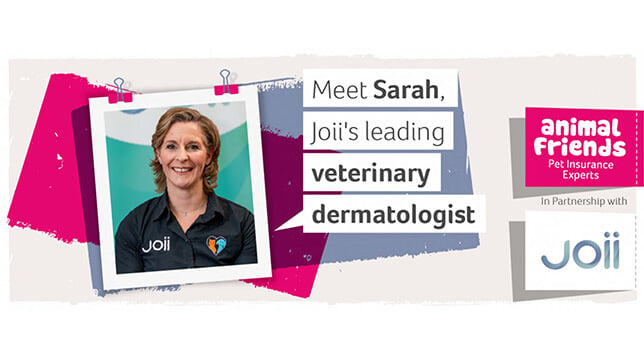 You might have heard about our upcoming live stream with Sarah Warren, Joii's expert veterinary dermatologist and co-founder of Joii, happening Friday 24th April at 1pm on our Facebook page. We got in touch with Sarah to find out more about her and her remarkable story:
When did you first know you wanted to work with and help animals?
I wanted to be a vet from the age of about 7 – I always loved animals and was passionate about caring for them – it was a dream that I followed and I feel so lucky to be doing a job that I absolutely love and find so rewarding.
What drew you to become a specialist in dermatology?
My interest in dermatology began at vet school (I studied at the Royal Veterinary College and qualified in 1998) – I found it a very logical discipline; the skin is largely visible, easy to sample and deliver treatments to.
Allergy, in particular, is my passion. I love the bond that I build with pet owners over a long period of time because allergies are life long problems and it is important to be committed and engender trust as well as be a good communicator.
What is the most common skin condition you see?
Allergy problems are by far the most common; allergies to environmental allergens (pollens, moulds and dust mites/storage mites) and food allergens.
These conditions can be debilitating and frustrating for pet owners because they are rarely curable, however we have numerous treatment options available now and these can make a huge difference to the quality of life of pets suffering with allergic skin disease.
What's your top tip for any young women aspiring to begin a veterinary career?
Always follow your dream. Hard work and determination pays dividends. Be kind, honest and compassionate.
How did you, Robert and Paul come up with the idea of Vet-AI and Joii?
We felt that the veterinary profession was lagging way behind human medicine in its provision of telehealth services and in embracing technology.
We have a mission to make veterinary care more accessible and more affordable and respond to pet owners needs by allowing them to access vets and nurses from the palm of their hand using their smartphones.
We want to bridge the gap between traditional veterinary practices and Dr Google and push the boundaries of innovative technology and artificial intelligence.
What's been your biggest challenge in your career?
As a woman with a young family – juggling my professional life and personal life and finding time outside of work for my children and for time to relax is definitely a challenge.
In 2017 I was diagnosed with invasive breast cancer and underwent a fairly grueling treatment regime lasting almost a year, then in 2019 I lost my father to suicide (he suffered from severe anxiety and depression) – so I have experienced a number of very personal challenges, which I think have made me stronger as a person with a desire to raise awareness of both breast cancer and mental health issues.
Indeed it is a huge priority at Joii to make sure our vets and nurses are fully supported and feel valued and work the hours that they want with the flexibility of working from home.
What are some of your hobbies and interests outside of vet life?
Keeping fit is very important to me – my husband and I attend our local health club every day where we attend spin classes and bodypump (we now attend virtual classes in our garage since lockdown!) I am a great believer in healthy body = healthy mind!
We also enjoy spending time with the children, playing card games, roast dinners, BBQs and doing the Telegraph cryptic crossword over a pint at our local pub!
How are you doing in the lockdown?
Things have remained largely the same in that we have worked from home since we launched Joii, however we are much busier than we expected to be!
The exciting launch with Animal Friends and the extra demand from pet owners wanting to access remote care during lockdown along with the fact that we can now dispense prescription medicines has had a hugely positive impact on our service provision and we believe on animal welfare. We have taken on an additional 30 vets in the last month to cope with the demand!
Sarah and the team at Joii can help you with any skin or allergy related illnesses, and other pet-health related questions, via a video vet consultation! This service is FREE for all Animal Friends dog and cat customers. Find out more about Joii.
Do you have any burning questions for Sarah about your pet's skin or ears? Be sure to message us in before Friday 24th April and watch the livestream to see if your question is answered live on camera!
Read more news articles, opinion pieces, reviews and personal stories behind our dogs on our blog.
Dog insurance can help cover the cost of veterinary treatment if your dog gets injured or falls ill.
We know pets
Animal Friends Insurance is a multi-award winning FCA-regulated pet insurer, founded in 1998 to provide industry-leading pet insurance and first-class animal care to create a better life for every animal.
As one of the UK's largest pet insurance providers, Animal Friends works with vets, veterinary professionals, and partners pioneering the latest veterinary technology & healthcare advancements to achieve our vision.
Our policyholders have helped donate over £7.8 million to more than 700 animal charities worldwide and by educating and inspiring others to act on current events and responsible pet ownership, Animal Friends is driving positive change for animal welfare and conservation.