30th November 2018
For most of us there's not much going on between Halloween and Christmas but for those in Scotland, they celebrate their patron saint on the last day of November. While some of our Scottish neighbours enjoy the day off work and take part in their country's festivities, we decided to commemorate any dog breeds who have originated from the land of glacial glens and lochs.
Cairn Terrier
You probably recognise this shaggy-coated breed as a Cairn Terrier was used as Toto in The Wizard of Oz. The Cairn is a sensitive dog but is just as boisterous and independent. They make a great addition to any family that often thinks they're bigger than they really are! This fantastic breed originates from the Highlands, a true Scots-dog through and through.
Rough Collie
Another famous Scottish dog breed! You'll recognise this breed from Lassie, both films and a variety of television shows, as well as books. The Rough Collie is one of a few animal actors to have a start on the Hollywood Walk of Fame… Yep, you read that right. Just amazing.
West Highland White Terrier
These stocky little dogs can be easily recognised because of their white coats. Westies are a very popular breed, for both families and for those looking for a companion dog.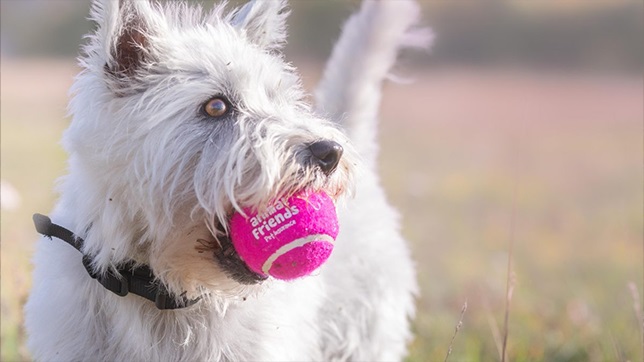 Scottish Terrier
It probably no surprise that the Scottish Terrier, or the Scottie, is a breed that originates from the country of haggis and Irn-Bru.
Scottish Deerhound
One of the bigger Scottish breeds of dog with a rough and wiry coat. You might recognise the breed from the Harry Potter franchise as Padfoot. If that's not the coolest claim to fame for a dog breed, we're not sure what is!
So, if you're looking to expand the family with an addition of a Scottish dog breed then don't forget to check your local rehoming centre or buy from a responsible breeder. These breeds have so much history that it might be difficult to find a suitable name for their fantastic charm.
Read more news articles, opinion pieces, reviews and personal stories behind our dogs on our blog.
Dog insurance can help cover the cost of veterinary treatment if your dog gets injured or falls ill.
We know pets
Animal Friends Insurance is a multi-award winning FCA-regulated pet insurer, founded in 1998 to provide industry-leading pet insurance and first-class animal care to create a better life for every animal.
As one of the UK's largest pet insurance providers, Animal Friends works with vets, veterinary professionals, and partners pioneering the latest veterinary technology & healthcare advancements to achieve our vision.
Our policyholders have helped donate over £7.8 million to more than 700 animal charities worldwide and by educating and inspiring others to act on current events and responsible pet ownership, Animal Friends is driving positive change for animal welfare and conservation.