4th November 2015
Gone are the days when Bonfire Night was solely celebrated on the 5th of November.
Nowadays you can expect to see fireworks going up from the last weekend in October all the way through to mid-January. The rise in accessibility to fireworks means that anyone over the age of 18 can put on their own display, and though it's mostly harmless fun it's important to think about the impact that these pyrotechnics have on our animal friends. Recently it's been possible to buy fireworks that are being marketed as mute, silent or quiet fireworks, which give you the whizz without the bang. We look at whether they are worth the hype.
Pets
Some domestic pets are frightened by abrupt bangs and by eliminating these you can reduce anxiety for them. Of course, you can't expect your neighbours to choose silent fireworks too, so throughout the season usual firework safety rules should apply. Perhaps you could suggest to any neighbouring houses that they try silent fireworks too; if they also have pets they might be glad of the idea!
Wildlife
It is thought that fireworks can disorientate birds, however it's unclear whether that's due to the lights or the sounds. The debris and litter that the rockets leave behind can still be a poisoning hazard. Don't deploy fireworks in a wind, and try to angle them directly upwards to make it easier to find the pieces when they fall. Make sure you are well clear of any trees, and don't light them on especially dry or leafy ground, as this could cause a fire.
If you have very young children or elderly relatives living with you, silent fireworks might have the additional benefit of reducing the fear factor for them, too. What's more, the lack of noise form the fireworks means you can synchronise them with music that you all enjoy, making it a multimedia experience.
Would you consider using silent fireworks? Let us know on Facebook or Twitter!
If you found this article useful, why not visit our dog blog for more news, insight and opinion pieces?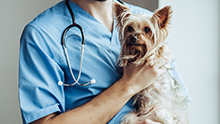 Dog insurance can help cover the cost of veterinary treatment if your dog gets injured or falls ill.