21st September 2021
To celebrate the fantastic year it's been for Marvel fans everywhere with the release of not one, not two, but three amazing shows, we have assembled (see what we did there) a list of some of the top comic-inspired names given to the pets we insure.
Whether you're a DC or Marvel fan, or maybe you dabble in both, we think you'll enjoy some of the names that made it onto our top ten!
Loki
We're not surprised that the God of Mischief takes the number one spot here at Animal Friends. We know that our pets can be cunning tricksters, so this name is perfect for those cats and dogs who love to play games!
Did you know?
We insure over 2,636 dogs and 1,919 cats named Loki.
Pepper
Pepper Potts is one of the unsung heroes in the Marvel Cinematic Universe and helped prove that Tony Stark really did have a heart after all. While we can't be certain that all 3,089 Peppers that are insured with us are named after Stark's worthy successor.
Did you know?
Pepper Potts is allergic to strawberries.
Thor
A name given only to the worthiest of pets, we cover 1,177 cats and dogs who were named after the God of Thunder.
Did you know?
According to Norse mythology, Thor and the other Gods are granted immortality by eating magic apples that only grow in Asgard.
Logan
The X-Man formerly known as the Wolverine is a physically enhanced mutant with very sharp claws! I think we all know a cat or dog who would suit a name like this! We actually insure 898 Logans but only 14 Wolverines!
Did you know?
He is the World's first Canadian superhero.
Odin
Another name that originally stems from Norse mythology, Odin is the father of Thor and adoptive father of Loki. He is the king of Asgard and described as an immensely wise man, so it's a great name to give to those pets who love to lead the pack!
Did you know?
There are 686 Odins on our books.
Other superhero names
If you're still not sure what to call your cat or dog, here are some of the other popular superhero names from the amazing pets we insure:
Flash
Rocket
Jarvis
Goose
Tony
Batman
Hulk
Bucky
Groot
Wanda
Drax
Stark
Fury
Hela
Nebula
Mystique
Thanos
Diana
T'Challa
Wolverine
Cap
Krypto
Kal-el
Korg
Falcon
Nat
Hawkeye
Clark Kent
Vision
Magneto
Superman
Peter Parker
Zemo
Spiderman
Is your pet named after a comic book character? Let us know on our Facebook or Twitter page.
*All data points correct as of July 2021
If you found this article useful, why not visit our dog blog for more news, insight and opinion pieces?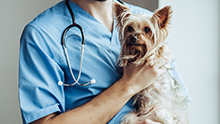 Dog insurance can help cover the cost of veterinary treatment if your dog gets injured or falls ill.