12th April 2022
Who doesn't love spoiling their canine companion or feline friend? But the choices we make for our pets can have an impact on the world around us. From mealtime to their favourite toys, cats and dogs can have a huge environmental pawprint if we're not careful.
Here are just some of our top sustainable picks to help make a pawsitive change to the planet.
Pet food
When it comes to having a pet, the biggest environmental impact is usually caused by the food we feed them. Most cats and dogs are fed a meat-based diet, which requires a lot of land, energy, and water to produce. It's said that the pet food industry emits more than 106 million tonnes of carbon dioxide into the atmosphere each year but since they need to be fed it's hard to know what to do.
Ethical Consumer allows you to see the most popular dog and cat food brands ranked according to environmental and ethical factors, allowing you to make changes based on what you find.
Here are some ways you can help the environment without switching your pet's diet:
Buy in bulk to avoid throwing away extra packaging.
Look for sustainable packaging that can be recycled easily.
Properly recycle the packaging according to instructions.
Poo bags
Picking up your dog's waste keeps everyone happy and it's the right thing to do as a responsible pet owner. But, did you know your dog's poo bag could take up to a hundred years to degrade in a landfill once it gets there? But we have some good news, there are biodegradable or compostable alternatives available to buy for when you need to clean up after your pooch.
The Green Poop Bag
Product Range | Poo bags
Standout Ethic | Giving back to charity
Price Range | Box of rolls from £9.90*
The Green Poop Bag offer owners a specially designed bag to help make the (stinky) job of picking up the poop easier. Made from unique sugar and corn starch blend, they are naturally biodegradable, EU certified and tested to decompose within 3-6 months, making them a real eco-friendly option for responsible pet owners.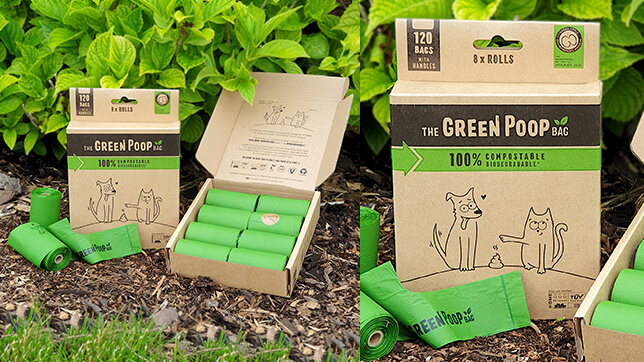 Dog beds
Dog beds come in all sorts of different shapes and sizes and while you might not think you can have a positive impact on the environment when looking for something comfortable for your pooch to sleep on, you can!
ProjectBlu
Product Range | Beds, walking, toys
Standout Ethic | Made from 100% recycled materials
Price Range | Beds from £34.99*
ProjectBlu combines ocean-bound plastic and recycled clothes to create a unique fabric mix that is soft and durable. This Eco-Fabric is used to make their beds, fabric collars, leashes, and accessories.
Working with local coastal communities in India and the Philippines to collect plastic waste from oceans, rivers, beaches and landfills, if you buy a bed from ProjectBlu you'll know you're helping build a better future for you, your pet and the planet!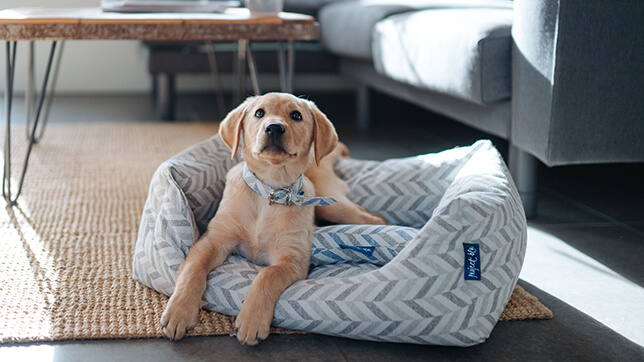 Psst! They even do toys…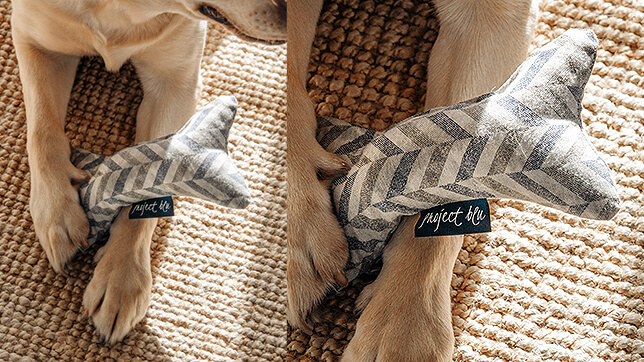 Cat litter
Most clumping cat litter is made from bentonite clay, which is an unrecyclable mineral mined using a method that removes trees and soils to get to the needed material. As if the environmental impact of a cat's necessity wasn't enough, if a cat was to ingest bentonite (as they can sometimes do when cleaning themselves), it can swell and cause gastrointestinal problems for your feline friend. Looking at alternatives can benefit your cat and the planet.
Natusan
Product Range | Sustainable litter, recyclable cat litter box, insect-based cat food
Standout Ethic | Plant a tree for every order
Price | 10L bag of litter from £17.09*
Made from the by-products of sustainable forestry, Natusan makes sure no trees are felled in the making of their sustainable cat litter. Made from nature, it's 100% natural and fully biodegradable, so by switching to Natusan you'd be helping reduce the amount of cat litter going to waste in the UK.
Pet toys
Good options when considering the best toy for eco-warrior pets include hemp, rubber and playthings made from recycled plastic. Durability is an important factor in choosing a toy for your cat or dog as a longer-lasting toy that can be used over and over is less likely to end up in the bin! Plus, you get a little more for your money if your pet gets a little more playtime from their toy.
Beco Pets
Product Range | Toys, beds, accessories, food
Standout Ethic | Giving back to charity
Price | Rubber toys from £5.99 | Recycled plastic toys from £6.99 | Hemp Rope toy £4.99*
Beco Pets offer a range of different toys for cats and dogs depending on your best friend's favourite way of playing. The stuffing of their squeaky soft toys and catnip characters is made from recycled plastics, giving waste plastic a second life and encouraging its collection and reuse.
Fun fact: In 2020, Beco Pets recycled 6.1 tonnes of plastic. (The equivalent of 14.5 million plastic straws!)
Dog shampoo
Many commonly used ingredients are potentially harmful to your dog's skin and coat even after some of these products have been tested on other animals before being allowed to be sold. Dog shampoos are usually sold in plastic bottles, adding to the pollution and harming the environment.
Wild for Dogs
Product Range | Shampoo, conditioner, home
Standout Ethic | Cruelty-free
Price | So Fresh So Clean Shampoo from £3.75*
At Wild for Dogs, they only use the highest quality natural and organic ingredients in their hypoallergenic products to ensure the best treatment for your four-legged friend.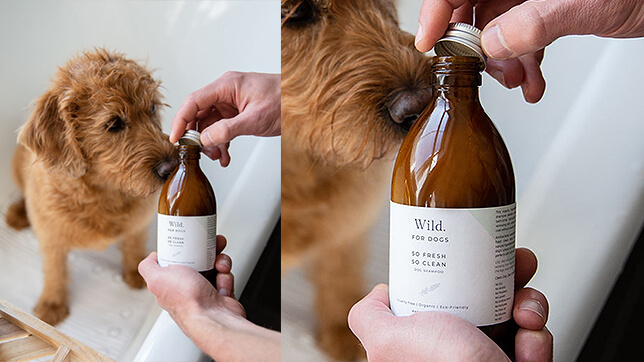 The numbers speak for themselves: 100% vegan, 100% cruelty-free, 100% recyclable, 99.5% natural and 76% organic while supporting charities like Wild at Heart Foundation to help with their fantastic work.
If none of these products are right for you or your pet you can still make a difference to the environment by making small changes at home.
*All prices correct as of 17/10/23.
Read more news articles, opinion pieces, reviews and personal stories behind our dogs on our blog.
Dog insurance can help cover the cost of veterinary treatment if your dog gets injured or falls ill.
We know pets
Animal Friends Insurance is a multi-award winning FCA-regulated pet insurer, founded in 1998 to provide industry-leading pet insurance and first-class animal care to create a better life for every animal.
As one of the UK's largest pet insurance providers, Animal Friends works with vets, veterinary professionals, and partners pioneering the latest veterinary technology & healthcare advancements to achieve our vision.
Our policyholders have helped donate over £7.8 million to more than 700 animal charities worldwide and by educating and inspiring others to act on current events and responsible pet ownership, Animal Friends is driving positive change for animal welfare and conservation.