29th March 2018
Well, the kiddos are off from school for two whole weeks! That's a lot of entertaining to do, especially if your home includes some excitable pets, too. Here at Animal Friends, we have put together a few ideas to include the whole family in your Easter Egg Hunts. We've got your weekend covered.
I have a two-year-old and two crazy doggos that follow her like shadows, or maybe they're herding her, they are border collies after all. Harley and Marvel love challenging toys like the Nina Ottosson Spiny, or pretty much anything that can be filled with peanut butter. So, it's pretty easy to get dogs involved in the hunt, with chocolate alternatives, of course.
The idea of an Easter Egg Hunt is that you hide decorated eggs, or chocolate eggs, for children to find. There are plenty of alternatives nowadays, from plastic surprise eggs to cuddly toys. They can truly be customised to your family, that's why it's so easy to include the tailed members.
What you'll need:
Your dog or cat's favourite treats (the smellier, the better!)
Filled toys or puzzles as the final prize
Plastic eggs (for the cats)
A garden or room big enough to hide the goodies
Dogs
With dogs, you'll need to consider their level of experience when you're hiding the goodies. Keeping the treats at nose level can still make for a fun Easter Egg Hunt. You can mark the spots you've hidden their treats with makeshift signs, so you can see how close (or far) they are to finding them.
The last treat should be the hardest to find, and the most exciting. We used our Tug-E-Nuff Clam toy which is one of Marvel's favourite toys. It's easy to fill, stands out, and durable. There are other available toys you can fill and freeze so that the fun can last even longer!
Cats
For the cats, you can fill the plastic eggs with their favourite food or treats, anything from catnip, chunks of tuna, or a couple of Dreamies. Then, just hide the eggs around the room in easily accessible locations, and let the fun begin. Sometimes it can last a few hours, taking their time between the eggs as they enjoy their treats, other cats are a lot quicker. Either way, they're happy at the end of the game.
If you try an Easter Egg Hunt with your family this weekend let us know on our Facebook page and we'll share our favourites.
Over the last three Easters, we have seen more than 336 chocolate-related claims, with the costs averaging at over £250. Your pets are important to us, please make sure you keep chocolate out of their reach and keep an eye on children sneakily feeding their friends pieces of their eggs. We hope all of our customers have a fantastic weekend and an enjoyable, safe, claim-free Easter.
If you found this article useful, why not visit our dog blog for more news, insight and opinion pieces?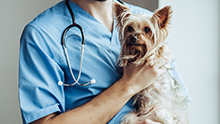 Dog insurance can help cover the cost of veterinary treatment if your dog gets injured or falls ill.