25th March 2019
The first day of spring has been and gone and why not celebrate the change in season with a stretch of the legs with your best friend? With our coastlines, cities, mountains, parks and woodlands we really are spoilt for choice on scenic walks to enjoy with our dog. Here are our top 10 dog walks in the UK.
Three Cliffs Bay, Swansea
With dogs allowed on the beach all year, there's no real rush to get to Three Cliffs Bay but trust us when we say you'll be missing out. It really is a mixture of all sort of elements, from the sand dunes, salt marsh, the beautiful sea, and the signature limestone cliffs.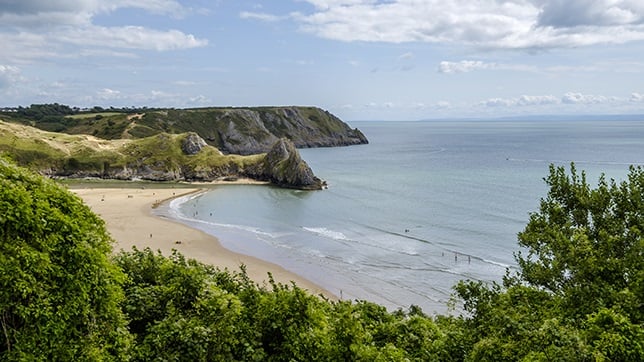 Dogs will love a sprint across the shore and will be able to cool off in the waves. There are no refreshments on the beach so don't forget some snacks or a picnic to enjoy with a beautiful view.
Unfortunately, there's no wheelchair access but there are plenty of other beaches around that everyone can enjoy.
May Beck, Yorkshire
This walk is perfect for same shade in summer, passing a tea garden and a beautiful waterfall before walking along the May Beck stream. It boasts shallow waters for your dog to cool down in and a bridge for the kids to throw sticks from.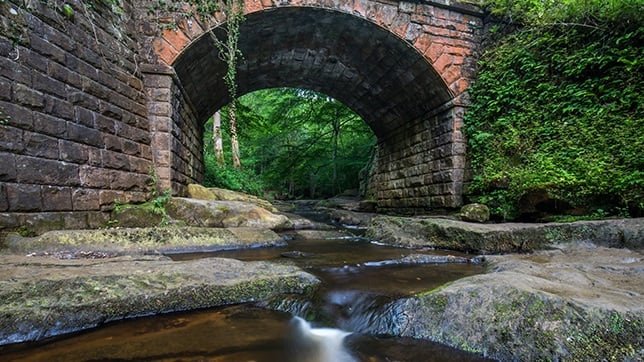 Shearwater, Wiltshire
With no real set walks, you and your dog could find yourself on an exciting adventure through the forest on the Longleat estate. With deer often making an appearance there are spots where your dog will need to be on a lead, especially around the lake if you venture out of the trees.
The café offers a selection of drinks and cakes that are perfect for a quick refuel.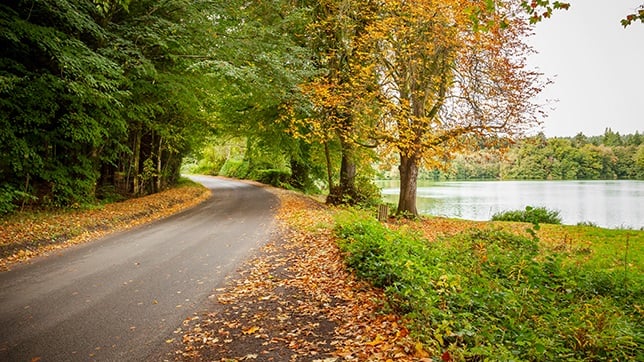 Seven Sisters, Sussex
Before heading towards the English Channel to enjoy the sea air there are a few things to consider with this fab dog walking spot. If you're planning to walk across the cliffs, it's important to keep away from the edge as the chalk cliffs are unstable but you can still enjoy the views.
The landscape is perfect for dogs who enjoy walks on the lead as this way you will be able to keep them safe and stop them from getting too close to any livestock you come across.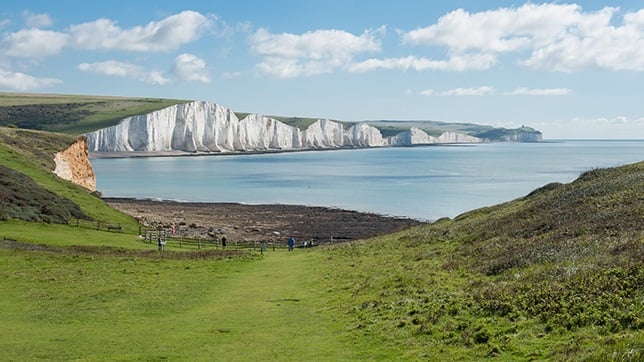 If you'd like to view the Seven Sisters on your walk, you'll want to head towards Birling Gap or Seaford Head Nature Reserve.
Arthur's Seat, Edinburgh
For panoramic views of Edinburgh and a nice breather in Scotland's hilly capital, why not head up Arthur's Seat? It's an extinct volcano that is dotted with heather and wildflowers in summer, with plenty of routes to enjoy for returning walkers.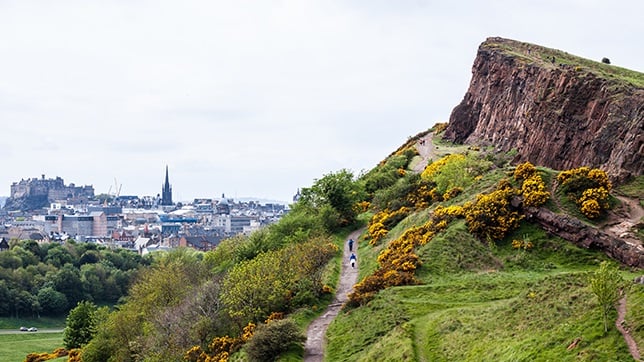 Thames Path, Southern England
The Thames Path has over 180 miles to choose from as it follows the River Thames from its source near Kemble, Gloucester to the Thames Barrier in south-east London. With plenty of things to see along the way, it's one for the bucket list, even if it's walked bit by bit.
There are loads of places to stop to enjoy a warm drink, a slice of cake and a quick recharge.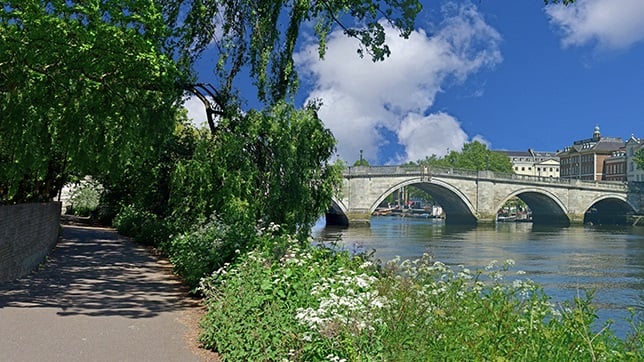 Niwbwrch, Anglesey
Niwbwrch, or Newborough, boasts a great mix of terrain for you and your dog to explore. Dogs are only allowed on the beach between the 30th September and 1st of May, with a ban implemented through the summer.
Not to worry, though, you'll still be able to enjoy the forest where you might come across a few of Anglesey's red squirrel population.
Castle Fraser, Aberdeenshire
Enjoy some spectacular views with your dog as you visit Castle Fraser and explore the grounds and estate. Dogs aren't allowed inside the castle, but they will have just as much fun on the outside with lots of different walks and trails to choose from it's a place you could keep coming back to again and again.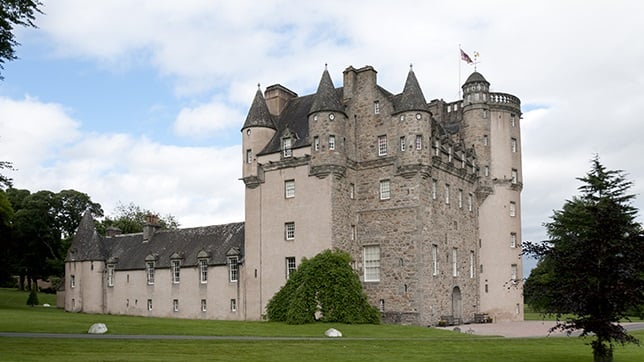 Tollymore Forest Park, Co Down
Want to walk in the footsteps of some of your favourite characters from Game of Thrones? Then Tollymore Forest Park is the place for you! Even if you're not a fan of the show the park is full of bridges, grottos and caves for everyone to enjoy with a river to follow.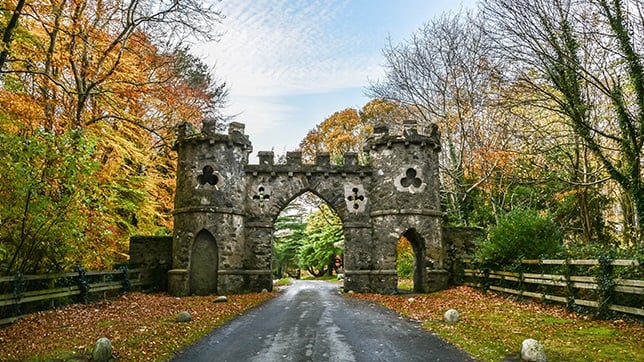 Wheal Coates, Cornwall
Another cliffy walk has made the list, this time in Cornwall. This stretch of coastline is just as beautiful as the Seven Sisters with some of Cornwall's most iconic views. Depending on your route and walk length you might come across the old tin mine as well as some multi-coloured caves and rockpools.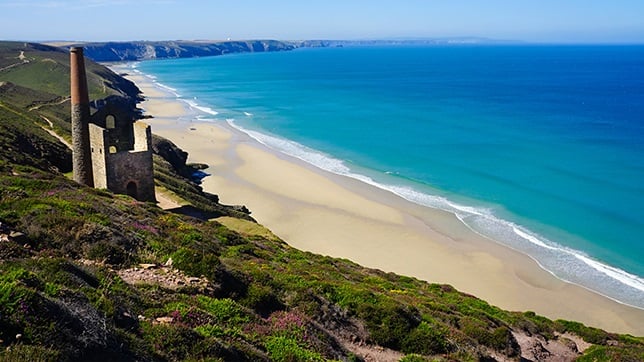 Read more news articles, opinion pieces, reviews and personal stories behind our dogs on our blog.
Dog insurance can help cover the cost of veterinary treatment if your dog gets injured or falls ill.
We know pets
Animal Friends Insurance is a multi-award winning FCA-regulated pet insurer, founded in 1998 to provide industry-leading pet insurance and first-class animal care to create a better life for every animal.
As one of the UK's largest pet insurance providers, Animal Friends works with vets, veterinary professionals, and partners pioneering the latest veterinary technology & healthcare advancements to achieve our vision.
Our policyholders have helped donate over £7.8 million to more than 700 animal charities worldwide and by educating and inspiring others to act on current events and responsible pet ownership, Animal Friends is driving positive change for animal welfare and conservation.