18th December 2018
You've just got your new pet. Now comes the tricky part of deciding on a name for him or her!
Whether your new addition is a friendly feline or a chaotic canine, you'll want to choose a name that perfectly fits their personality – which shouldn't take too long to work out!
So, to help you work out what name suits your new pet best, we've looked into our pet database and put together a list of the most popular pet names of 2018.
Charlie
The short form of Charles, this is another name which is perfect for those pet pals who deserve to be treated like royalty.
Alfie
Alfie, short for Alfred, is a name of royal proportions. The name of the 'great' 9th century king of Wessex, it's certainly one for those furry companions who were born to rule.
Poppy
Naming your pet after this striking flower is becoming more and more common. It's even becoming popular with humans too – it was the 16th most popular feminine name in England and Wales in 2016!
Bella
If you fancy giving your 'beautiful' new friend a name from romantic Italy, look no further. Despite its popularity amongst cats, dogs and even humans, it's rarely used as a first name in good old Italia itself.
Lola
A pretty name at first glance, and a religious one too – it is the shortened form of Dolores, meaning 'sorrows' in Spanish and taken from one of the titles of the Virgin Mary.
Max
Whether it's short for Maximilian or Maxwell, this name is popular amongst dogs and cats.
Molly
A name which originates from the Gaelic 'Maili', meaning Mary, this is another religious name popular amongst dogs and cats alike.
Daisy
Another name inspired by a flower, this one dates back to Old English and means 'day's eye', referring to how daisy petals open during the day and close up at night.
Bailey
From the Middle English for 'Bailiff', it's more well-known nowadays as the name of a famous Irish whiskey, a firm favourite over the festive period!
Simba
The perfect name for your 'pride' and joy! From the Swahili for 'adore', this feline favourite was made popular by the hit Disney film The Lion King and is a name that your kids are sure to love too.
If you found this article useful, why not visit our dog blog for more news, insight and opinion pieces?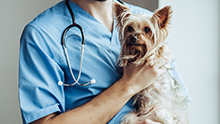 Dog insurance can help cover the cost of veterinary treatment if your dog gets injured or falls ill.