14th April 2022
We know just how hard it can be to snap the perfect photo of your pooch or feline friend. They seem to know when you want to capture their pose and do their best to avoid looking at the camera or your phone. We caught up with our in-house photographer, Ben Hanson, for his top tips on taking the best pictures of your pet, just like the professionals do. We also had our Internal Communications Manager have a go with her cats to see just how easy it can be to capture our pets at their very best.
Make the most of natural light
Try to place your pet next to a window or as close to one as they'll let you, even if it means moving furniture so that you're able to achieve the perfect lighting.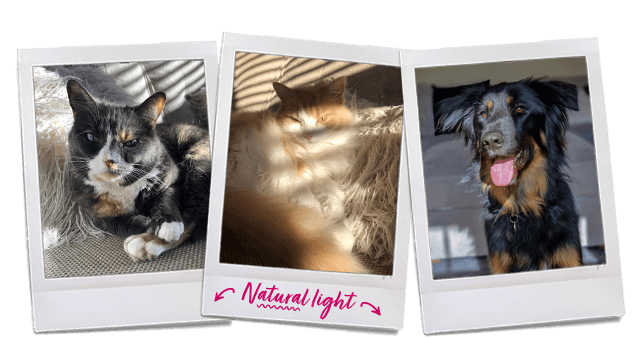 Use your phone's light if you have to
If you're not able to move your pet or want to capture a candid shot without disturbing them but the lighting is terrible, try and use a phone's torch to shine at your cat or dog while taking the photo with another device. This won't be as good as natural lighting, but it can help illuminate your pet!
If you don't have a second phone or the torch isn't strong enough you can manually change your camera's setting to help with low light shooting.
Get creative and change your perspective
Instead of taking a photo from above, try getting down onto your pet's level. Crouch down or lie on the floor to change the perspective of your photographs. These new angles really can refresh your style while focusing the camera on your pet's eyes can make for a soulful portrait if that's what you're after!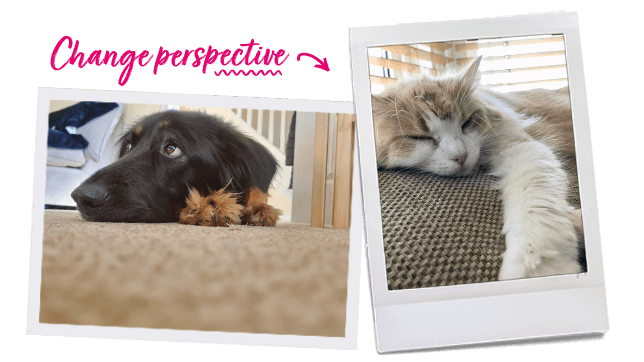 Top tip: try taking a photo of your cat through their play tunnel if they have one! It'll add creative depth to your photography!
Have a go at reflection photos
Try to take a photo of your dog's reflection in a puddle and flip the photo or capture your cat gazing through the window to add some interesting elements to your shots! This might be a little trickier than the other ones so keep trying!
Use a treat, ball or toy
Taking photos of your canine companion or feline friend is much easier with some help! Getting someone to keep your pet engaged and distracted with a treat, ball or toy will allow you to handle the camera without having to multitask. If you're alone, you might be able to manage to hold a bribe with one hand and snap the photo with the other.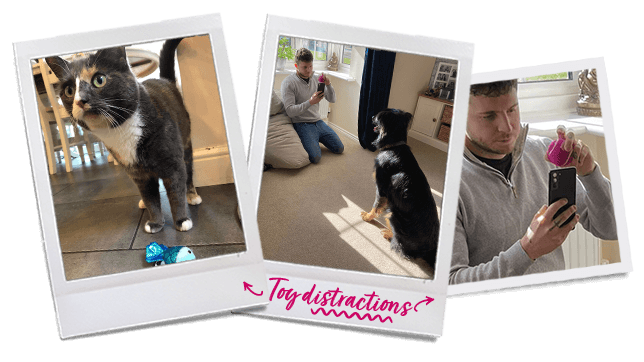 Top tip: hold the treat, ball or toy where you'd like your pet to look but behind the camera, so it doesn't get in the way of your snap!
Less is always more!
A messy or busy background can distract from your photo's subject. If you can't change what's behind your pet, get in close so you don't show a lot of it and keep the focus on your cat or dog. This way, they'll get the attention they deserve!
Editing your photos
Now that you have your photos, it's time to make them even better with some editing. Most phone cameras include tools to straighten crooked framing and enhance the existing colour and adjust exposure to really make your pet pop!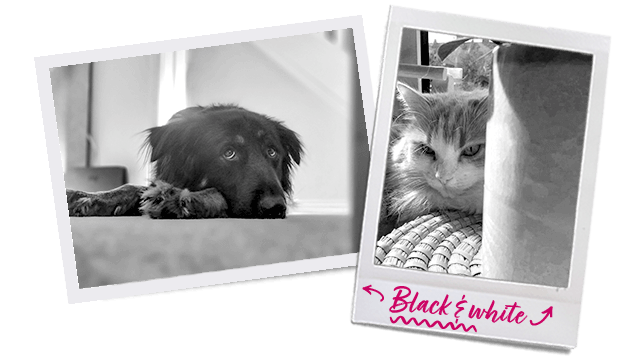 Top tip: the cropping tool is great for eliminating unwanted background elements.
Have fun and enjoy the outtakes
Sometimes the best photographs end up being the ones we didn't mean to take! The ones where we're attacked by wet kisses mid shoot or we're left with the blur of a distracted pet. Whatever you end up with, some of them might not be perfect but make sure you have fun, regardless.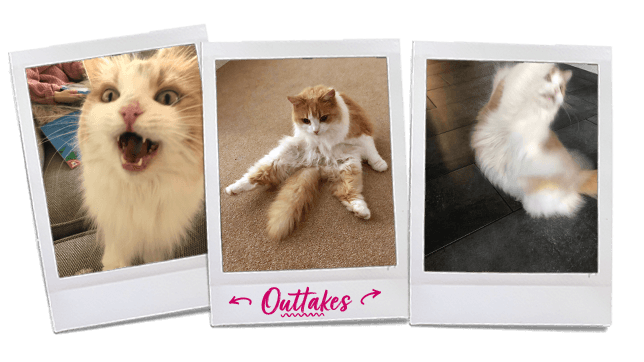 Remember: you're making memories with your pet and creating something to remember them by!
Taken some shots you'd like to share? Show us on our Facebook page and let us know how you managed to capture your cat or photograph your pooch!
Read more news articles, opinion pieces, reviews and personal stories behind our dogs on our blog.
Dog insurance can help cover the cost of veterinary treatment if your dog gets injured or falls ill.
We know pets
Animal Friends Insurance is a multi-award winning FCA-regulated pet insurer, founded in 1998 to provide industry-leading pet insurance and first-class animal care to create a better life for every animal.
As one of the UK's largest pet insurance providers, Animal Friends works with vets, veterinary professionals, and partners pioneering the latest veterinary technology & healthcare advancements to achieve our vision.
Our policyholders have helped donate over £7.8 million to more than 700 animal charities worldwide and by educating and inspiring others to act on current events and responsible pet ownership, Animal Friends is driving positive change for animal welfare and conservation.