The fight against the horse's worst enemy: the fly
Anyone who rides horses will know how much of a pain flies are during the summer months; capable of ruining the best-planned hack, dressage test and jumping around! So how can we keep the flies from ruining our summer? Have a look at the hints and tips below and see if they can help you!
Keep the stables clear
Use fly traps and flypapers to catch and kill flies in these areas. Make sure they are hung out of reach of the horses!
Use fans (with no loose cables) to create airflow out of the stables, this will make it more difficult for flies to enter these areas.
Use fly repellent sprays around the stables to deter flies from entering.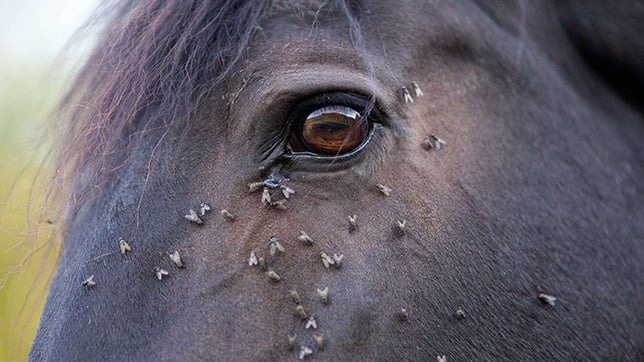 Dressing your horse
Use fly rugs with necks in the field to give your horse protection from passing biting flies.
Fly masks and fringes are also available, these protect your horse's eyes and with some masks, the ears as well, preventing infections caused by constant barraging of the flies to these areas.
Find a good fly repellent – there are lots available on the market, or some people make their own – and apply to your horse at least twice a day to give them enough protection from the biting flies.
Garlic and feed supplements can be added to feeds to provide a fly repellent from the inside of the horse. The supplements cause the horses to release an odour from their skin that the flies don't like and give them protection from the insects.
When riding
Avoid riding in the heat of the day when the flies are most active and when hacking avoid areas that are damp and humid as flies will congregate in these areas.
Fly rugs and masks are available for use when riding and may provide your horse a degree of respite from the flies when being ridden.
Make a fly swish. Bind some of your horse's tail hair to the end of an old riding crop and carry this with you when riding. If your horse starts to get upset by a fly you can use the hair on the end of the crop to brush the fly away and reach areas you wouldn't be able to reach with your hand.
Again use a fly repellent when riding.
Best of luck for battling the flies and try some of these hints and tips to ensure that they don't control you and your horses this summer!
Support and advice so that owners and riders can take the very best care of their equine.
Horse insurance can help cover the cost of veterinary treatment if your horse gets injured or falls ill.
We know pets
Animal Friends Insurance is a multi-award winning FCA-regulated pet insurer, founded in 1998 to provide industry-leading pet insurance and first-class animal care to create a better life for every animal.
As one of the UK's largest pet insurance providers, Animal Friends works with vets, veterinary professionals, and partners pioneering the latest veterinary technology & healthcare advancements to achieve our vision.
Our policyholders have helped donate over £7.8 million to more than 700 animal charities worldwide and by educating and inspiring others to act on current events and responsible pet ownership, Animal Friends is driving positive change for animal welfare and conservation.