Finally found your equine best friend? Recently rescued a horse in need of a happy home? Or have you discovered the perfect pony for your kids? Whatever your story, congratulations!
Whether you're still searching for your equine soulmate, you already have a horse, or you're just daydreaming about it all, we've got you covered. Our horse owner checklist includes everything you might need in preparation to take the next, exciting step on your journey to horse ownership...
Get them registered!
Having your potential equine partner checked over, before buying them, is a useful way to get to know them and your local equine vets.
Your noble steed will need a top team to take care of their health and hooves once you've brought them home. Getting your horse registered with an amazing vet and fantastic farrier should be a priority!
Vet your horse's vet
Research all local equine vets in your area to find the best fit for you and your horse.
Don't be afraid to ask your potential vet practice about their price list (e.g. standard call out charges), and the services on offer, before signing up your new horse with them.
It's always a great idea to read reviews, too. This way you can gain useful insights from other horse owners.
The Royal College of Veterinary Surgeons (RCVS) has a helpful find a vet feature on their website, which is a brilliant starting point!
A vet will then be able to advise you about setting up a suitable worming programme for your new horse.
Find a friendly farrier
Taking care of your horse's hooves is essential.
An experienced, qualified farrier can keep your new equine friend's feet healthy all year 'round! Farrier appointments are usually booked every 6-8 weeks, to ensure their hooves remain healthy and consistent and to help prevent other issues from developing.
To find a local farrier, British Equestrian Directory offers a useful farrier directory.
It's also worth checking your new horse's farrier is registered with the Farriers Registration Council, through the organisation's Find a Farrier page.
Helpful horsey pros to know
Saddler – your horse's saddle should be checked every six months, and you can find a qualified saddler through The Society of Master Saddlers website.
Riding instructor – connect with an instructor to keep your equine's exercise routine on track, or to get expert advice to achieve your competitive goals, through the British Horse Society (BHS) find a coach feature.
Equine physiotherapist (or equine chiropractor) – sometimes, horse parents like to treat their equine companions to extra support between vet visits. While any treatment your horse receives should be approved by a registered vet, the Veterinary Surgery (Exemption) Order 2015 makes finding a qualified equine therapist much easier!
Equine behaviourist – if your new equine's behaviour isn't the best, and your vet has ruled out any medical cause for bad behaviour (e.g. your horse definitely isn't in pain), the Society of Equine Behaviour Consultants (SEBC) offers their Find a Consultant feature free of charge.
There are so many other equine practitioners out there to help you and your horse make magical memories together, from equine dentists to equine podiatrists.
However, talking to your vet is vital before booking an appointment with someone working in a field of equine care that may be unregulated.
Insure and protect
Equine vet bills can be extremely expensive! Protect your horse in the event of an emergency by setting up a horse insurance policy. The right horse insurance policy will provide cover for your equine companion if the worst should happen.
Getting independent advice from a qualified insurance agent is a great place to start.
Stable and grazing
Your new horse will need a suitable stable and turnout environment.
While stable management and field maintenance are huge topics of their own, we've whittled it down to a few key points to consider…
Location, location, location!
For those who have their own stables and land, equine vets can give advice about preparing paddocks and stables for new equine occupants.
Do you drive? If not, it's worth checking local public transport to nearby livery stables, to make sure you can get there easily (every day) to look after your new equine family member!
Since you're likely to be driving to-and-from the stable yard at least once (if not twice) a day, think about the distance between your house and your horse's new home. Perhaps practise the route to your new horse's home at different times, like rush hour, before signing a livery contract?
Levels of livery
Affordability, in terms of time and money, is a crucial factor when deciding which level of livery to choose.
Full livery – staff at the livery centre take care of the everyday tasks (mucking out, feeding, getting fresh water, filling haynets/tying up haynets, cleaning buckets, turning out/bringing in, picking out hooves, putting rugs on/taking rugs off, etc.), so you can focus on spending quality time with your horse.
Part livery – you share stable tasks with livery stable staff, allowing you to visit your horse once a day instead of twice.
DIY livery – the services you pay for usually include rent of a stable, use of a field, storage facilities, and (possibly) the use of an arena. Although it's likely to be the most affordable option, you're often responsible for everything involved in caring for your horse and their environment when you opt for doing it yourself.
Check what's expected
Each livery yard will have its own set of expectations about sharing yard duties.
It's useful to know exactly what's expected of you as a livery tenant, since you may need to complete additional tasks on top of your horse's daily care!
Some livery yard managers expect horse owners to pitch-in with tasks such as:
Muck-heap management
Ragwort pulling
Poo-picking fields
Sweeping the yard
Weeding
Painting stables
Cleaning field water drinkers
Fixing fencing.
Suitable storage
Safe storage facilities should be available at your chosen livery yard.
Hay and bedding
Hay (or haylage) needs to be stored in an airy barn that's kept dry all year 'round.
You may need to cover your hay in tarpaulin during rainy weather, to prevent it from becoming damp and mouldy.
Feed
Your new noble steed's feed needs to be stored in food-safe containers that are raised off the floor slightly, so they're vermin-proof. The feed room should be dry and free from harmful substances, too.
We suggest labelling your horse's food containers; it makes life easier!
Tack
If there isn't a secure, dry tack room available at your chosen livery yard, consider carrying your tack home with you so you can store it safely.
Remember, some insurance policies include tack cover, so it's vital your tack is kept locked away in a suitable space according to the conditions of your insurance policy.
'Stuff' you'll need for your new steed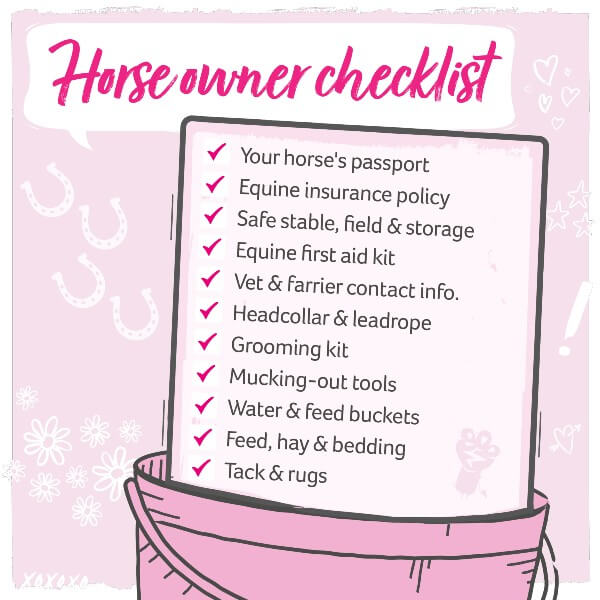 Documents
Passport
Receipt of sale
Vetting certificate
Insurance policy documents.
To store outside their stable
First aid kit
Mucking-out fork
Shovel
Mucking-out bucket
Sweeping brush
Everyday headcollar and lead rope.
Inside their stable
Haynets
Water buckets
Bedding.
To store in the barn
Wheelbarrow (for mucking-out)
Bales of bedding
Hay (and tarpaulin) or haylage.
In the feed room
Feed
Feed buckets
Supplements (if needed)
Vet-approved first aid medications.
In the tack room
Full grooming kit
Hoof dressing
Horse-friendly shampoo
Sponges (e.g. for bathing your horse, for tack cleaning, etc.)
Spare buckets (e.g. for bathing your horse)
Fly spray
Fly sheet
Fly mask
Sweat sheet
Stable rug
Turnout rugs (for all seasons!)
Bridle (bitless or with a suitable bit) and reins
Saddle with stirrup leathers, stirrup irons, and a girth
Saddle cloth, saddle pad, or numnah
Brushing boots (or any other boots your horse might need)
Lunge line
Tack cleaning products
Leather travel headcollar
Bailing cord (attach small loops to tie-rings, to tie up your horse safely).