3rd May 2022
Our friends at animal charity FOUR PAWS have shared an update on how nine Asiatic black bears are getting on following their rescue from appalling conditions at a Vietnamese bile bear farm. We were honoured to have been able to give these bears hope of a fresh start with a £41,895 donation to FOUR PAWS, helping them to provide the care that they will need throughout their first year.

A new life without bars
Vui, Nui, An, Teo, Tai, Tin, Khoi, Thi and Danh are all doing well and are beginning to relax, recover and adjust to their new life at the bear sanctuary thanks to the love, care and attention of the bear experts at FOUR PAWS. The sanctuary in Ninh Binh is a world away from the unimaginable suffering they endured for almost two decades, living in tiny metal cages with no water or stimulation. But despite the 42-hour journey to get them there, all nine bears are doing well and are beginning to adapt to life in their forever home.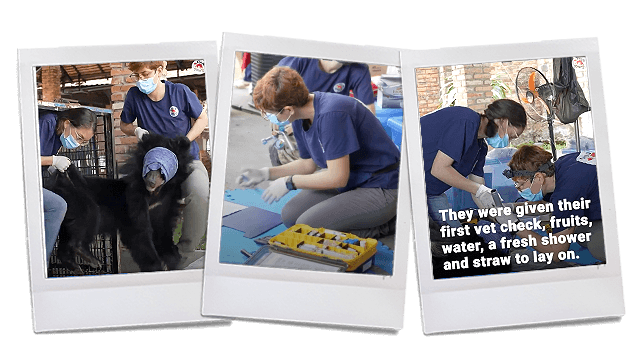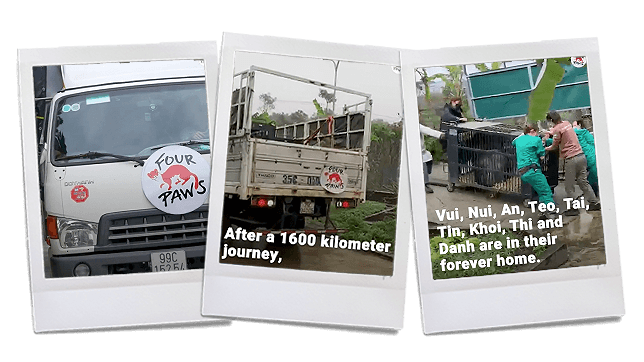 Feeding time
All the bears are very enthusiastic about food. Sadly, many of the bears rescued by FOUR PAWS are often very underweight and suffering from malnutrition due to being starved on the bile farms and these nine bears were no different. The great news is that each of the bears has already gained a couple of kilograms thanks to the three regular meals that they get at the sanctuary.
Nui is always hungry and has been trying lots of new foods. She gets very excited when her keepers arrive as she knows it's feeding time. Tai is very gentle when being hand fed, but he becomes very excited at feed times and splashes his paw in his water bowl! Vui is happy to try new foods, but she particularly enjoys eating anything sweet. Khoi is the fussiest eater out of all the male bears and at first would only eat sweet food like honey, coconut and fruits. He also was struggling to chew so they have been blending his vegetables, which he enjoys. Danh and Thi only ate raw pumpkin to start so their carers have started mixing in other foods, such as dog food and chicken, to gradually introduce them to new flavours. Tin really enjoys all of his food and gets so excited for his medication smoothies that his mouth goes all frothy and he makes a bit of a mess.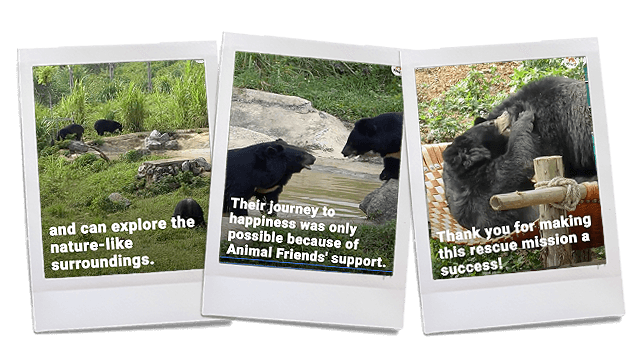 Health matters
Each bear received a thorough check from the FOUR PAWS vets when they arrived at the sanctuary. A lot of the bears had issues with their teeth, so the vets cleaned them and removed any broken or rotten teeth that were causing them pain. Some of the bears had fractured toes, which likely resulted from getting trapped in the mesh of their farm cage, so the vets will keep a close eye on how these are healing. Like a lot of rescued Asiatic black bears, many of these rescued bears were found to be suffering from cholecystitis, which is inflammation of the gallbladder and results from years of unsterile and repetitive bile extraction. Khoi had very bad diarrhoea when he arrived at the sanctuary, however, he is now improving thanks to his new healthy diet plus medication and probiotics for his stomach.
Bear necessities
Bears need enrichment to prevent them getting bored. The sanctuary has plenty of things to keep the bears occupied - from puzzle feeders, hammocks and banana tree trunks – which are designed to promote their natural behaviour. For many of these bears, it is the first time in their lives that they have had anything to touch other than the cold, metal bars of their cage.
Nui and Vui enjoy relaxing in the hammocks. Tin is the most playful of the bears. On his first morning he was rolling around and playing with all his fresh bedding. Vui is still quite nervous around her keepers, which is not surprising after a lifetime of neglect, but she has started to explore the enrichment activities in the sanctuary and enjoys a snooze after her meals. Nui is a smart bear and has already mastered breaking into a coconut. Danh is the best nest maker and spends lots of time carefully constructing her nest out of banana leaves and shredding hessian sacks to make it extra comfy. Teo was very frightened for the first couple of days at the sanctuary, but thanks to some calming nutritional supplements he is now starting to settle into the routine. Despite only having three legs, An is doing very well. She makes quick work of destroying banana tree trunks, which she shreds into small pieces and incorporates into her nest.
The bears have now completed their quarantine period and are ready to move into the bear houses. Find out more about the work of FOUR PAWS and the rescue of the saddest bears in Vietnam here.
Did you know…
That although the Vietnamese government banned the intake of new bears as well as hunting, trapping, killing, selling, or advertising bears or bear products, some people still consider bear bile as a remedy in traditional medicine.

With its bear sanctuary in Ninh Binh, FOUR PAWS is supporting the Vietnamese government to contribute to an end of bear farming in Vietnam and provide a species-appropriate home for rescued bears.
Take a look at the video below for an update on how the bears are doing.
If you found this blog useful, why not visit our animal welfare blog to find more articles about animal at risk around the world?
From news and facts, to charities helping protect animals and the great work they do - find out more about animal welfare and those making a difference.
Every year we donate hundreds of thousands of pounds to charities - find out more about the charities we support.
We know pets
Animal Friends Insurance is a multi-award winning FCA-regulated pet insurer, founded in 1998 to provide industry-leading pet insurance and first-class animal care to create a better life for every animal.
As one of the UK's largest pet insurance providers, Animal Friends works with vets, veterinary professionals, and partners pioneering the latest veterinary technology & healthcare advancements to achieve our vision.
Our policyholders have helped donate over £7.8 million to more than 700 animal charities worldwide and by educating and inspiring others to act on current events and responsible pet ownership, Animal Friends is driving positive change for animal welfare and conservation.