26th October 2021
Here at Animal Friends, we're excited to announce that we've joined Whale and Dolphin Conservation's (WDC) Climate Giant Project in our continued effort to protect our incredible wildlife and help fight the climate crisis.
What is the Climate Giant Project?
The intensifying effects of climate change are not only impacting our homes and neighbourhoods through floods, wildfires and storms, they are devastating our precious wildlife and vulnerable habitats.
Planting trees can only go so far in tackling the climate crisis, while the world's greatest carbon sink, the ocean, is often overlooked and underfunded, receiving less than 1% of the climate finance. But our underwater allies could give us the chance of a better and brighter future.
It has been estimated that one whale has the capacity to absorb as much carbon as 30,000 trees which is why the WDC's Climate Giant Project could help unlock the potential of the world's largest nature-based solution to the climate crisis.
Why we wanted to join the Climate Giant Project
A healthy planet needs a healthy ocean, and a healthy ocean needs whales.
By joining the Climate Giant Project as a Founding Partner, we can help to revolutionise ocean research and conservation projects, giving these majestic creatures the protection they so rightly deserve.
Westley Person, CEO of Animal Friends Insurance, says:
After learning that a single whale captures the equivalent of 30,000 trees in terms of carbon, when WDC approached us about their Climate Giant Project we had to be involved.
There is so much we still need to understand about the vital role wildlife and their eco-systems play in preserving our fragile climate but with the support and insights of organisations like WDC – and if we all take the time to listen – there is still hope that we can change before it's too late.
"The potential of this project is powerful. Simply by saving our whales we can better protect everyone's future. This is not only the right thing to do, it is the intelligent thing to do and we are proud to be part of this new and monumental step in safeguarding our world."
We're joined by global water filter brand, BRITA and service design company, LiveWork in working to help protect and save more whales. You can learn more about the Climate Giant Project on WDC's website.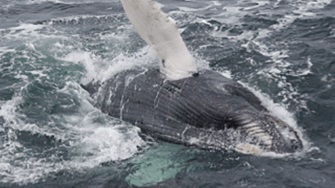 If you found this blog useful, why not visit our animal welfare blog to find more articles about animal at risk around the world?
From news and facts, to charities helping protect animals and the great work they do - find out more about animal welfare and those making a difference.
We passionately support animal welfare, and regularly put our weight behind campaigns for change - learn more about our campaigning activities.