9th November 2018
Hope's story
Last Friday morning, a man who had been feeding a stray cat and her kittens in his shed, found the mother cat horrifically injured with her front leg torn off.
Although he told us he normally couldn't get anywhere near her, she was so weak from loss of blood that he managed to get her into a basket and brought her straight into our clinic. His daughter brought in her two to three-week-old kittens from the shed.
Mum was rushed straight into theatre as this terrible wound was contaminated with earth, gravel and bits of twig and she was still bleeding. She was warmed up throughout her surgery as her body temperature was so low. Mum made it through the long operation and 48 hours later, after lots of intensive care, she started eating tiny bits of food from our hands.
The perfect name
We have called her Hope.
No-one knows how this injury happened but the shed was right next to railway tracks. Whatever did happen to her, that brave little girl made it back to the shed, so she could feed her babies, before collapsing. The kittens had to be washed and dried as they were covered in her blood and they've had to be bottle-fed as mum was on very strong pain relief and wasn't well enough to look after them.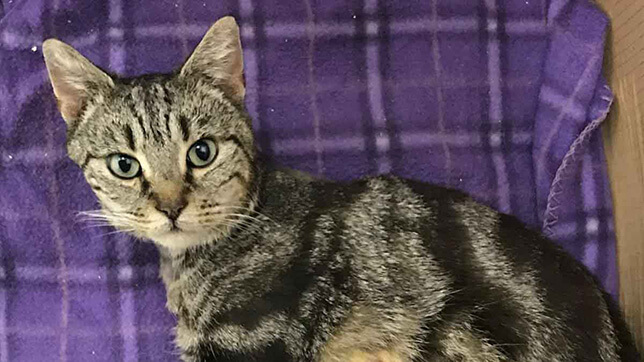 The road to recovery
As she looked stronger yesterday and seemed to be fretting for them, we returned them to her last night and she immediately started washing and cuddling them. If anyone would like to send her some special food or treats to tempt her to eat a little more and spoil her or donate towards her treatment it would be very much appreciated.
You can donate directly from the Celia Hammond Animal Trust Facebook page by clicking the donate button.
Why vote for us?
The Celia Hammond Animal Trust is one of three charitable organisations who has been nominated to be a part of Animal Friend's 100k Charity Giveaway, where the winner is decided by your votes. Huge thanks to all who have voted already. Voting has now closed.
Our charity veterinary clinics carry out life-saving surgeries every day on stray, abandoned and surrendered animals. Our funds are always stretched and the need for donations will never go away. Striving to ensure every animal's life matters is at our core, your amazing support will ensure Hope is able to continue to receive the very best of our care and enables us to achieve so many happy endings for other animals like Hope who would not otherwise have had a chance.
If you found this blog useful, why not visit our animal welfare blog to find more articles about animal at risk around the world?
From news and facts, to charities helping protect animals and the great work they do - find out more about animal welfare and those making a difference.
Every year we donate hundreds of thousands of pounds to charities - find out more about the charities we support.
We know pets
Animal Friends Insurance is a multi-award winning FCA-regulated pet insurer, founded in 1998 to provide industry-leading pet insurance and first-class animal care to create a better life for every animal.
As one of the UK's largest pet insurance providers, Animal Friends works with vets, veterinary professionals, and partners pioneering the latest veterinary technology & healthcare advancements to achieve our vision.
Our policyholders have helped donate over £7.8 million to more than 700 animal charities worldwide and by educating and inspiring others to act on current events and responsible pet ownership, Animal Friends is driving positive change for animal welfare and conservation.