Who are they?
The Amphibian and Reptile Conservation Trust (ARC) is a wildlife charity dedicated to protecting amphibians and reptiles and was established in 2009. Although ARC is based in Bournemouth, they work on saving the disappearing habitats of frogs, toads, newts, snakes and lizards across the country.
Currently, ARC owns 24 sites, manages 80, and works with around 1,000 volunteers every year. They are supported by well-known TV personalities, such as Chris Packham and Iolo Williams!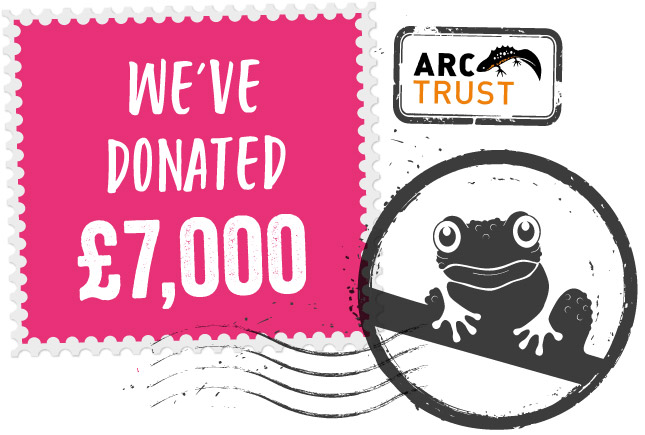 What do they do?
Some of ARC's amazing activities include:
Educating the public about wildlife.
Researching and monitoring wild species' populations.
Working with other wildlife organisations to influence laws to protect wildlife.
A school pond adoption scheme was set up by ARC, delivered by the Saving Scotland's Amphibians and Reptiles project, to inspire young people to take care of frog, toad, and newt habitats. This scheme is known as Champhibians, and supports schools to encourage students to take care of ornamental or wildlife ponds on their school grounds.
Scientific research is an important part of ARC's conservation activities. The charity develops robust monitoring techniques to assess the status of various species and to help with their survival.
How we have helped Amphibian and Reptile Conservation Trust
To date, we have donated £7,000 to the Amphibian and Reptile Conservation Trust.
As one of the 12 charities in our Paws for Thought Christmas campaign, ARC received £3,000.
Additionally, £4,000 went towards their 2020 ARC Friends' Day, which gave ARC supporters the chance to enjoy footage from some of their flagship reserves, species talks, and Q&A sessions with ARC staff.
During ARC Friends' Day, among the activities, supporters enjoyed hearing about the monitoring of smooth snakes on the south coast, learning how to identify a native lizard, and discovering more about the natterjack toad!
The toad that walks instead of hops...
Natterjack toads are smaller than common toads. They have a bold, yellow stripe down the middle of their back and are poor swimmers because their legs are so short. In fact, because they have short legs, natterjack toads walk instead of hop. Despite their small size, male natterjack toads are able to call so loudly, they can be heard up to a mile away!
According to ARC, the natterjack toad is found almost exclusively in the following habitats:
Coastal sand dune systems.
Coastal grazing marshes.
Sandy heaths.
Since natterjack toads are threatened by habitat loss, they are now protected by British and European law.
You can help the natterjack toad in different ways:
While setting up a pond, ensure you keep vegetation to a minimum.
Before stocking your pond, check your pond fish are happy to coexist with natterjack toads.
When walking in areas known to be home to natterjack toads, stick to the footpath to avoid damaging their habitat.
You can find out more about the natterjack toad, along with our 'Ugly' Endangered Animals campaign, by clicking here!
How you can help Amphibian and Reptile Conservation Trust
Taking out a policy with Animal Friends Insurance will allow us to support more partnerships with animal charities, like the Amphibian and Reptile Conservation Trust, together.
Report sightings of any reptiles or amphibians you've spotted!
Become a member of ARC.
Get involved by fundraising for ARC.