A note from our CEO, Wes
If your 2022 was anything like ours, it probably feels like a bit of a blur now, a busy and almost hazy memory of a lot of change and challenge. Coming out of the COVID-19 pandemic was a tough but welcomed adjustment for all of us, however the ripples of its impact were felt long after the lockdowns and social distancing came to an end. And it's still being felt now.
Adding to these difficulties was the start of the conflict in the Ukraine and the cost of living crisis. This perfect storm resulted in many animal charities and conservancies almost reaching breaking point, struggling to cover basic bills and pay for veterinary care, while dealing with the influx of pets being abandoned or relinquished.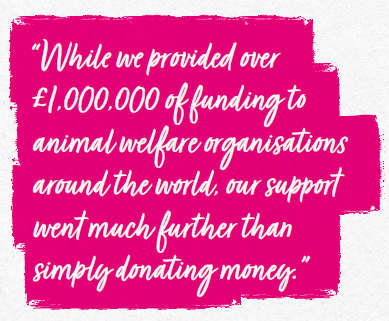 With purpose…
Throughout 2022, the team at Animal Friends tackled these challenges head on, offering solutions and support to those that needed help, while staying true to the goals we set out to achieve. At the start of the year, we committed to doing more, giving more, and helping more than we've ever done before. While we provided over £1,000,000 of funding to animal welfare organisations around the world, our support went much further than simply donating money. We know that every act of kindness, no matter how big or small, has the potential to rewrite the future for so many animals. That's why, we introduced a new, more modern, way for passionate animal lovers to volunteer, our Animal Friends Giving Back platform.
This vital gateway provides an opportunity for animal charities and conservancies to access even more help by connecting them with people that want to give their time, skills, and expertise to support vulnerable pets and wildlife. Our Giving Back website still has more to offer, and we hope to see more of you signing up and getting stuck in throughout 2023!
For the planet…
Since we were founded in 1998, we've donated over £7.8 million to more than 700 animal charities and conservancies, but we know that fighting the symptoms doesn't prevent the cause.
In 2022, we wanted to change how we work with individuals and organisations and have taken great steps in supporting projects that protect our planet's ecosystems. From research projects that will provide critical insights into how whales in global oceans can be saved, through to ensuring the future of the UK's precious woodlands, we understand that supporting pioneering conservation programmes is key to the survival of our planet, and all that inhabit it.
And your pet…
As a company of people driven to push boundaries in the pet industry, we use this same passion and courage to put our brand behind incredibly important animal welfare issues and push for change. We believe in fighting for those who have no voice. We believe in protecting those that aren't able to protect themselves. We believe that we have a duty to create a better life for every animal. There's still a long way to go and it's hard work, but together, we can make a difference.