Choosing a cattery
When you choose a place to stay for your cat whilst you are away on holiday, you want to ensure that your cat will be in the safest, cleanest environment possible whilst feeling secure in your absence. There are a number of questions that you will need to have answered before choosing any specific cattery to leave your cats.
First of all, make sure that the cattery's accommodation is up to scratch. Heated sleeping areas are essential to keep your cat happy and comfortable while you're away, and it is important that these areas are not shared with other cats unless they come from the same household to ensure a sense of security. It should include its own separate exercise run to ensure that your cat can have some alone time no matter what it is doing.
Of especially high importance is the inclusion of a 'sneeze barrier' which can be a gap up to 2 foot wide between individual cat pens or a clear Perspex or glass divide; this helps stop cats come into contact with other cats that they don't know and helps prevent the spread of disease.
Some catteries have outdoor exercise and play areas for cats; whilst these are not always shared, they should be well ventilated in any case to prevent the spread of diseases. Cats will always have indoor exercise areas and scratching posts as well to keep themselves active, with high resting points and interesting views to keep them occupied.
Always check the standard level of care that is given at the cattery.
This ensures that a cat breed that requires attentive grooming will be looked after properly, or that an ill cat will have its medicine administered when necessary. In a similar vein is a prescriptive dietary plan for your cat; as long as the cattery understands what is required and is able to provide that service for your cat then you can rest assured that the cattery you have chosen is of a high standard.
If the management insists on up-to-date vaccinations as well as asking for an updated medical history plus the number of your vet, then you will be able to see that they are operating to the highest responsibility and will provide the best level of care for your cat.
Always book early to ensure that there is enough room for your cat/s at the cattery of your choice, and ensure that the cattery management understand your cat's individual needs. Make sure that you have packed everything that is required, including any blankets or jumpers that will smell familiar for your cats to snuggle in and feel more comfortable.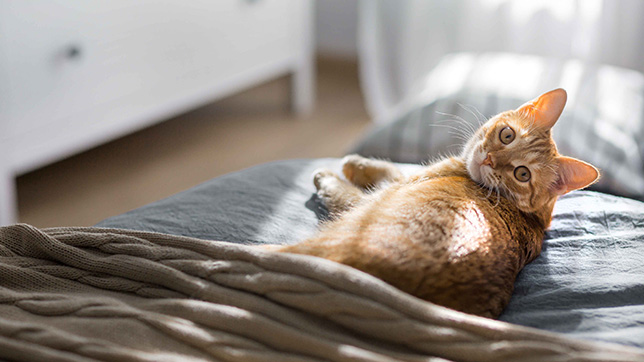 Choosing the right cattery is important, not just for your cats but also for the peace of mind that having the right people looking after your pet will bring you. As long as your cats have all the necessary vaccinations and documentation and you make sure that the cattery knows what to do in an emergency, everything can be handled with expert care leaving you in no doubt that your feline friend will be fully cared for.
We've written some handy cat advice guides, to help you unlock the secrets of your mysterious moggy.
Cat insurance can help cover the cost of veterinary treatment if your cat gets injured or falls ill.
We know pets
Animal Friends Insurance is a multi-award winning FCA-regulated pet insurer, founded in 1998 to provide industry-leading pet insurance and first-class animal care to create a better life for every animal.
As one of the UK's largest pet insurance providers, Animal Friends works with vets, veterinary professionals, and partners pioneering the latest veterinary technology & healthcare advancements to achieve our vision.
Our policyholders have helped donate over £7.8 million to more than 700 animal charities worldwide and by educating and inspiring others to act on current events and responsible pet ownership, Animal Friends is driving positive change for animal welfare and conservation.