Getting your kitten vaccinated – what you need to know
Welcoming a kitten home is an exciting time for the whole family. Watching them find their feet around their new environment and noticing little quirks in their behaviour will create forever memories for everyone, but it's now your responsibility to keep them happy and healthy.
As they grow up there will be times where they will inevitably fall ill or hurt themselves but there are precautions you can take to protect your kitten from some illnesses and diseases.
Why should you get your kitten vaccinated?
While your kitten was with its mother, they were able to get some protection from her antibody-rich milk, which provides temporary protection against infectionsand diseases.
Once they leave their mothers and find their forever homes there is no natural defence and so it's the owner's responsibility to protect their pet.
Their first year's vaccinations will protect your kitten against fiveof the most serious cat diseases.
Feline infectious enteritis (a serious infection of the gut)
Feline herpesvirus (an upper respiratory infection)
Feline calicivirus (a common respiratory disease in cats)
Feline chlamydophilosis (an infection that attacks the lungs, stomach, intestines and reproductive system)
Feline leukaemia virus (a virus that leads to the development of cancers)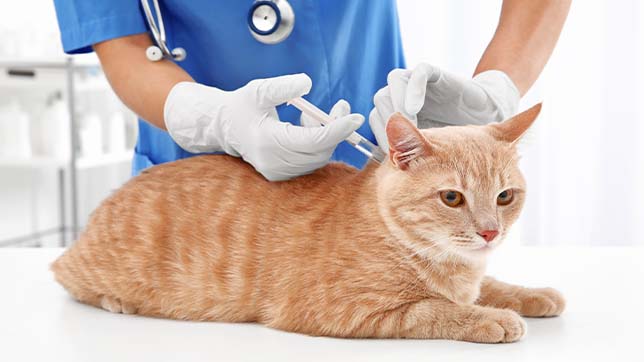 When does my kitten need its vaccinations?
It's best to get your cat vaccinated while they're young and these can be given from as soon eight weeks old.
You might even find that the breeder or rescue centre has already taken your kitten to the vet for its first round of injections so you will need to make sure they get the second course of vaccinations a few weeks later.
How long are vaccinations effective for?
You will need to get your cat booked in each year for their annual booster just to make sure their immunity is topped up. This is because viruses change over time so it's important to make sure they're protected against emerging strains.
How much do kitten vaccinations cost?
Prices for a kitten's vaccination course will vary depending on your location and chosen veterinary practice. It may be possible to get health plans at some vets practises which usually include their vaccinations as well as microchipping and flea and worm treatments.
Does pet insurance cover vaccination fees?
As a general rule, pet insurance policies do not cover the cost of vaccination fees, as most pet insurance providers class vaccinations (along with dental treatments and worming courses) as routine treatment.
It's completely up to you to decide whether you want to get your cat vaccinated but it's always a good idea to speak to your vet and research why it's important to make sure that your cat is properly vaccinated against infectious diseases.
We've written some handy cat advice guides, to help you unlock the secrets of your mysterious moggy.
Cat insurance can help cover the cost of veterinary treatment if your kitten gets injured or falls ill.
We know pets
Animal Friends Insurance is a multi-award winning FCA-regulated pet insurer, founded in 1998 to provide industry-leading pet insurance and first-class animal care to create a better life for every animal.
As one of the UK's largest pet insurance providers, Animal Friends works with vets, veterinary professionals, and partners pioneering the latest veterinary technology & healthcare advancements to achieve our vision.
Our policyholders have helped donate over £7.8 million to more than 700 animal charities worldwide and by educating and inspiring others to act on current events and responsible pet ownership, Animal Friends is driving positive change for animal welfare and conservation.