How to build your indoor cat garden
Keeping cats happy and healthy is all part of being a responsible pet owner as our feline companions are part of the family and deserve the best care.
If you have an indoor cat or one that spends most of their time indoors, it's a good idea to make sure they're provided with stimulation. That's what makes cat gardens so great, it's an opportunity to bring the outdoors inside so that no kitty is left out from some foraging fun.
Then, let the fun begin!
What is a cat garden?
At it's simplest, the garden is a single plant pot with several plants for your cat to sniff and explore – but can be as complex as your space/money/time/interest allows!
The idea is to bring the smells, textures and colours of nature into the synthetic environment of the home and provide a sensory stimulus for your cat to investigate and explore.
It can be located on its own or integrated into another item of furniture such as a scratching post, sofa or table if you wish to make a feature of it.
Find the perfect spot
The perfect spot will depend on what plants you decide to use as they have different levels of care when it comes to sun exposure and humidity levels.
If there's a certain spot your cat enjoys then try to make sure you pick plants based on the location, this will make things a lot easier when it comes to caring for your indoor garden.
Buy your materials and features
Cat gardens are quite cheap to make, and you might even have some of the supplies already without realising it.
Here are a few things you'll need to get started:
A bowl or planter
Cat-safe plants
Potting soil suited for the plants
A garden trowel or small shovel (or just your hands!)
Consider your location, and the features and plants you think will enhance it – what will complement your chosen spot?
Creating your shopping list with a location in mind will produce a far better result than simply buying a random load of stuff and trying to cobble it all together…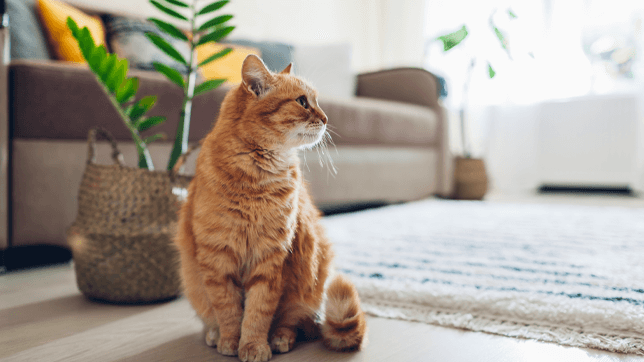 Include cat-friendly plants
When making your indoor cat garden, you'll want to pick plants that will provide a safe and positive experience for your cat. Here are some cat-friendly plants that might prove popular with your kitty:
Cat grass
Catnip
Lemongrass
Mint
Parsley
Rosemary
Oat
Cat thyme
Valerian
Spider plant
Design and build your cat garden!
Now for the fun part – designing and building your indoor cat garden!
The ideal garden size would be big enough for your cat to stick their head into and explore the new greens, but not big enough for them to walk into and use as a litter tray.
You can be as creative as you'd like, from getting the kids to decorate the pot or maybe even finding a way to incorporate the garden to a piece of furniture, scratching post or climbing feature that you already have.
Once your cat garden is set up and your cat is having the time of its life with its new greenery, make sure you maintain your plants, so they stay healthy for as long as possible. Seeds and plants will come with instructions that are important to follow so your cat can enjoy its new garden time and time again.
We've written some handy cat advice guides, to help you unlock the secrets of your mysterious moggy.
Cat insurance can help cover the cost of veterinary treatment if your cat gets injured or falls ill.
We know pets
Animal Friends Insurance is a multi-award winning FCA-regulated pet insurer, founded in 1998 to provide industry-leading pet insurance and first-class animal care to create a better life for every animal.
As one of the UK's largest pet insurance providers, Animal Friends works with vets, veterinary professionals, and partners pioneering the latest veterinary technology & healthcare advancements to achieve our vision.
Our policyholders have helped donate over £7.8 million to more than 700 animal charities worldwide and by educating and inspiring others to act on current events and responsible pet ownership, Animal Friends is driving positive change for animal welfare and conservation.