A guide to introducing two cats
There are many benefits to having a multi-pet household, including an increased amount of socialisation for your pets and more companionship for everyone within the home. However, introducing your new cat to ones already living within the house can be very tricky.
Cats are extremely territorial, which can spark cat fights and other mischievous behaviour when you bring home a new furry friend. Your cats can feel threatened and scared, which increases the chances of showing aggressive behaviour and difficulty.
Despite this, introducing cats to each other doesn't need to be a difficult process, if you follow these steps you can give them the best possible chance of them becoming life-long friends:
1. Choosing the Cat
Considering the age and sex of your new cat can hugely influence the success of introducing them to your current cat.
If your new cat is a kitten, your older cat may see it as less of a threat to their environment as it is sexually immature. However, it's important to factor in how the playful behaviour of a kitten can affect an otherwise-relaxed older cat.
It's also worthwhile questioning how you think your cat would react to a newcomer in order for you to have some plan of action if the worst case scenario should happen. If your current pet has never lived with other animals or dislikes socialising with other cats, this may be more difficult.
2. Creating a Sanctuary Room
Creating a sanctuary room or confinement place for your new pet is the first step you should take to introducing two cats. Start by taking a room of your home (like a spare bedroom, for example) and allow your new pet to settle in. This room should contain the essentials needed for cats to be comfortable.
By creating a room that can be used solely for introducing your new cat to the home, it will allow them to feel more confident and have a "safe place" to return to if they begin to feel anxious.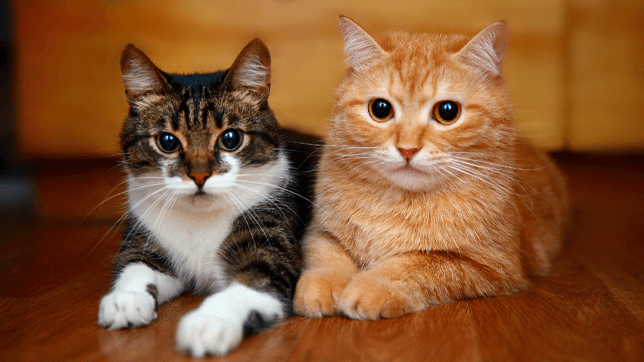 3. The Importance of Scents
A cat's sense of smell is one of their most powerful ways to explore the environment around them, so gradually introducing the scent of a new cat can help your older pet prepare for the face-to-face meeting.
This can be done by placing toys that your new kitten has played with in areas where your older cat loves to roam, or by leaving their sleeping blanket in the corner of their room. This allows both the new and older cat to be aware of each other before the initial meeting; coming as less of a surprise to either cat.
4. Initial Face to Face Meeting
The final step of introducing two cats is the first face to face meeting. The ideal situation for this would be during feeding time, where both cats are being fed at either side of the same room.
Don't be surprised if either cat begins to hiss or growl; this is normal behaviour to be displayed as they attempt to figure out their hierarchy. By gradually increasing the time they spend together, these kinds of actions should settle.
If at any point you witness fighting or notice either cat is suffering with extreme anxiety, separate them immediately and attempt it again another time.
We've written some handy cat advice guides, to help you unlock the secrets of your mysterious moggy.
Cat insurance can help cover the cost of veterinary treatment if your cat gets injured or falls ill.
We know pets
Animal Friends Insurance is a multi-award winning FCA-regulated pet insurer, founded in 1998 to provide industry-leading pet insurance and first-class animal care to create a better life for every animal.
As one of the UK's largest pet insurance providers, Animal Friends works with vets, veterinary professionals, and partners pioneering the latest veterinary technology & healthcare advancements to achieve our vision.
Our policyholders have helped donate over £7.8 million to more than 700 animal charities worldwide and by educating and inspiring others to act on current events and responsible pet ownership, Animal Friends is driving positive change for animal welfare and conservation.