Is your cat following you everywhere? Here's why
Despite their reputation for being fiercely independent, cats can surprise us with their longing to stay by our side – no matter what we're doing.
Whether your feline friend has always adored spending time with you, or they suddenly seem glued to your every move, we're going to find out why…
Reasons your cat follows you
While it's usually older cats who enjoy keeping tabs on their pet parents, there could be a range of reasons your feline friend of any age is following you:
They want food
Have you noticed your feline is friendlier around feeding time? As their chief food provider, your cat could be tailing you because they're hoping to sneak a snack or persuade you to feed them sooner!
They're craving attention
Daily life can get a bit hectic, which may leave our cats feeling a little left out. Does your cat seem to follow you from the second you return home? If so, they could be asking for attention. Making time each day to spend with your cat might help them feel more connected to you.
They love your company
Some cats just love being in the company of humans – after all, why wouldn't they? Humans feed them, clean their home, entertain them… So, this may come as a shock, but you could be your cat's best friend!
Curiosity or boredom
Curiosity could be controlling your cat's behaviour. If they're suddenly wanting to be with you everywhere you go, then there's a chance they find you entertaining and want to watch what you get up to next.
They're depressed
Just like humans, cats can experience depression, too. Have there been stressful events happening in your home lately? Or has your cat recently lost a loved one? They could be struggling to process a big change, like a new baby, a house move, or following you around because they're sad about losing a beloved person/pet friend.
They feel unwell
Felines who feel ill aren't able to tell you directly, so, they may find that following you is a suitable alternative for getting their message across.
If you're concerned about any changes to your cat's normal behaviour, please contact a vet.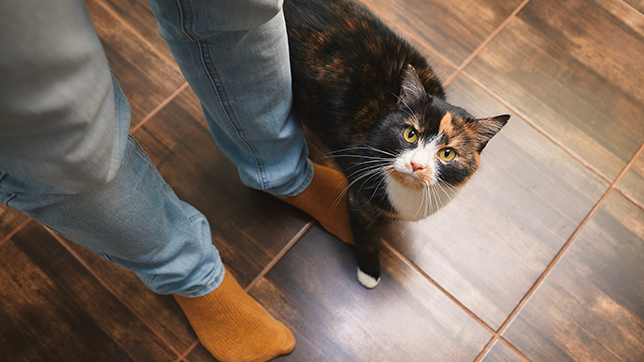 Following you while you're pregnant – what does it mean?
Thanks to their intelligence and incredible sense of smell, cats are more in tune to their pet parents than you might think.
Although there's no way to know whether our cats have a 'sixth sense' to detect human pregnancy, we are aware that their natural instincts give them amazing abilities.
It's believed that cats can sense changes in the body temperature of pregnant pet parents, and they're also able to notice subtle changes in daily routines. For example, cats could pick up on the fact their pregnant owner no longer changes the litter tray.
Please note: If you are pregnant, you should not be cleaning your cat's litter tray due to the risk of toxoplasmosis (a dangerous infection you can catch from infected cats). Additionally, while pregnant, you'll need to be extra vigilant about washing your hands after cuddling your cat.
Can cats be too clingy?
The level of 'clinginess' your feline friend displays may alter throughout their life. However, sudden changes in your cat's behaviour that cause you to feel concerned should be followed up with a vet.
Whether or not you enjoy it when your cat shows some affection, here are just a few of the signs that suggest they're being 'too clingy':
Staying with you wherever you go.
Constantly having to be on your lap while you're sitting down.
Meowing at you continuously.
Demanding attention when your focus is elsewhere.
Hiding or brushing against your legs as you leave the house.
Greeting you with excitement when you return home.
Destroying things around the house.
Toileting outside their litter box.
Provided your pet doesn't have any health problems, it may be helpful to set time aside to play with your cat to prevent them from being so clingy.
Sometimes, cats who haven't got feline friends will look to their pet parent for social interaction. If you're considering taking on a second feline friend, to keep your current cat company, visit our guide on introducing a new cat to an existing pet.
Cat follows you but won't cuddle
It might be tempting to believe your cat is following you because they want a cuddle, though for many felines, that isn't the case.
Don't try to cuddle your cat if they're uncomfortable with that sort of contact – it's important to let them approach you when they're ready.
Here are some signs to look out for when your cat doesn't want a cuddle:
Grooming themselves all of a sudden.
Avoiding eye contact, while turning their head away from you.
Crouching or running away when you approach them.
Flicking their tail.
For advice on understanding your cat's behaviour, you could speak to a vet expert at Joii Pet Care – for FREE if you're an Animal Friends cat or dog policyholder!
24/7/365 with the Joii app.
Our partnership with Joii Pet Care gives Animal Friends policyholders free online veterinary help, whenever and wherever they need it. Download the Joii app today.
The vets and nurses at Joii can provide you with veterinary advice, preventative care and diet plans. Free and exclusive to Animal Friends customers. T&C's apply
We've written some handy cat advice guides, to help you unlock the secrets of your mysterious moggy.