Beagle breed guide
Height
Up to 14.82 inches (to shoulder)
Weight
Male and female up to 30.8lbs
Lifespan
Between 12 and 15 years

History
The most recent breed of Beagle originated in Essex, England in the 1830s by Reverend Phillip Honeywood. Originally very small and measuring just 25cm at the shoulder, it is thought that this original Beagle breed spurred interest from the Royal family.
In 1887, there was a threat of extinction in the Beagle breed. The Beagle Club was set up in 1890 to further the best interests of the breed and the number of packs had risen to 44 by 1902, becoming increasingly popular.
Appearance
Being medium in size and slightly longer than tall, the Beagle has a slightly curved skull and can range from 9.75 to 14.82 inches in height. They have brown, wide-set oval eyes and long drooping ears. They have slightly curved tails towards the end and their tail is often kept high.
Beagles have short hair that is rough and bushy and can be bi-coloured or tri-coloured with red, white and blue-grey colourings. However, their hair must be brushed regularly to remove excess hair and tangling.
Temperament
They are incredibly energetic and lively dogs that thrive on attention, the Beagle is loving and friendly. Known for their liveliness, Beagles love spending time outdoors and would love a home with an energetic owner.
This breed can get along well with anyone within the home, from complete strangers to other household animals and other dogs.
Things to watch out for
Beagles tend to overeat if they're fed too much – which could potentially lead to obesity and other health problems, so anyone looking towards this breed will need to ensure that their dog is on the correct diet.
They also require training to be completed by somebody with experience. This is because the dog has an independent nature and training must be firm and consistent.
A Beagle will need to have a household that is able to provide them with adequate exercise. If they're not releasing energy or being stimulated, they can get bored and begin to cause household damage to entertain themselves. They need long daily walks and plenty of space to exercise.
Is a Beagle good for me?
If you're looking for a loving dog to accompany you on your daily walks, they could be a fantastic option for you! Owners that are able to provide a dog with time for training, daily exercise and socialising would be well-suited to the Beagle.
Did you know?
The Beagle has one of the best-developed sense of smells of any dog!
Make sure your Beagle is protected by visiting our dog insurance page and avoid any unexpected costs!
Find the information you need as we support you through every step of your journey with your canine companion.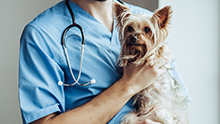 Dog insurance can help cover the cost of veterinary treatment if your dog gets injured or falls ill.