Gastroenteritis and diarrhoea
Our dog's stools can often look quite different from what we're used to seeing and, just like humans, will vomit if something disagrees with them. It can be quite worrying to see our dogs unwell, especially because diarrhoea and vomiting are symptoms of so many possible conditions. Some dogs, however, will suffer from a minor stomach upset just like humans and recover in a day or so.
We often see claims for conditions like gastroenteritis, diarrhoea and Inflammatory Bowel Disease (IBD) in dogs and they can often have similar causes.
Symptoms
If a dog is suffering from diarrhoea or vomiting and they don't recover after a couple of days, they may need medical treatment. By learning the symptoms of conditions like gastroenteritis and Inflammatory Bowel Disease, you'll be able to recognise when a dog will need veterinary attention if it's not just a usual tummy upset.
These symptoms include:
Diarrhoea
Vomiting
Dry Heaving
Gagging
Being less active
Stomach pain
Weakness
Depression
Blood in faeces
Increased appetite
Decreased appetite
Cause
There are several possible causes of such conditions in dogs and these include:
Eaten something they shouldn't have
Eating spoiled or unusual food, toxins or poisons can all cause gastroenteritis in dogs.
Food allergies
Some dogs suffer from food allergies, intolerance and sensitivity which can upset a dog's stomach and lead to gastroenteritis and Inflammatory Bowel Disease.
Infections
Certain infections like bacterial, viral, fungal, or parasitic can cause these symptoms in dogs and make them susceptible to secondary conditions like IBD.
Other causes of diarrhoea in dogs:
Pancreatitis
Colitis
Cancers
Foreign bodies
Prevention and treatment
Because of the number of potential causes of diarrhoea and other related problems in dogs, it's not completely possible to prevent your dog from developing these conditions. By keeping an eye on them while they're out and about, stopping them from scavenging, easing them onto a new diet and keeping unsuitable foods and toxins out of reach, can help minimise the risk.
Keeping your dog's worming treatment up to date can help prevent these parasites from occurring and causing any other health problems in your pet.
If you're worried about your dog's diarrhoea and vomiting then why not speak to a Joii vet? This is free for Animal Friends cat and dog policyholders.
Find the information you need as we support you through every step of your journey with your canine companion.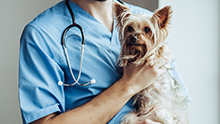 Dog insurance can help cover the cost of veterinary treatment if your dog gets injured or falls ill.