7th April 2020
We've partnered up with Joii Pet Care to bring our customers a free, convenient alternative to traditional vet appointments – enabling our customers to receive qualified vet advice in the comfort of their own home, any time of day or night.
All of our cat and dog policyholders get to use Joii for free, giving Animal Friends customers the power to take better care of their pets at home.
What is Joii Pet Care?
Joii is an app that enables you to video call a qualified vet on your phone, helping keep you and your pet healthy and happy at home. The service is delivered by a network of UK registered vets and vet nurses through video consultations, online nurse clinics, and so much more.
This service is available 24/7, 365 days a year. That's right! Any time of day or night, any day of the year! If you're ever worried about your cat or dog when the vet is closed, the app, it's symptom checker, qualified vets and registered vet nurses can help you identify the problem without having to worry about paying an out of hours fee.
What else can I get from Joii?
The Joii app will provide pet parents with a selection of services to help reduce stress and save money.
A symptom checker
By selecting your pet's symptoms, the easy to use tool can help you find out what you'll need to do next.
Vet video consultation
An online vet video consultation not only helps your pocket but can also reduce stress for pets and owners, at a time and place that suits you.
Online nurse clinics
A variety of different clinics can help you prevent future health issues and provide advice for all sorts of pets, young and old.
Follow-ups
If you've had a vet consultation, you'll be offered a free follow-up so that Joii can make sure your pet is on the mend.
How much is Joii to use?
If you're not an Animal Friends customer, each Joii vet consultation costs £24 – but if you have an Animal Friends cat or dog insurance policy, then using Joii is free!
With our cat or dog insurance policies, you'll enjoy access these Joii services plus all of the other policy benefits.
Don't have a policy with us? Why not get a quote and see how much an affordable insurance policy for your cat and dog with free access to instant veterinary care costs?
If you found this article useful, why not visit our dog blog for more news, insight and opinion pieces?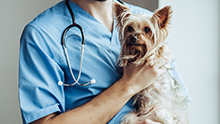 Dog insurance can help cover the cost of veterinary treatment if your dog gets injured or falls ill.