12th July 2021
What will the session include?
All dog policyholders are eligible for one free 10-minute assessment with Natalie. This is an initial assessment only so that you can decide if you'd like to book a further 30 minutes to work out a management plan for Separation Anxiety.
The 30 minute session will include:
An introduction to useful resources
Tips on how to get started with leaving your dog home alone
Observation on any videos you can provide
Advice on environmental changes that may help your dog
Some simple exercises to get started with
Who might benefit from a session?
You might benefit from a behavioural consultation with Joii if you have a dog that hasn't yet been left alone or if you are returning to work after spending so much time at home.
Or, if you've observed your dog through a pet camera or maybe had neighbours mention that your pooch has been barking or sounds distressed when they're left alone, a call with Natalie could help provide you with the knowledge needed to ensure you and your dog are working together to correct any problems.
How much is a session?
Following your free 10-minute assessment, a 30-minute session costs £45 for Animal Friends policyholders.
For non-Animal Friends customers, these consultations are usually £95 for an initial consultation, and £50 for subsequent follow up sessions.
How to book your session?
If you're an Animal Friends customer, simply call a Joii vet who will then book an appointment with Natalie Light for you and your dog. You need to be at home with your dog for the call so that Natalie can observe your canine's behaviour during your consultation.
For more advice on all things dog behaviour, you can find all of our articles in our Training and behaviour advice area.
If you found this article useful, why not visit our dog blog for more news, insight and opinion pieces?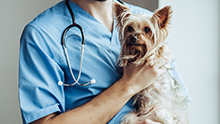 Dog insurance can help cover the cost of veterinary treatment if your dog gets injured or falls ill.